This was my second time on a cruise, but my first time cruising with the MSC Poesia. I spent a week aboard the cruise ship exploring Northern Europe. The cruise started in Copenhagen, then sailed north to the Norwegian fjords via Germany before returning to the Danish capital. This right here is my favourite part of cruising, waking up refreshed and ready to explore a different destination almost every day.
Prior to my cruise, I struggled to find an in-depth review of the MSC Poesia. I wanted to know about the facilities and what to expect. And I didn't want to read it on the MSC website, because that information is all polished and glossy and neatly packaged for you to purchase the cruise. I wanted the real, raw experience of a passenger.
My review is quite detailed, and at times I might sound hypercritical. I'm not nitpicking on purpose here, I'm just trying to give it to you straight up. I'm telling it like it is so you know what to expect, but I'm giving you helpful tips along the way too. Also, I don't want to give away everything because you have to experience the cruise for yourself. A little mystery is always a good thing. Here we go, my in-depth MSC Poesia review.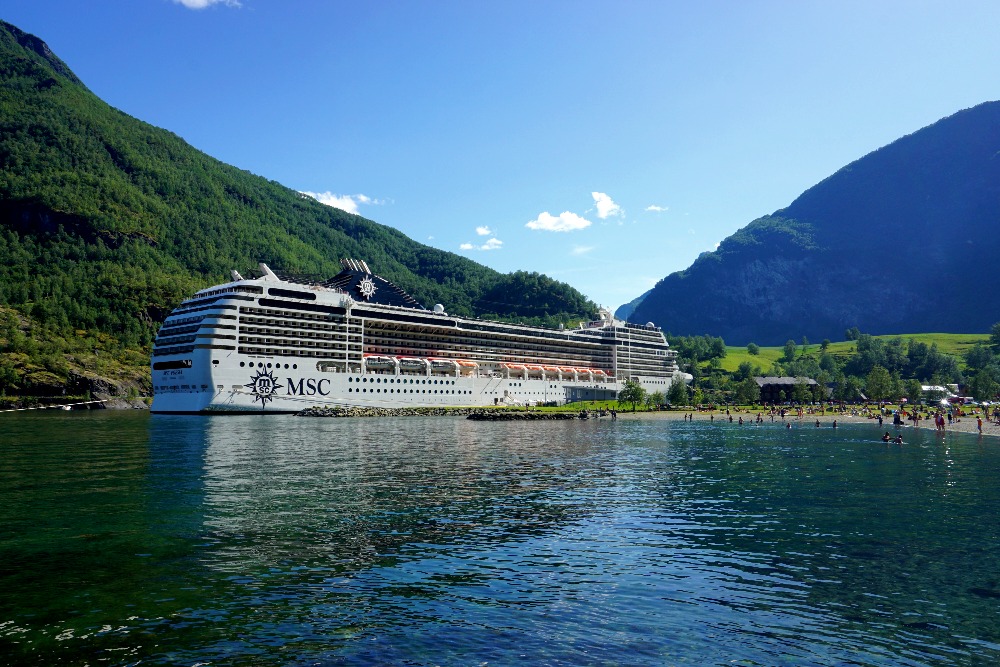 MSC Poesia by numbers
Some facts about the cruise ship that you might find interesting. The MSC Poesia has 16 decks, 1275 staterooms, and can accommodate up to 4262 people (3223 passengers and 1039 crew members). The ship weighs 92627 tons. Yep! That's about the weight of 540 blue whales. As you can imagine, the average speed is only 33.3 km/h, with a maximum speed of 42.6 km/h.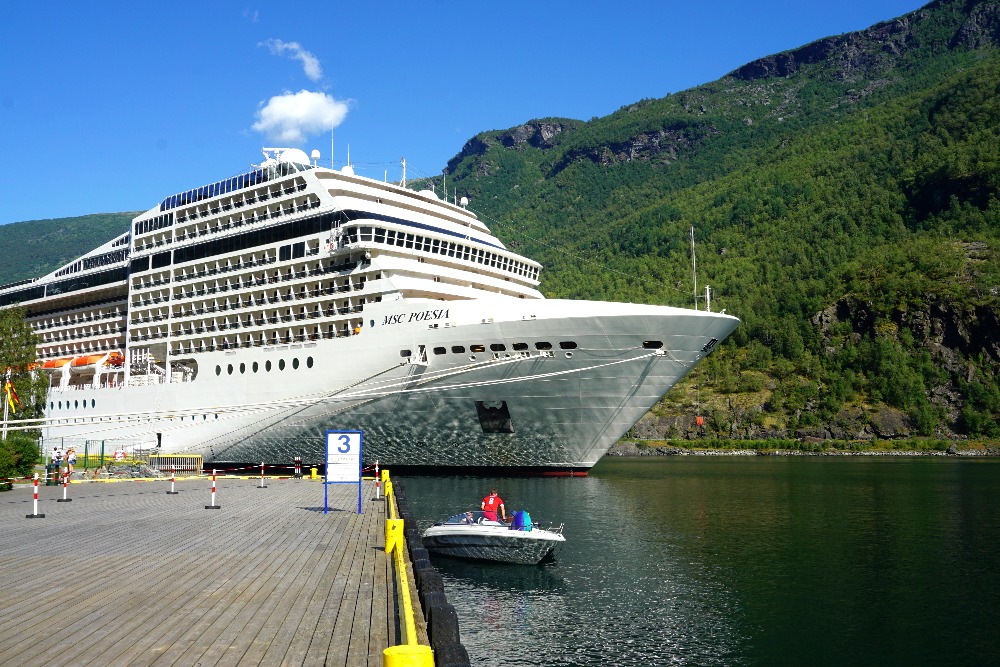 MSC Poesia Itinerary
Your specific MSC Poesia itinerary will depend on which season you cruise. During spring, summer, and autumn (April to November), the cruise ship sails in European waters with Northern Europe and Meditteranean itineraries. When it's winter in Europe (December to March), the MSC Poesia heads to warmer waters in the Southern Hemisphere. In 2021, the ship will embark on a trip around the world. You can read more about MSC Poesia itineraries and sailing dates here.
The length of the cruise will vary depending on your chosen itinerary. It can be as short as a two-night Meditteranean cruise, or as long as 20+ nights for the Grand Voyages between Europe and South America. If you want to join the 2021 world cruise, you'll spend 117 nights aboard the ship.
I was on the 7 night Northern Europe cruise, which started and ended in Copenhagen, with port calls in Warnemünde (Germany), and three in Norway – Bergen, Flåm, and Geiranger. This was a great itinerary and the best possible introduction to Norway I could have asked for.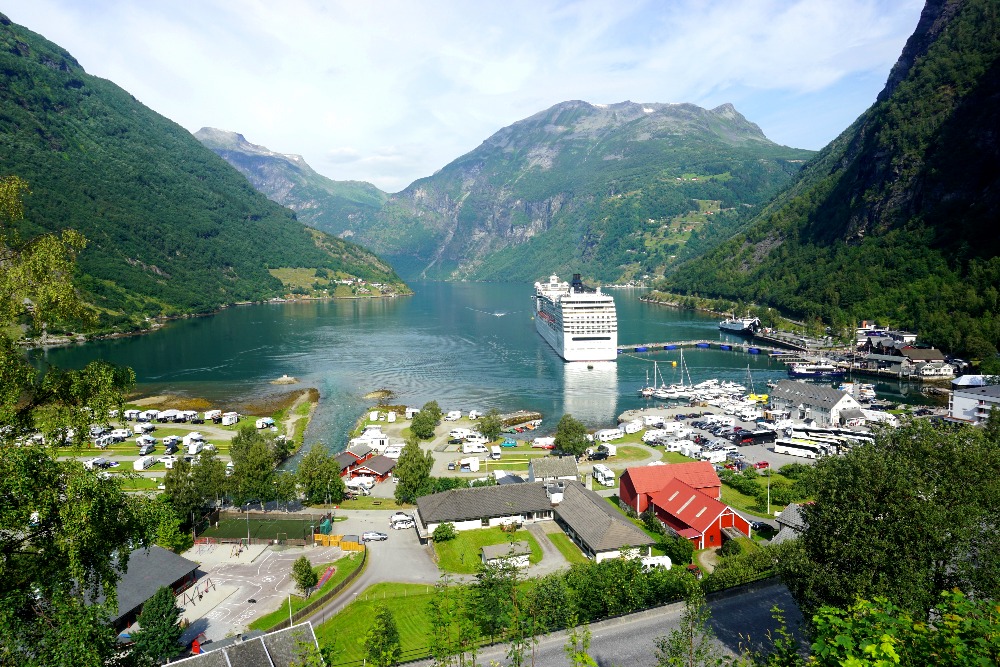 MSC Poesia Cabins
The MSC Poesia has 1275 cabins or staterooms, from small interior cabins to spacious suites. During my cruise, my husband and I stayed in an interior cabin on the 10th floor. These cabins are cosy (14 m2), but I will say this: prior to the cruise, we stayed in a budget hotel in Copenhagen for two nights. Our cabin on board the cruise ship was bigger than our hotel room in Copenhagen. Also, I didn't spend a lot of time in the cabin, except to sleep or escape the crowded common spaces during cruise days. In my opinion, the room is comfortable enough for a couple (or two people who know each other well). Now, the room can fit four people (I'm assuming two kids and two adults), but I couldn't imagine four adults squeezing into this space.
The room, although small, has everything you need for a pleasant vacation. The bed is super comfortable, there are bedside tables with drawers and a decent-sized closet for unpacking your clothes. The room has a dressing table (with a hairdryer), a safe for storing your valuables, an interactive TV, and heating/air conditioner. There's also a telephone in the room for onboard calls only. You can contact reception, order room service or call another room, which is very handy.
The en-suite bathroom is small but has everything you need: a washbasin, toilet, and shower. Handwash, shower gel, and shampoo are provided and should you feel the need to rinse some of your clothes, there's a retractable washing line in the shower. Talking about the shower, I liked both the stream and the temperature of the water. No issues with water pressure. Sometimes the toilet was temperamental; it took a couple of seconds to flush, but it always did. The best part is that you get fresh towels daily and housekeeping twice a day.
Tip. Check the balance of your cruise card on the TV. It's an easy way to verify your purchases and keep track of your onboard expenses.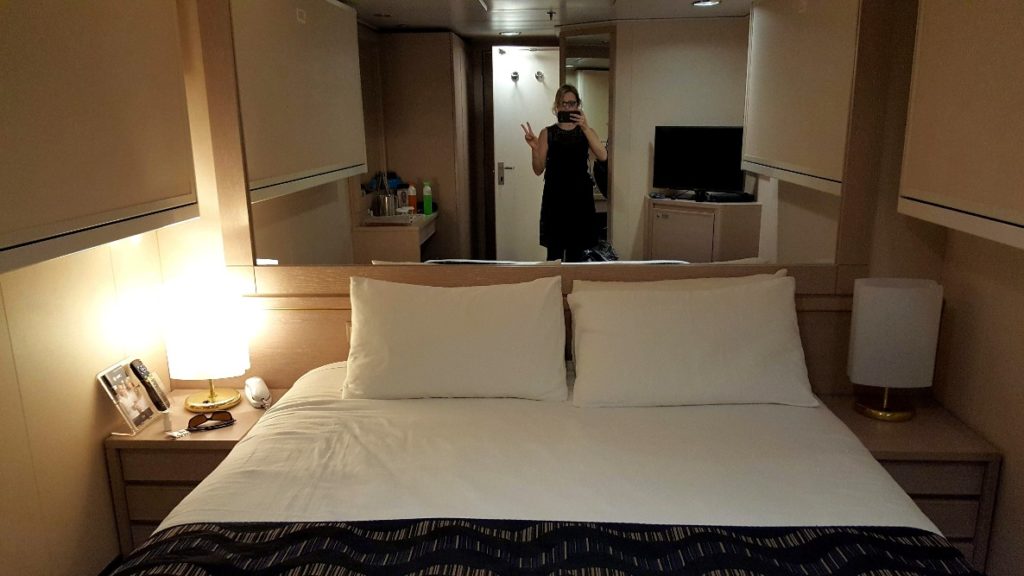 Facilities and Amenities
As you might expect from a luxury cruise ship like MSC Poesia, the list of facilities and amenities is a long one. Do you want to enjoy every second of the European summer? Then head to deck 13 to sunbathe or cool down in the swimming pools or relax in the hot tubs. My bikini stayed in my suitcase as I didn't take a dip in the waters, but I frequently headed to the upper decks to enjoy the beautiful views.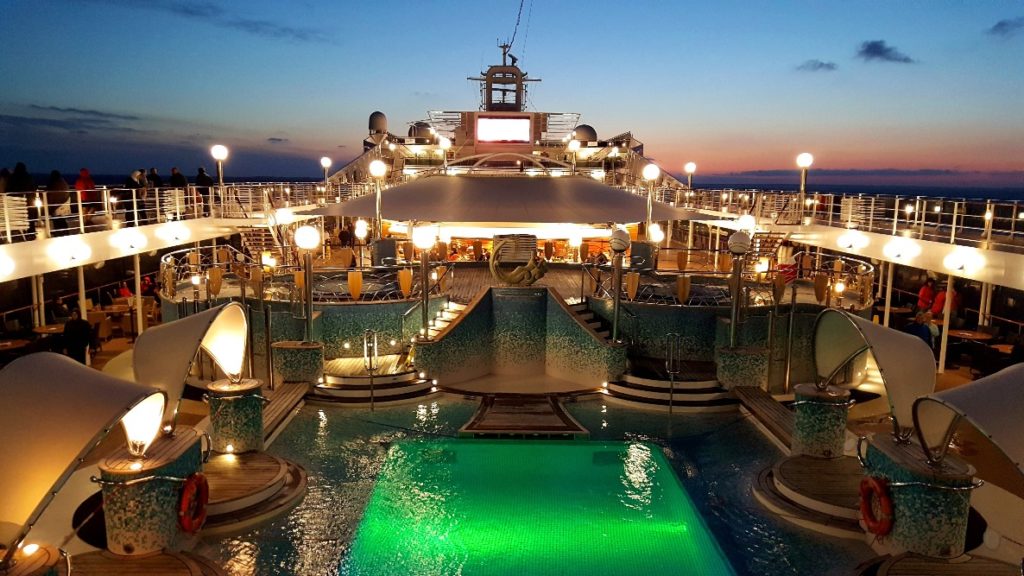 If you want to pamper your body with a massage, or perhaps change your hairstyle or get a facial, then head to Aurea Spa. This authentic Balinese spa offers an extensive range of treatments. What's the catch? The treatments and the use of the spa facilities aren't included in your cruise fare. It's pricey, I'm not going to lie. My husband and I considered purchasing a day pass for our cruise days, but a lot of other passengers had the exact same idea. In the end, the facilities looked too crowded for us.
Internet on the cruise ship is not for free either. You can purchase Wi-Fi packages, but those are expensive. Or you can just surf the internet in ports, which is what I did. With my European sim card, I had no problem surfing the internet or catching up on social media in the ports. On cruise days, however, when the ship crossed, for example, the North Sea, there was no signal and therefore no internet.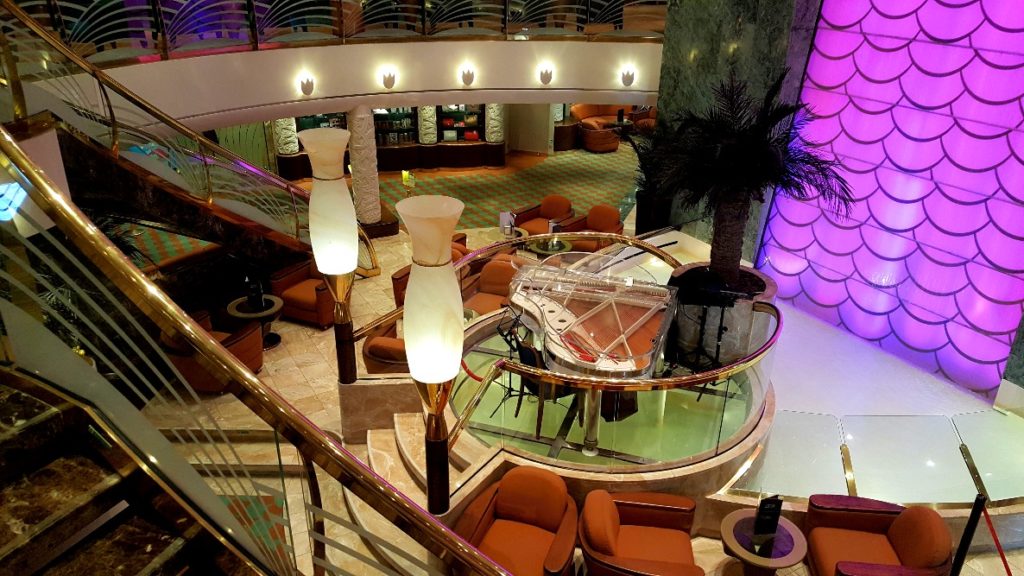 Other facilities that are free to use include a small library and a card room. If gambling is your thing, then head to the Casino Royal to try your luck. The MSC Poesia also has a number of sports facilities, including a tennis court, basketball court, shuffleboard, mini-golf, and a gym. Guess how many of these facilities I made use of during my cruise? None.
Want to do some shopping instead? Then head to deck six for tax-free shopping. There's a jewellery store, a shop that sells liquor, cigarettes, and chocolates (much like the airport tax-free shops, just way smaller), and an MSC cruise shop selling MSC merchandise. You can get some pretty good bargains in the shops; my husband purchased a stylish Tissot watch for his father.
Tip. Purchase any packages (for example spa packages) ahead of time before your cruise departs because you'll save a lot of money. The moment you set foot on the ship, everything is more expensive.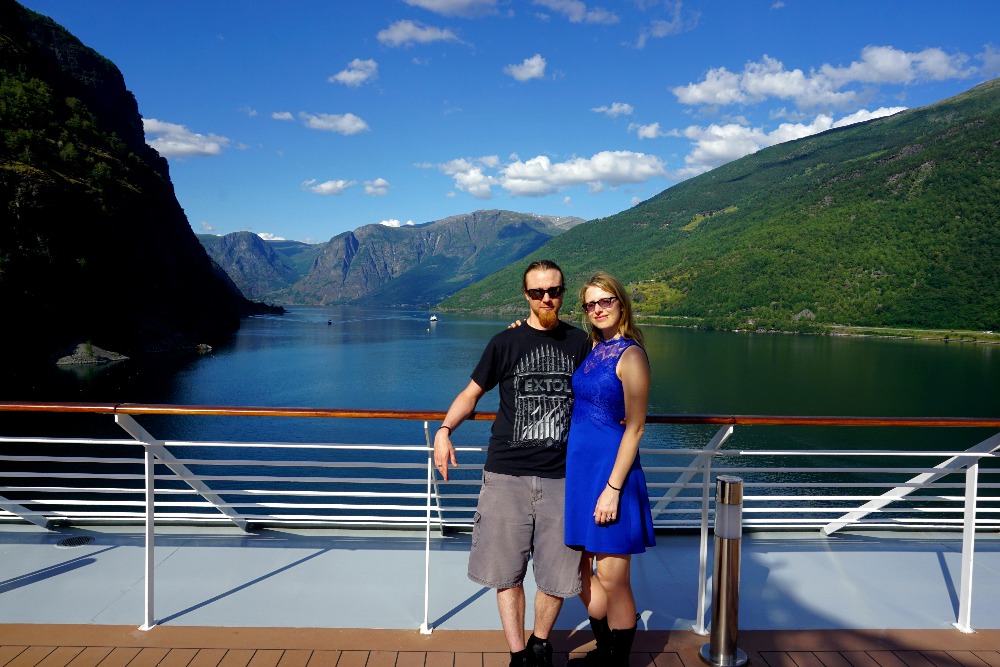 MSC Poesia Entertainment and Activities
How do know what activities are taking place and where? Good question. Every evening you'll receive a newsletter personally delivered to your cabin. Inside it, you'll receive important and useful information, including a program of all activities and entertainment on offer for the next day. There are plenty of activities to keep you occupied, from live shows to solo performances to bingo to dance lessons.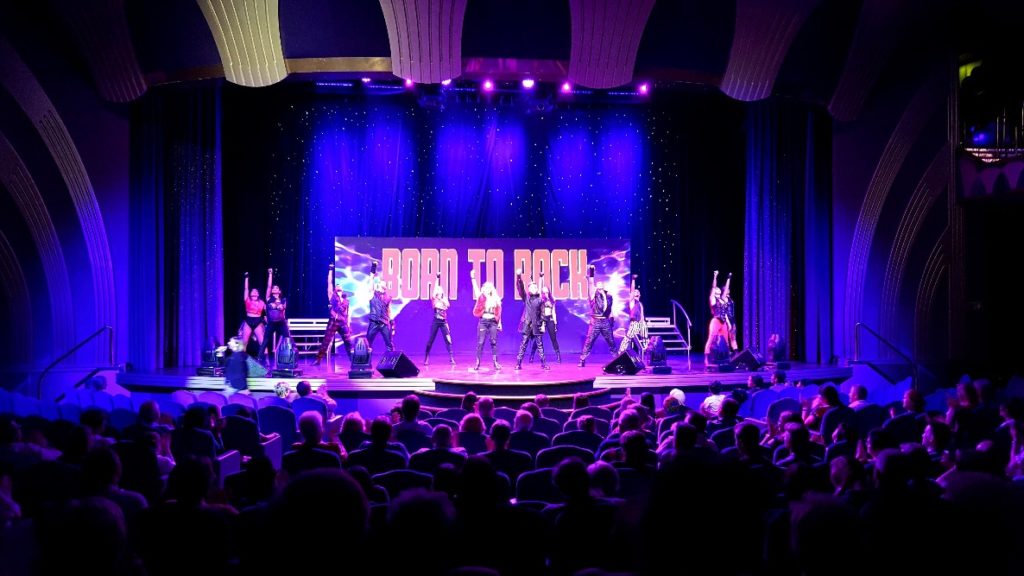 With a different show every night, the Carlo Felice Theatre is the heart and soul of MSC Poesia's evening entertainment. I didn't go to every show, but five out of seven is a pretty good attendance score!
Three reasons to attend the shows in the Carlo Felice Theatre:
Each show celebrated a different theme with brightly coloured costumes and multi-layered casts (singers, dancers, contortionists, and acrobats). My personal favourites were the contortionists and acrobats who wowed me with their talents.
The shows were good (not great) and only about 40 minutes long.
If you show up early, the crazy antics of the animation team will have you crying with laughter in no time.
Although I watched a lot of shows on board, I didn't participate in any of the listed activities. I'm more of an observer. I had a whale of a time watching the beer-drinking contest. The final four contestants were clearly a little bit tipsy as they attempted to execute intricate 'dance' moves.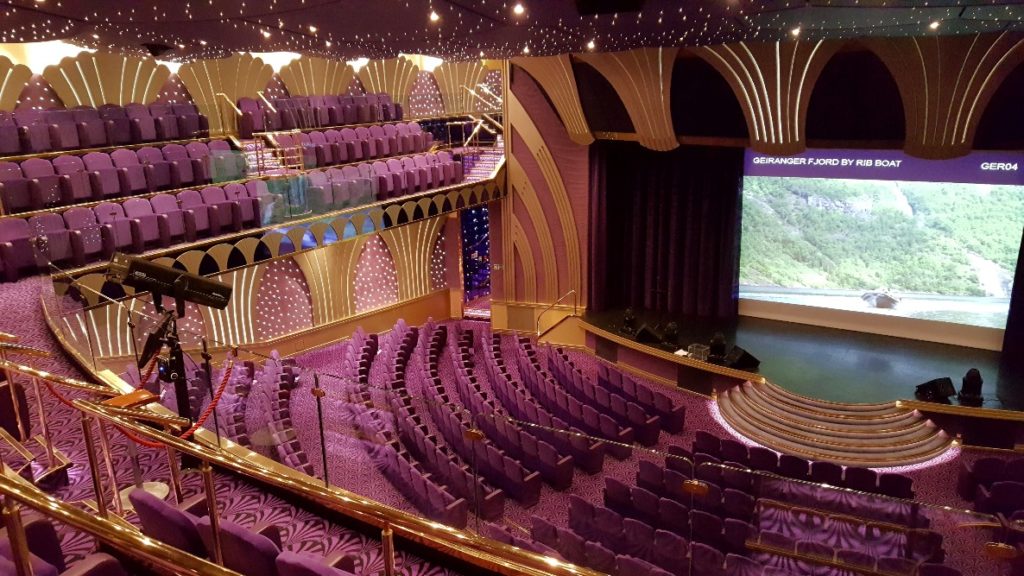 There is room for improvement in the quality of the performances, though. I was travelling with a group and one of our group members was a music professor (the head of the department) at one of the leading universities in South Africa. You get it, music is his thing. According to him, the musicians on board were not good at all (pianists, violinist, etc). It's not just about the ability to play an instrument, but about nuances and playing the instrument beautifully. However, I think the average cruise passenger with limited music knowledge (myself included) will still enjoy the performances.
Tip. Arrive at least 20 minutes before the start of each show to get the best seats in the theatre.
Food and dining
One of the perks of cruising is that all your meals are included. Well, almost. You have to pay extra if you want to eat at Kaito Shushi Bar, a Japanese speciality restaurant. But dining at Ristorante Le Fontane, Ristorante Il Palladio, and Villa Pompeiana Cafeteria are completely free. As for drinks, the only ones that are included in the cruise price are the ones in the cafeteria: water, coffee, a selection of teas and fruit juices (only during breakfast). All other beverages, like cappuccinos or alcoholic drinks, will cost you extra. Just to give you an idea of the drinks prices: cappuccino €3.50, a glass of red wine starts at €5.00 and cocktails start at €7.00 (plus a service fee).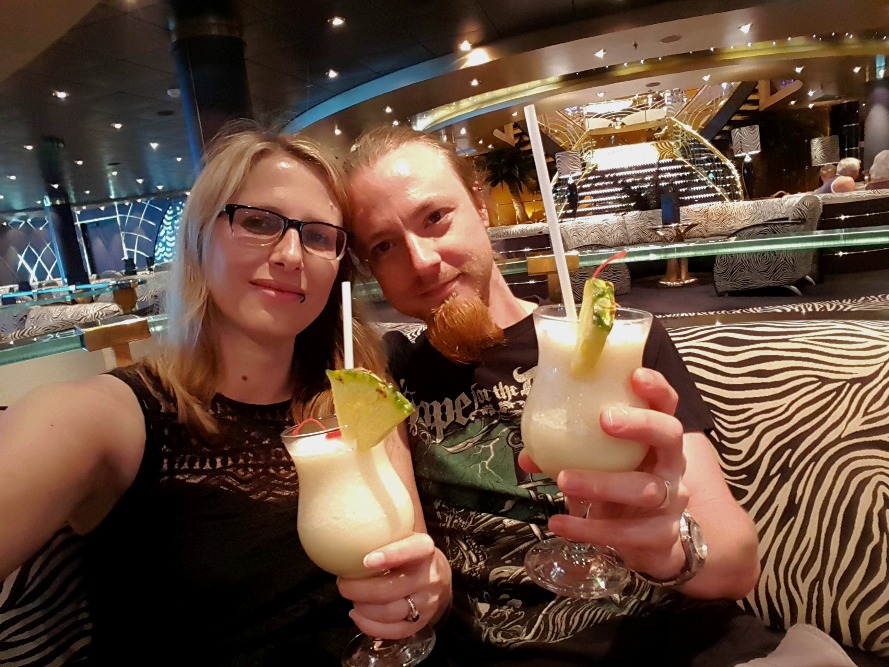 Dinner in the dining room
MSC Poesia has two dining rooms, Ristorante Le Fontane and Ristorante Il Palladio. You will be assigned a dining room and time (either first seating at 18h30 or second seating at 21h00). The dining rooms are elegantly decorated, the service impeccable, and the multi-language three-course menus change every night. This all sounds very impressive, but here's the thing (and I'm not going to sugarcoat it): the vegetarian and vegan food sucked!
Starters were okay with one or two vegetarian options, usually a salad or soup. For the main course, the menu always had one vegan dish and occasionally a vegetarian option, which was always pasta or risotto. As much as I like risotto, I don't want to have every night. And the vegan dishes were really bad. Dessert was my favourite part of the meal, but not always good. One out of seven nights my meal was really enjoyable, the rest of the time it was mediocre at best. If you don't have any dietary restrictions, then there's still hope for you. According to my husband, there were a couple of good dishes.
Tip. I wouldn't recommend eating in the dining rooms if you are a vegetarian or vegan. Best head to the cafeteria for dinner.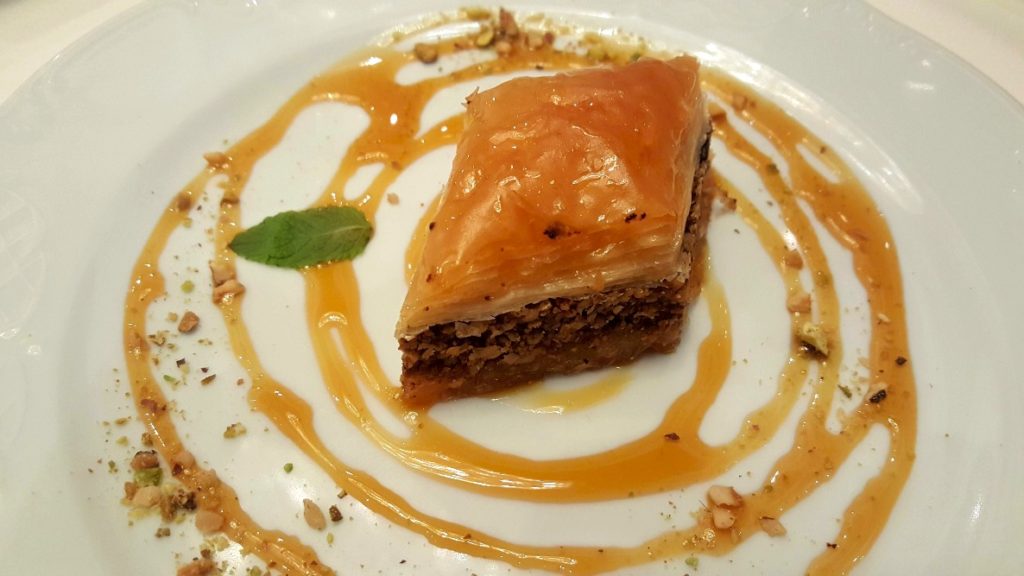 Food in the cafeteria
The food at Villa Pompeiana Cafeteria was, as you can imagine, a mixed bag of good and not-so-good dishes. Listing all the dishes in the buffet is just a silly thing to do, but I'll highlight my personal favourites. I loved the breakfast buffet! It's as good as any breakfast buffet at a 4-star hotel. My best breakfast dish was pancakes (banana, chop chip or plain) drenched in maple syrup.
The lunch and dinner buffets were very similar with a wide selection of dishes to choose from. The lunch buffet had these seasoned fries which were delicious, but the best overall dish for me was the pizza! The pizzas were made from scratch and really, really good. Toppings varied from day to day, but my personal favourites were the Margherita, Pesto and Olive and Onion. The pizza even won an award for the 'best pizza at sea'. I suppose I shouldn't be so surprised because MSC is an Italian cruise line after all…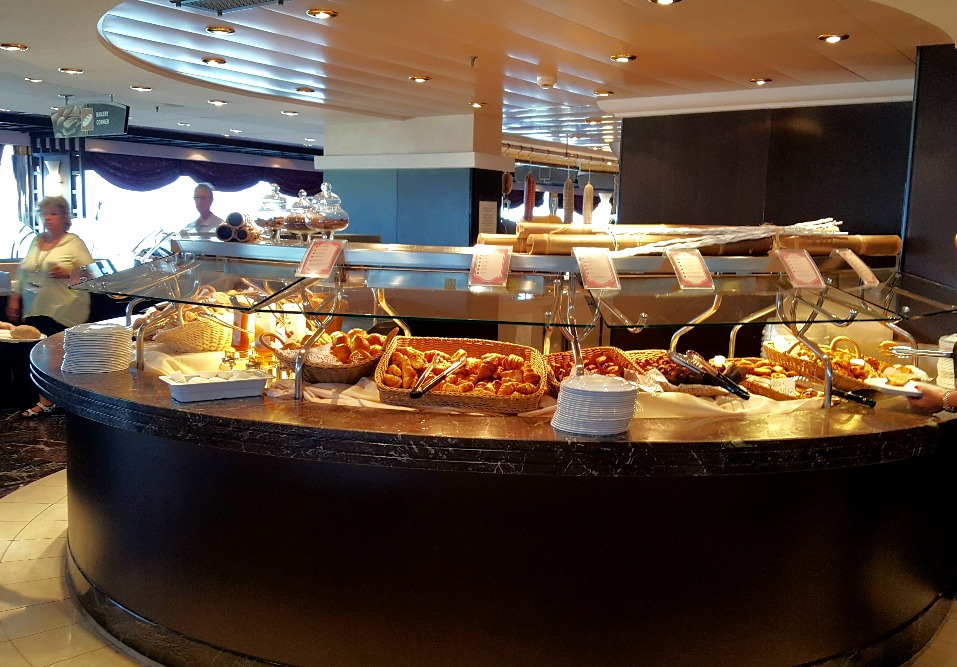 Service and Hospitality
One of the best features of the cruise ship, for me, is the impeccable service. From the wait staff to cleaning crew to security personnel, I always received great service with a smile. I definitely felt welcome. The crew members were also very helpful and responsive. After checking his cruise card balance on the television, my husband noticed an error with our drinks bill at one of the bars on the ship. After phoning reception, the issue was quickly sorted out and the money was refunded.
Some crew members were annoying, though. Waiters trying to sell you drinks packages (the first two days of the cruise), and the photographers constantly wanting to take your picture (even though you know for a fact that you weren't going to purchase it). But you'll find this on every cruise ship.
MSC Poesia Excursions
The MSC Poesia offers a number of shore excursions. Now, normally I wouldn't book excursions through the cruise ship because the prices are ALWAYS inflated. But, since we were travelling with a tour group, it was simply the most convenient option for us. I also suspect that because we travelled in a group, we received discounts on the prices. In the end, we did three excursions with MSC, one each in Bergen, Flåm, and Geiranger.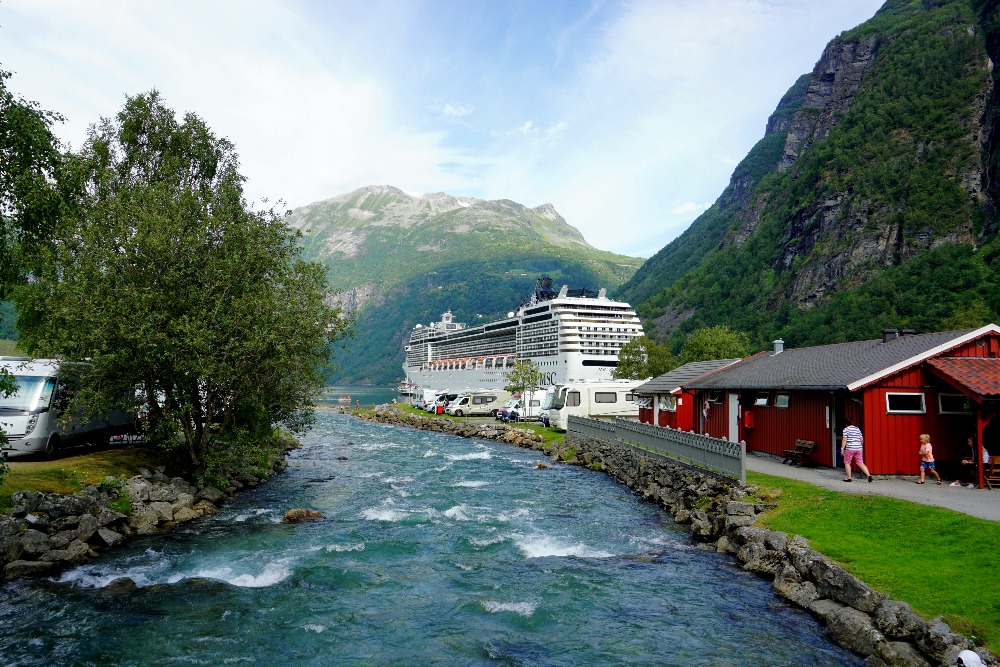 Bergen
In Bergen, I joined the 'Highlights of Bergen' (BER01) tour which is priced at €66 and lasts approximately 3 hours. It's both a walking and a bus tour and includes a return trip on the famous Fløibanen funicular. The excursion started with a ride up Fløyen Mount on the funicular. Unfortunately, we couldn't see a lot because the mountain was covered in mist. I was extremely disappointed.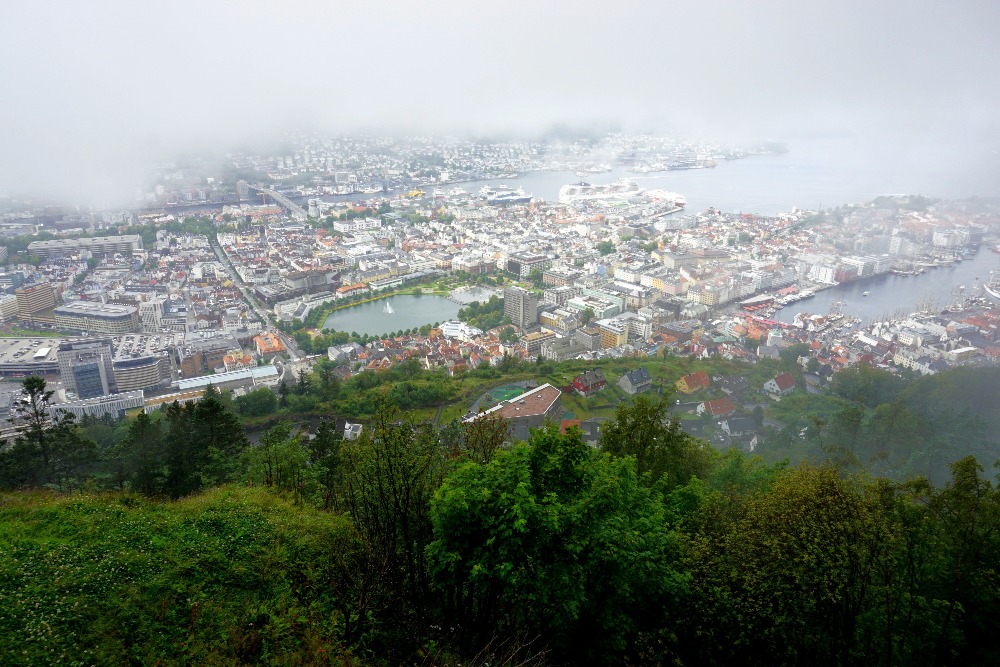 The next part was a guided walking tour through the historic Bryggen quarter, which was great but a little bit rushed. Then we hopped on the bus to drive to an obscure viewpoint on the other side of the city, which took forever to get to. When I saw the viewpoint my reaction was 'is this it?'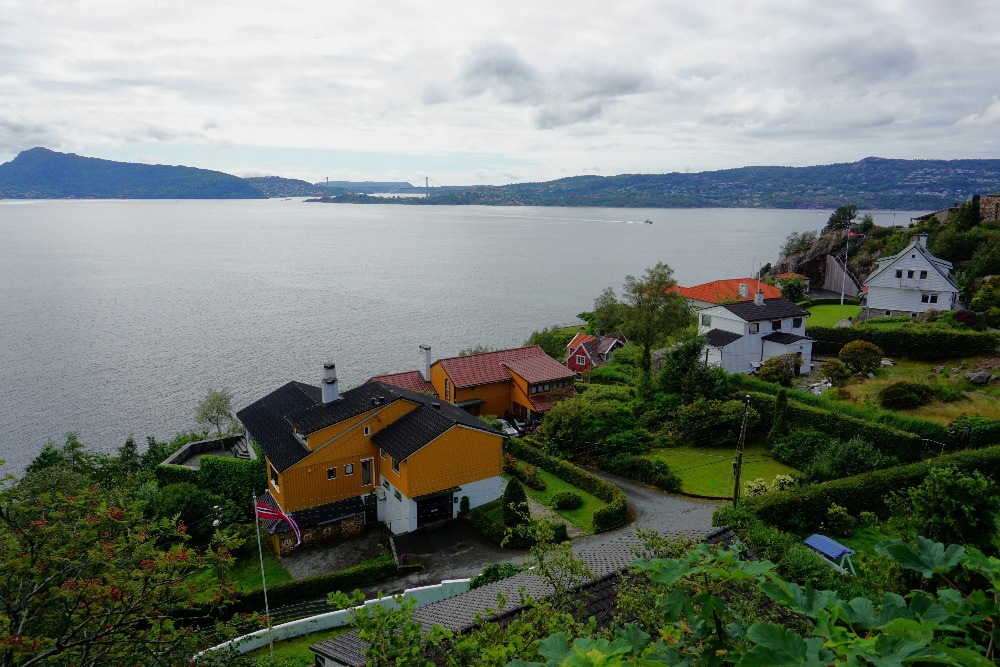 On our way back to the city centre we had a quick photo stop opposite the harbour, which was the best part of the tour for me.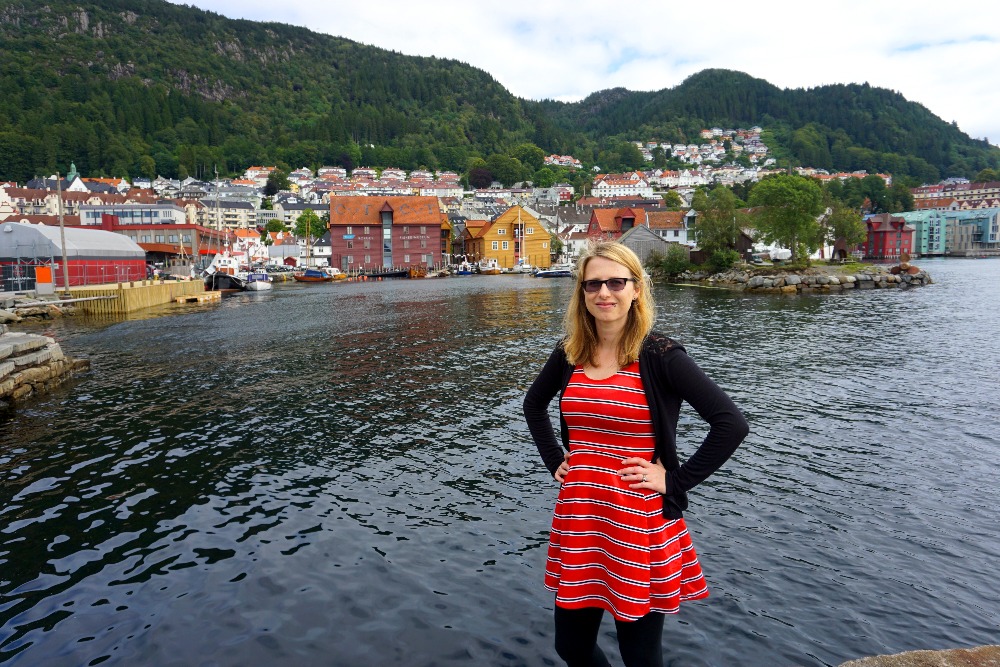 Would I recommend this excursion? No. Although the tour guide was enthusiastic, the tour felt a bit rushed for me and the group size was too big. I really enjoyed the walking part of the tour, but the drive to the viewpoint took too long. Also, had we done the ride on the funicular just one hour later, we would have had a great view because by then the mist had cleared up.
Tip. Because time in Bergen is so limited, you'll see a lot more of the city if you explore it by yourself. The shuttle bus stop is only a 10 min walk from the city centre and from there, Bergen is your oyster!
Flåm
This was a pricey one! The 'Norwegian waterfalls and dramatic scenery by train' (FLA04) excursion costs €186, lasts about 6 hours and includes lunch. The tour was divided into two parts with two different tour guides for each section. The first part of the tour included a ride on the famous Flåmsbana as we made our way up the mountain to Voss. From Voss, we took a bus back to Flåm, stopping at a couple of waterfalls along the way.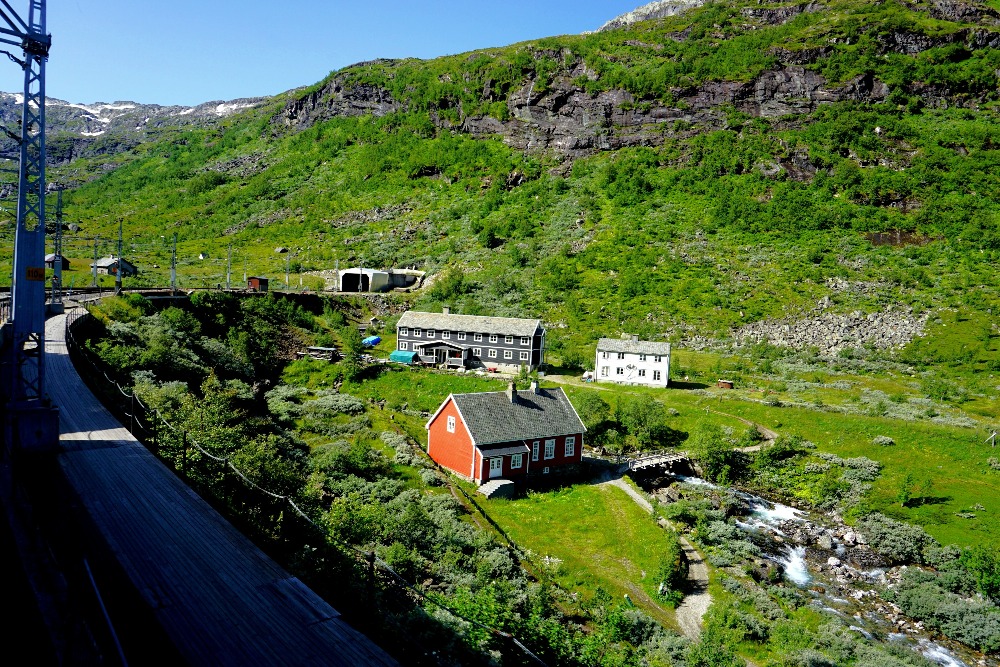 The journey on the Flåmsbana is a truly memorable experience through breathtaking landscapes. On the way up the mountain, the train stops for about five minutes at the Kjosfossen waterfalls. What a lovely view! At Myrdal, the tour group switched to a regional train that took us all the way to Voss. This part of the journey wasn't particularly scenic, but our tour guide kept it interesting with facts and stories about the region.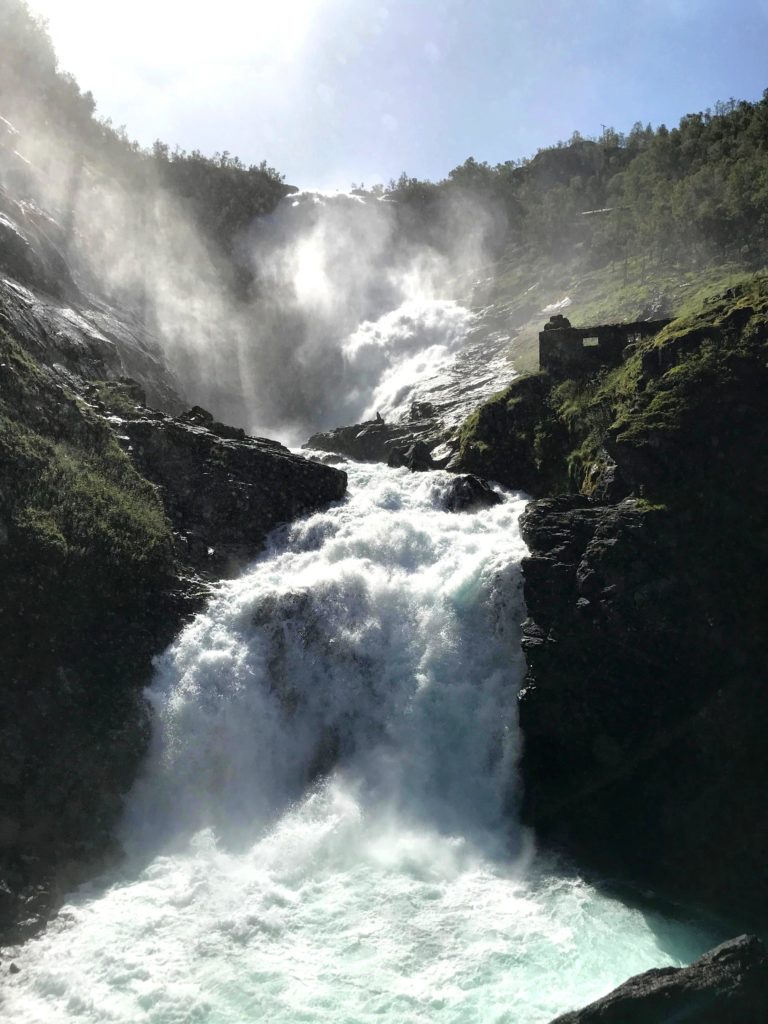 After arriving in Voss, we headed straight to the Fleischer's Hotel where we enjoyed a delicious lunch buffet. I'm just going to say it, the buffet at the hotel was better than the food on the ship! After lunch, you have a few minutes to walk along the lake or perhaps check out a small part of the town, before the next part of the tour begins. From Voss we took a bus ride back to Flåm, stopping at the Tvindefossen waterfalls and navigating the hairpin turns down the beautiful Naeroy valley.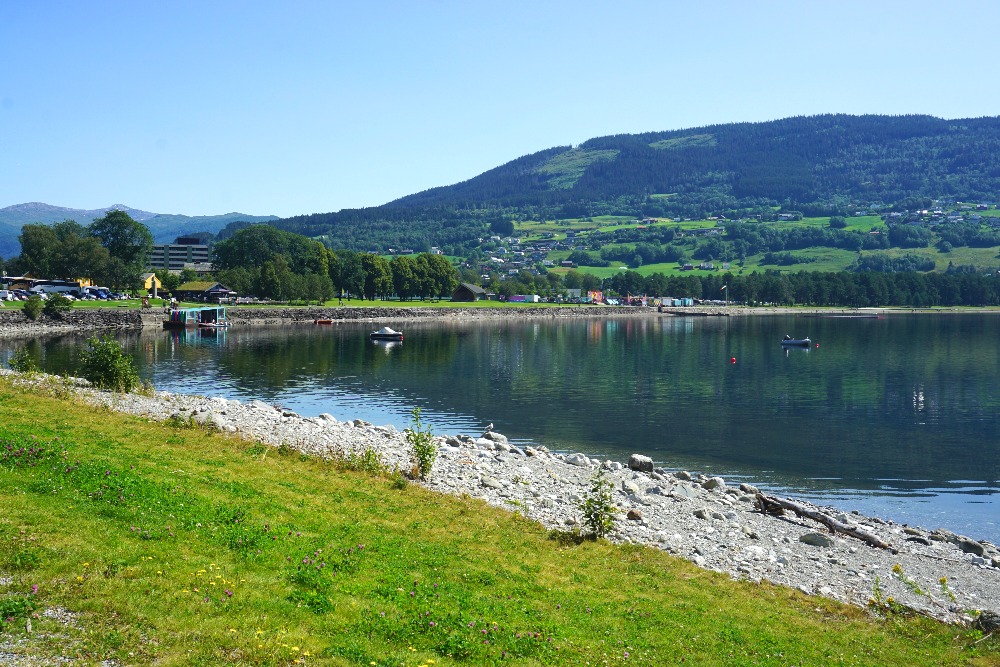 Would I recommend this excursion? Yes, if you can afford it, do it! Both our tour guides were great, the scenery was epic, and lunch was delicious. It really was one of those once-in-a-lifetime experiences.
Tip. If this tour is too expensive for you, don't worry. You can do a big chunk of the tour on your own for a fraction of the cost. For example, a return ticket on the Flåmsbana costs €59, but you have to book your ticket well in advance.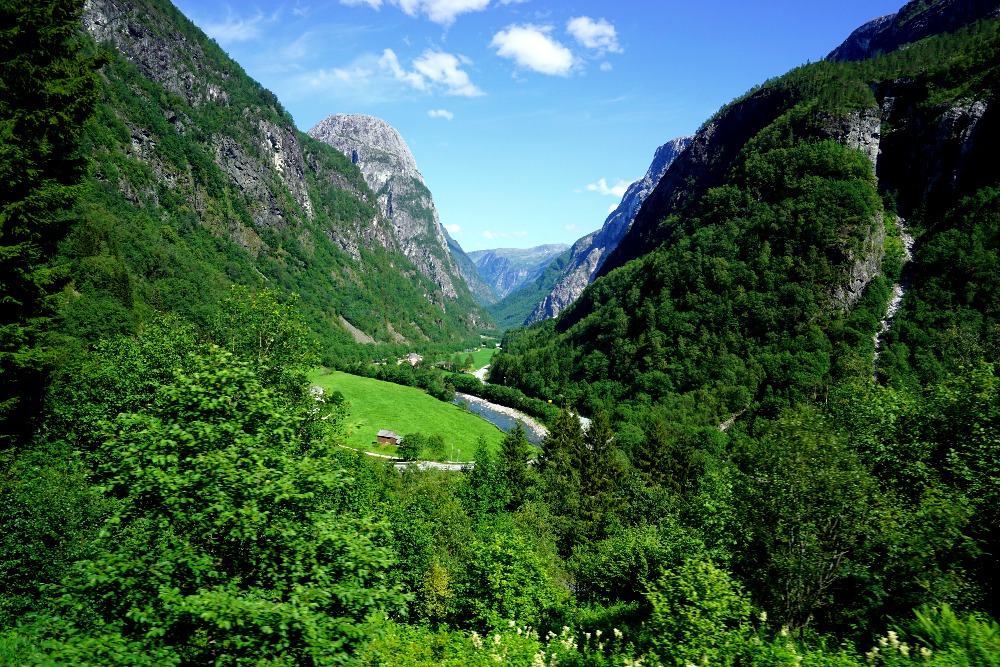 Geiranger
I did the 'Scenic Geiranger' (GER05) tour, which took about 2 hours to complete and costs €73. This excursion takes you to the two most scenic viewpoints in Geiranger, Eagles Bend and the Flydal Gorge viewpoint. We had about 15 minutes to enjoy the beautiful views at each location. The drive up Eagles Bend was a little bit scary as the road is narrow (only one lane) with hairpin turns and hundreds of cars and buses transporting tourists to the viewpoint. I wouldn't want to drive here myself.
Would I recommend this tour? No. The tour guide was super cool and the tour itself was really good. But you can get the exact same tour through a local tour company for more than half the price. Don't get me wrong, you cannot miss these viewpoints, but don't book the tour through MSC cruises.
Tip. Walk up the hill to the beautiful wooden church for a great view of Geiranger.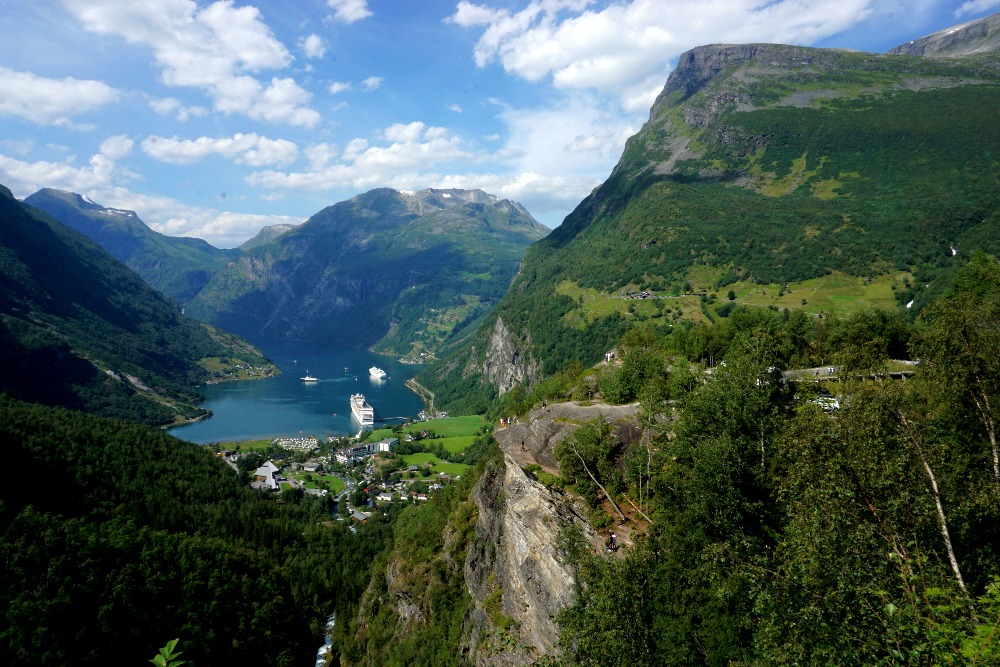 In Conclusion
Ultimately it comes down to this, the cruise is what you make of it! Whether you enjoy the experience or not is entirely up to you. Sure, there are factors that can be challenging. For example, if you experience motion sickness on land, you'll likely experience it on the cruise ship too. Come prepared. I didn't get seasick, but what got to me was the crowded public spaces during cruise days. Also, I would have liked to see more thought put into the vegetarian and vegan dishes in the dining rooms. But you know what, you just deal with it. Find a quiet place to escape the masses and eat dinner in the cafeteria instead.
Your cruise can be as relaxing or exciting as you want it to be. You can decide to participate in every activity or you can stay inside your cabin. You can choose to explore every port or just stay on the cruise ship. It's all up to you.
I will say this, manage your expectations from the start. Don't expect 5-star luxury, because you will be disappointed. Don't expect gourmet food, because you're not going to get it on the ship. The same goes for the entertainment onboard. Don't expect Broadway-level productions, and you might end up enjoying the shows.
Will I recommend the MSC Poesia to my friends and family? Yes, I recommend the company and the cruise ship. While cruising isn't for everybody, I think that every person should go on a cruise at least once in their life. Will I cruise again? Only time will tell, but I'm open to it.