As soon as my flight to Santorini was booked, I started to search for places to stay. I had a couple of important criteria that had to be met. Although there are a number of cheap hostels on Santorini, I really wanted to stay in a private room. Also, I was looking for an affordable, centrally located property with free breakfast and lastly, great reviews. The family owned and run Atlas Pension ticked all the right boxes for me, and then some more.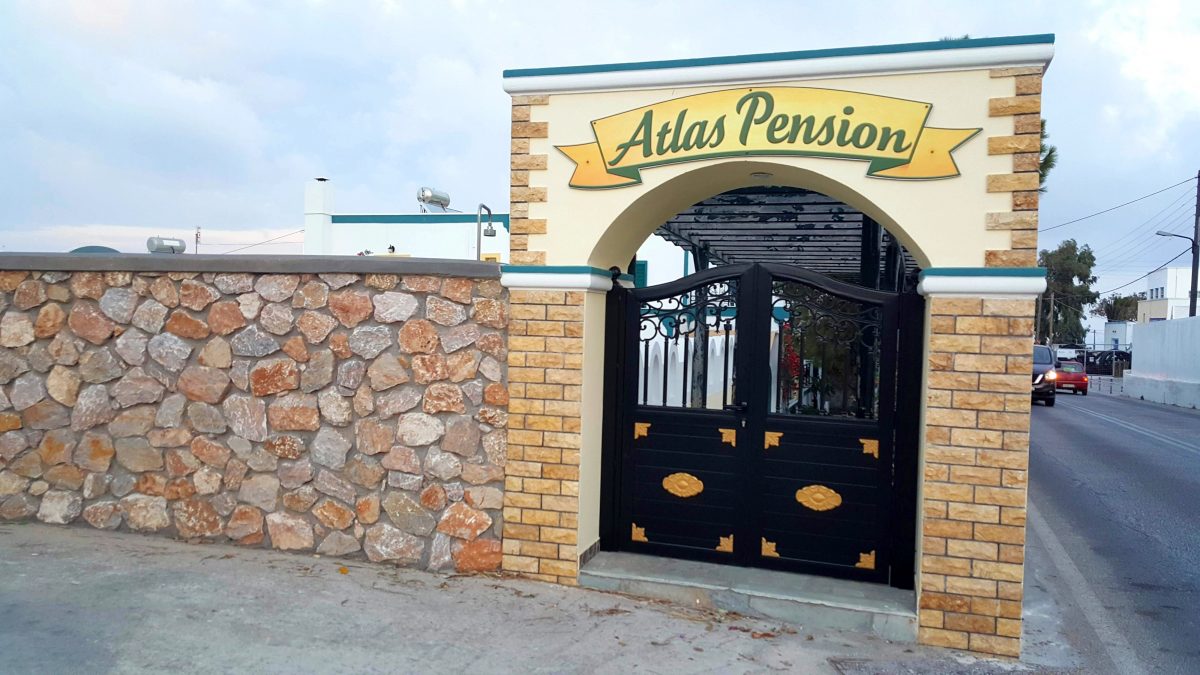 More about Atlas Pension
I spent eight nights at Atlas Pension. The guesthouse has 14 rooms, each with a private bathroom, balcony, air-conditioning, a fridge, free WIFI, a television, and daily housekeeping. There is also a lounge and a dining area where breakfast is served. Atlas Pension also has a beautiful swimming pool, but during my stay at the end of October, it was too cold to swim.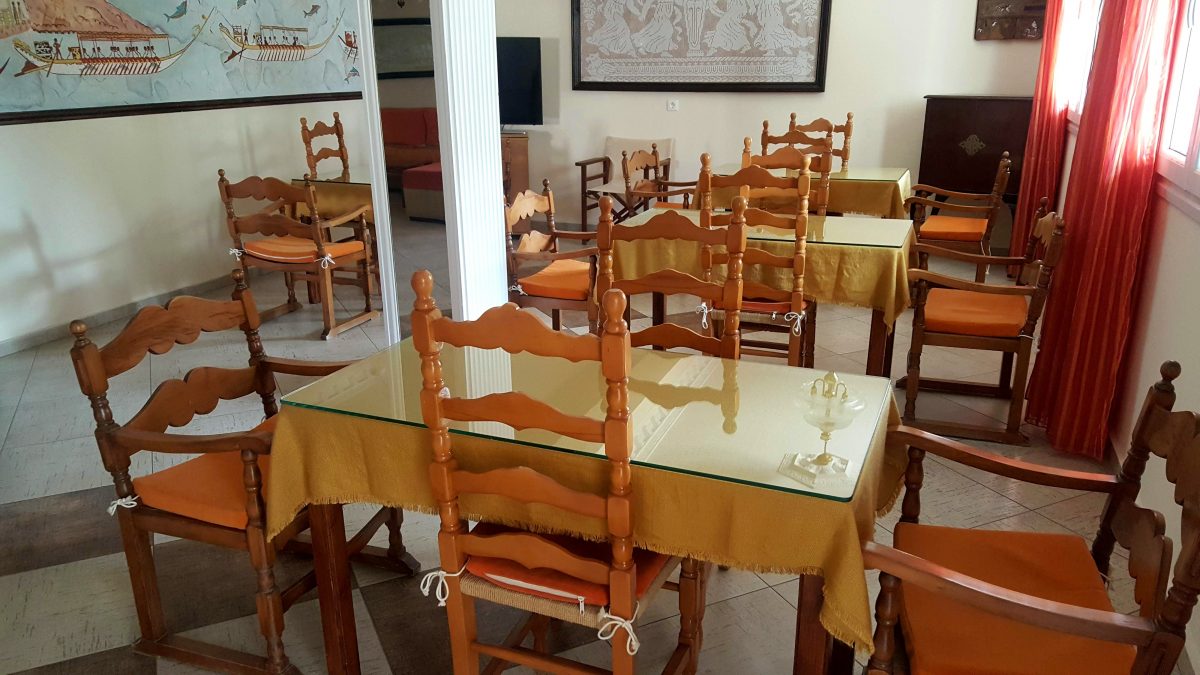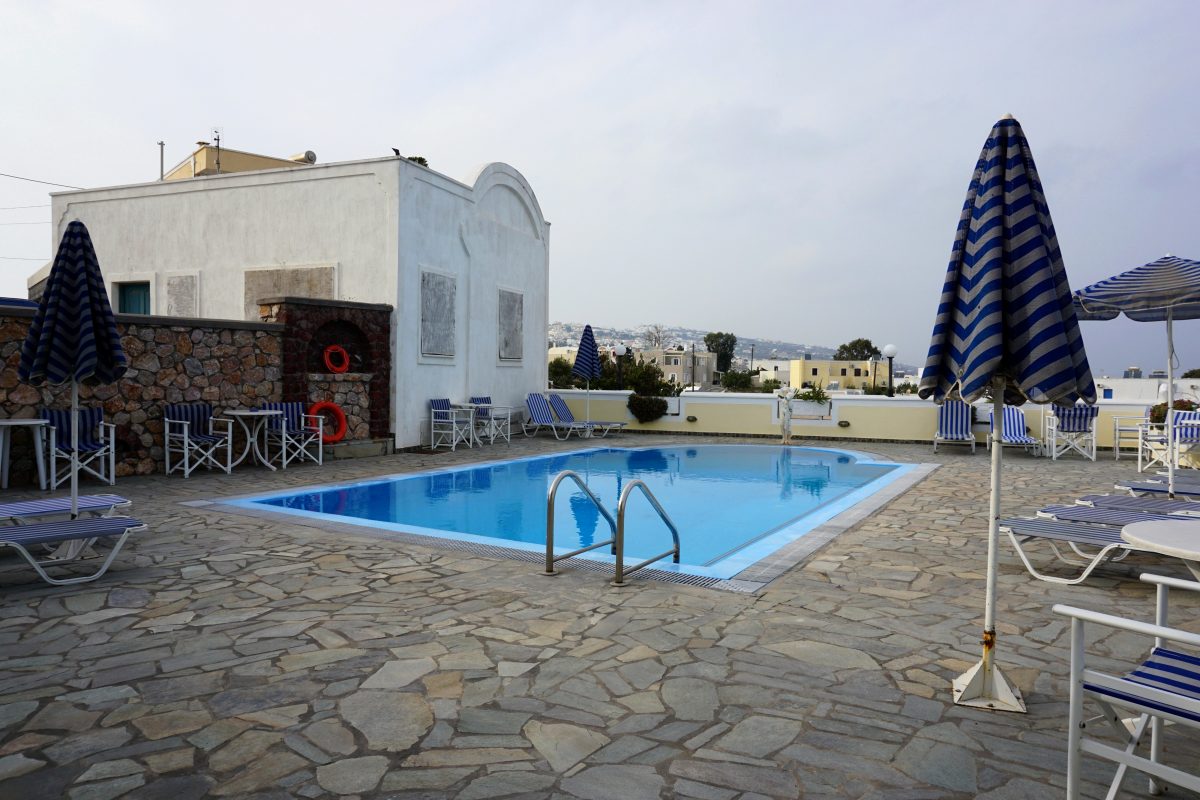 The guesthouse is located on the main road in Karterados. The bus stop, supermarket, bakeries, and restaurants are only 5 min walk away while Fira can be reached in 15 to 20 min on foot. At the bus stop, you can catch buses to Kamari, Perissa, Akrotiri, the airport and old port. For buses to Oia, you have to walk to Fira.
Atlas Pension has great online reviews. At the time of writing this post, the rating on Booking.com is 8.4 (out of 10) and Google review is 4.3 (out of 5).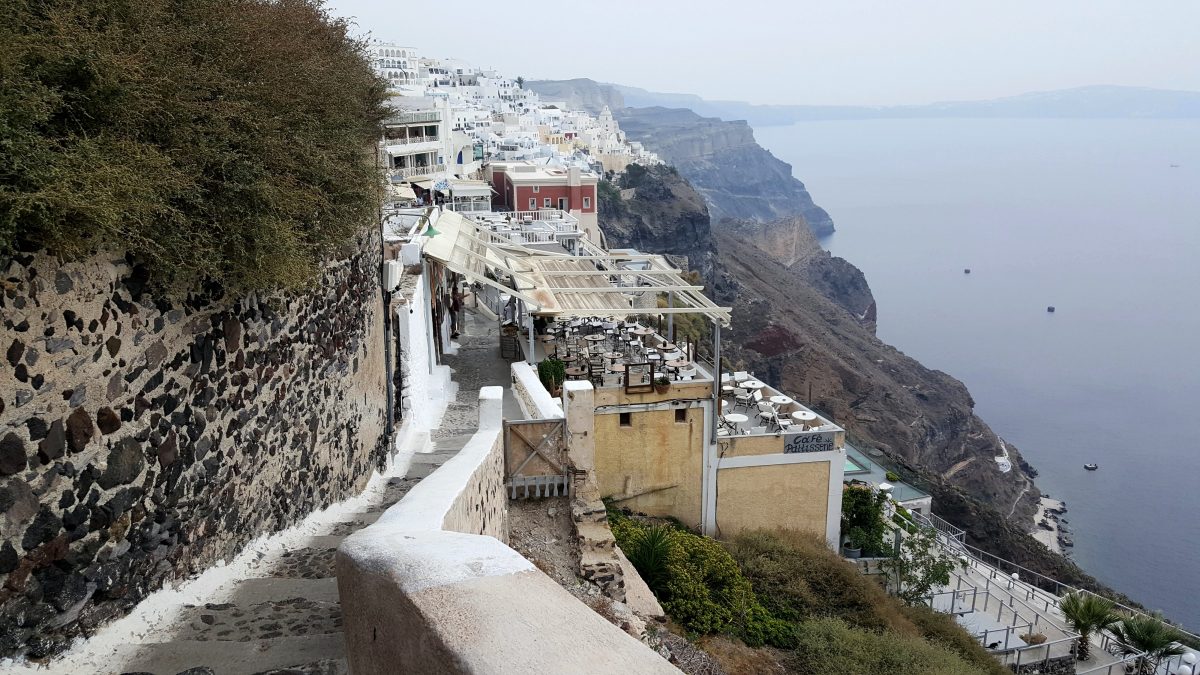 Free arrival transfer
Included in your stay is a free arrival transfer. I sent a message with my details and upon my arrival at the airport, Trudi and Petros were there to welcome me. This is very convenient and helpful, especially when arriving at a new destination. Atlas Pension is only about 4 km from Thira airport.
When I checked in, I was given a map and in-depth information about the island. For example, information about all the villages and beaches, how to use public buses and information about the hiking routes. They are also happy to assist you with the booking of boat tours, car rentals or taxis during your stay.
The rooms
Since I booked an economy single room (with no photos available online), I didn't know what to expect. But I was pleasantly surprised by the spacious room, fitted with a fridge, dresser and chair, a closet and shelves to unpack my clothes so I didn't have to live out of my suitcase for a week. There was also a kettle with tea and coffee that was replenished every day. The room even had a private balcony with a view of Karterados.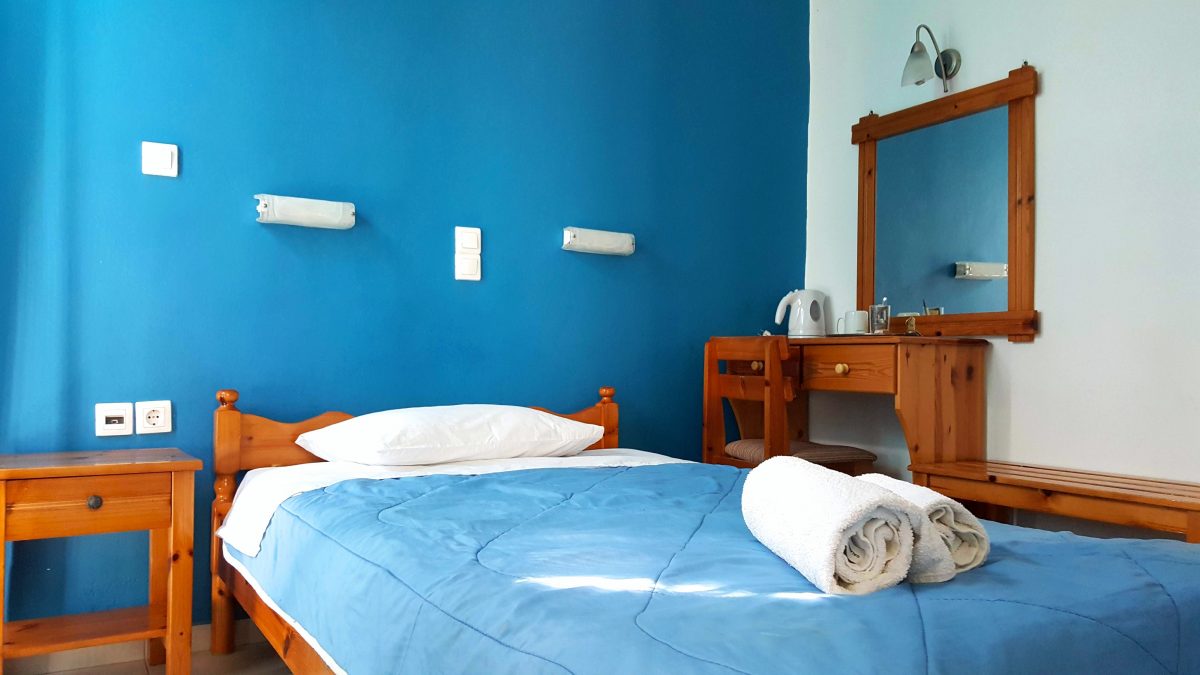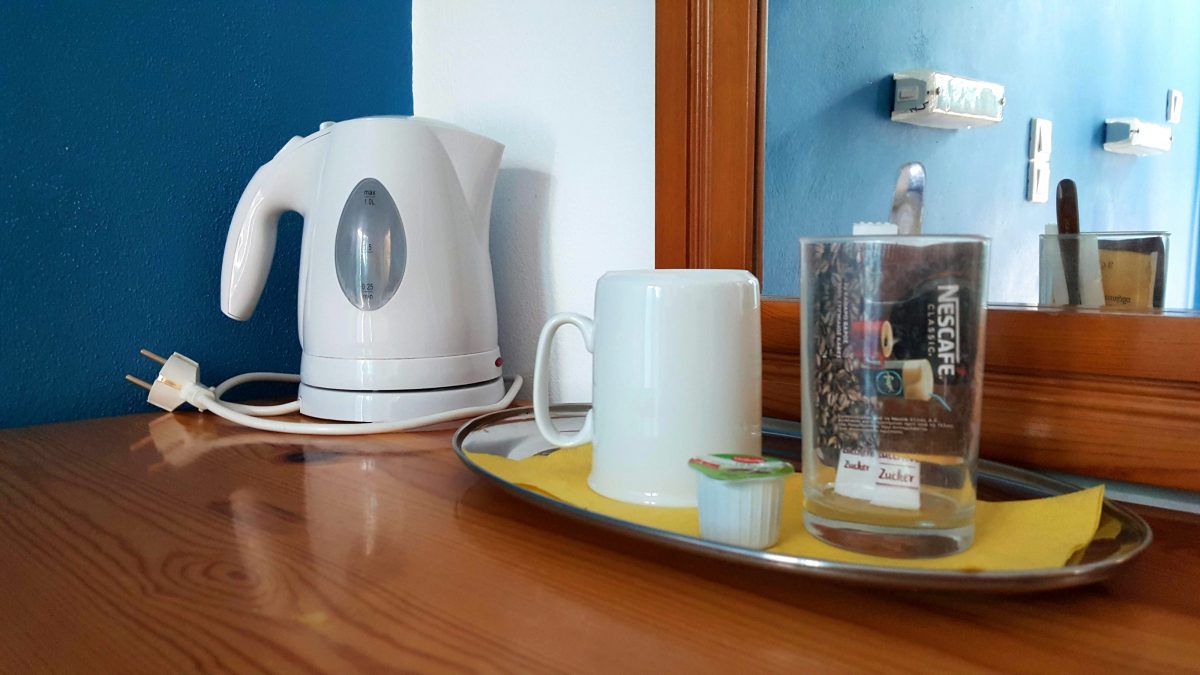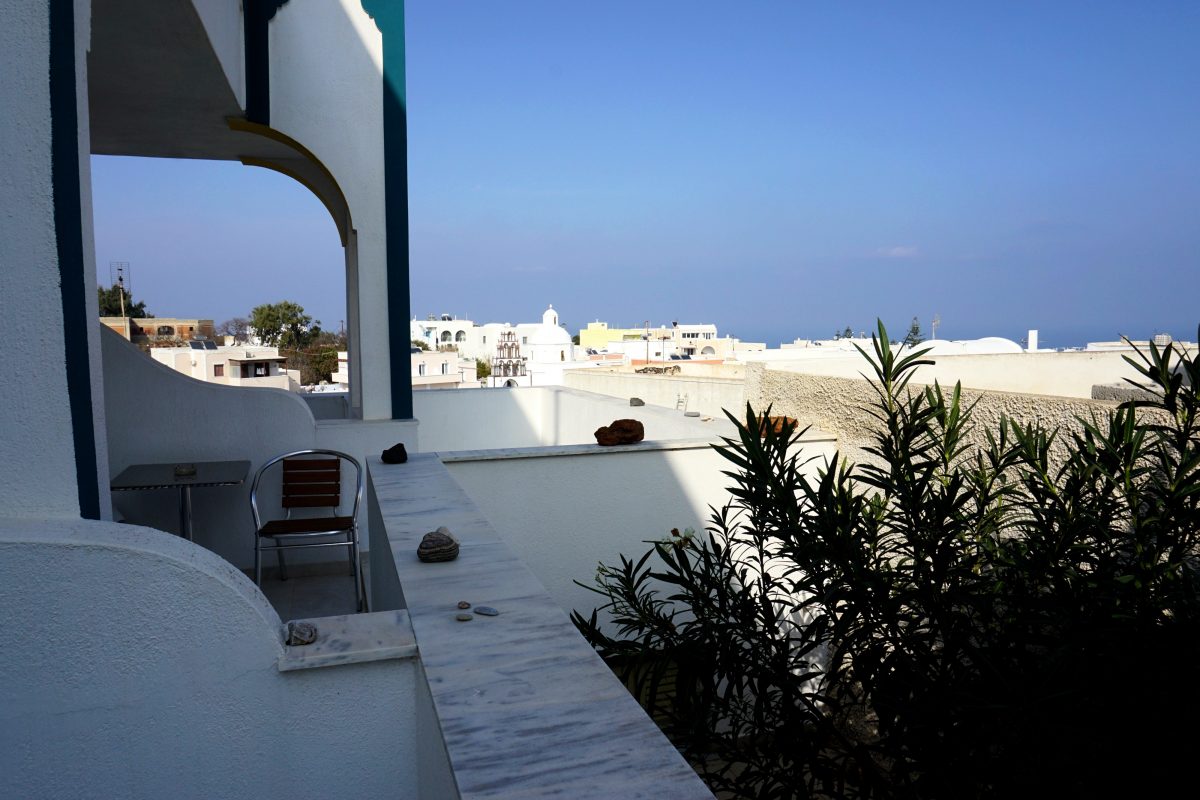 The room has a small ensuite bathroom with a toilet, a washbasin and a shower with a handheld hose.

Breakfast
A delicious continental breakfast is served every morning between 08h00 and 10h00 in the dining area of the pension. It varies a little bit from day to day, but you can expect to see fruit (grapes), muesli, yogurt with honey, cheese, cold meat, cake and a basket of fresh bread with an assortment of spreads. To drink you can choose from coffee, tea or juice. I really enjoyed the fresh bread, that was my favourite part of breakfast.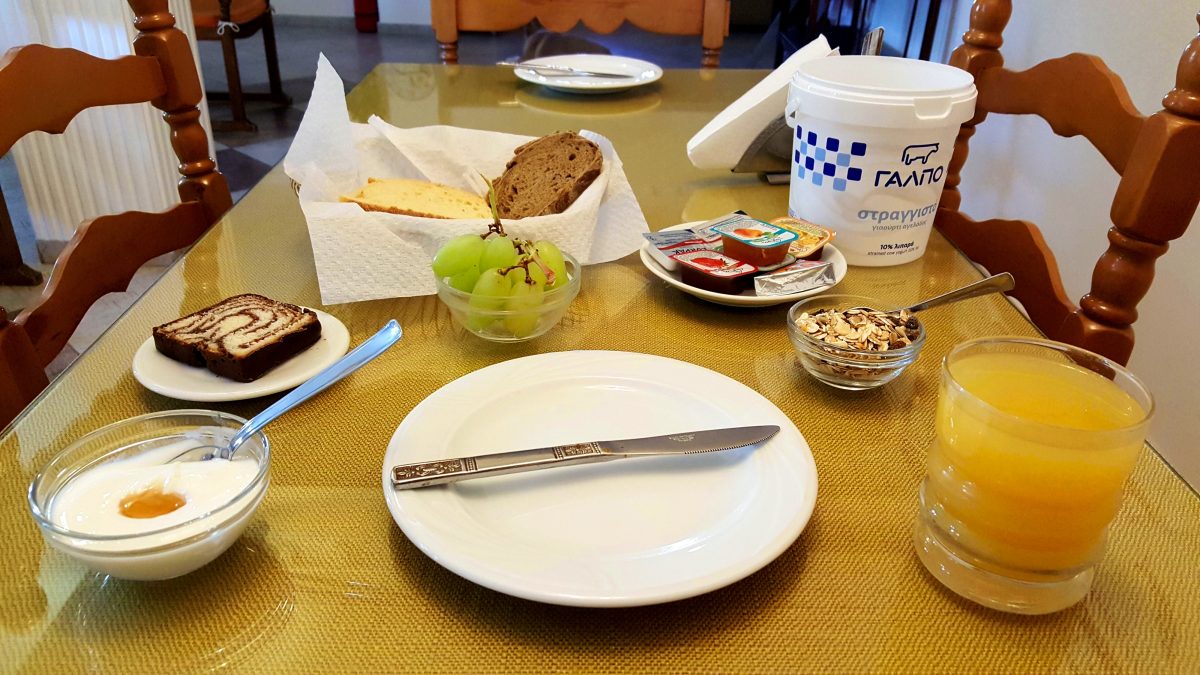 Would I recommend Atlas Pension?
Without a doubt! I would definitely recommend Atlas Pension to my friends and family. I felt welcome and the guest house was a huge part of why I enjoyed my time on Santorini so much. An added bonus was Luna, the cute and well-behaved resident pooch 🙂

Booking a room
Are you ready to book your room? I booked my stay at Atlas Pension through Booking.com. This is where I found the best rates for this property.