I'm one of those people who doesn't mind flying. In fact, I would even go so far as to say that I quite like it. It's part of the whole travel experience for me. Over the last few years, I've flown with Emirates a couple of times and every flight has been a positive experience. In my opinion, Emirates is one of the best airlines in the world. Afterall, you can't go wrong with Jennifer Aniston as your ambassador, can you?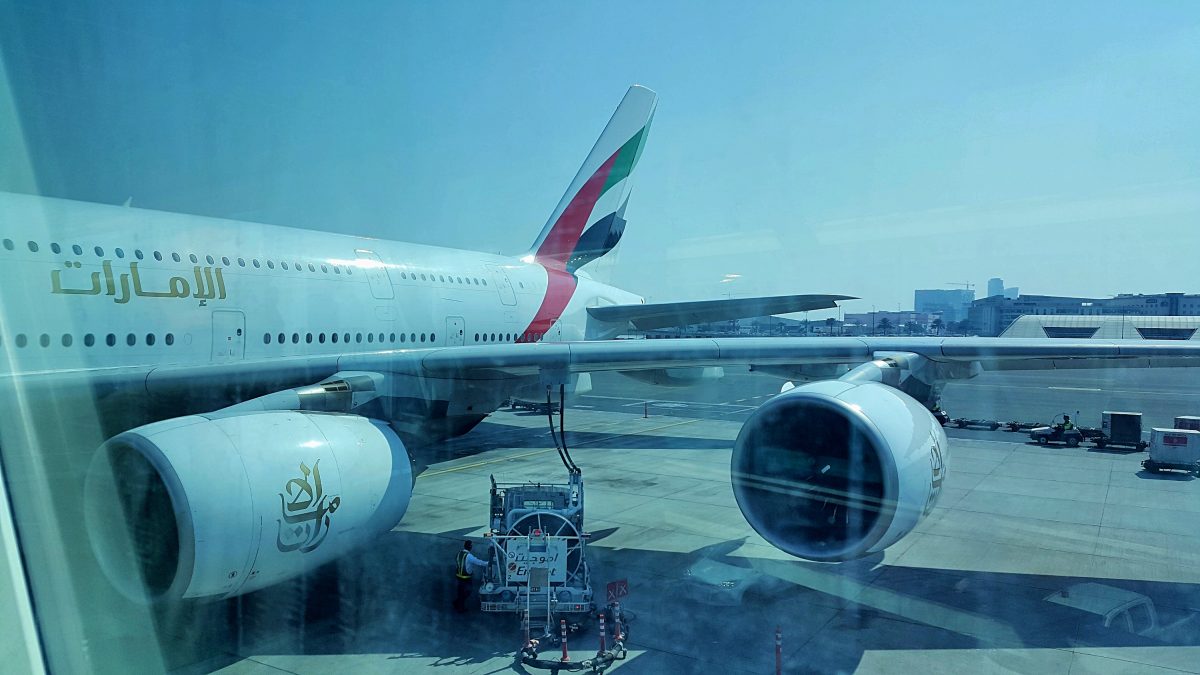 What makes Emirates a great airline
What makes an airline great? Number one, the price. Emirates is a popular airline with South Africans because it's often the most affordable way to travel to Europe and Asia. Secondly, the airline's website should be user-friendly. I like booking my own flights, so it's important that the airline has an easy-to-use website, preferably in English. The Emirates website is convenient for booking your tickets, checking in, selecting seats and choosing your meals. Thirdly the airline must be dependable and trustworthy. In other words, the airline must have a good reputation, and Emirates does. Safety is a priority and the flights almost always depart on time. Emirates has been named the best airline in the world on a number of occasions and it's easy to see why.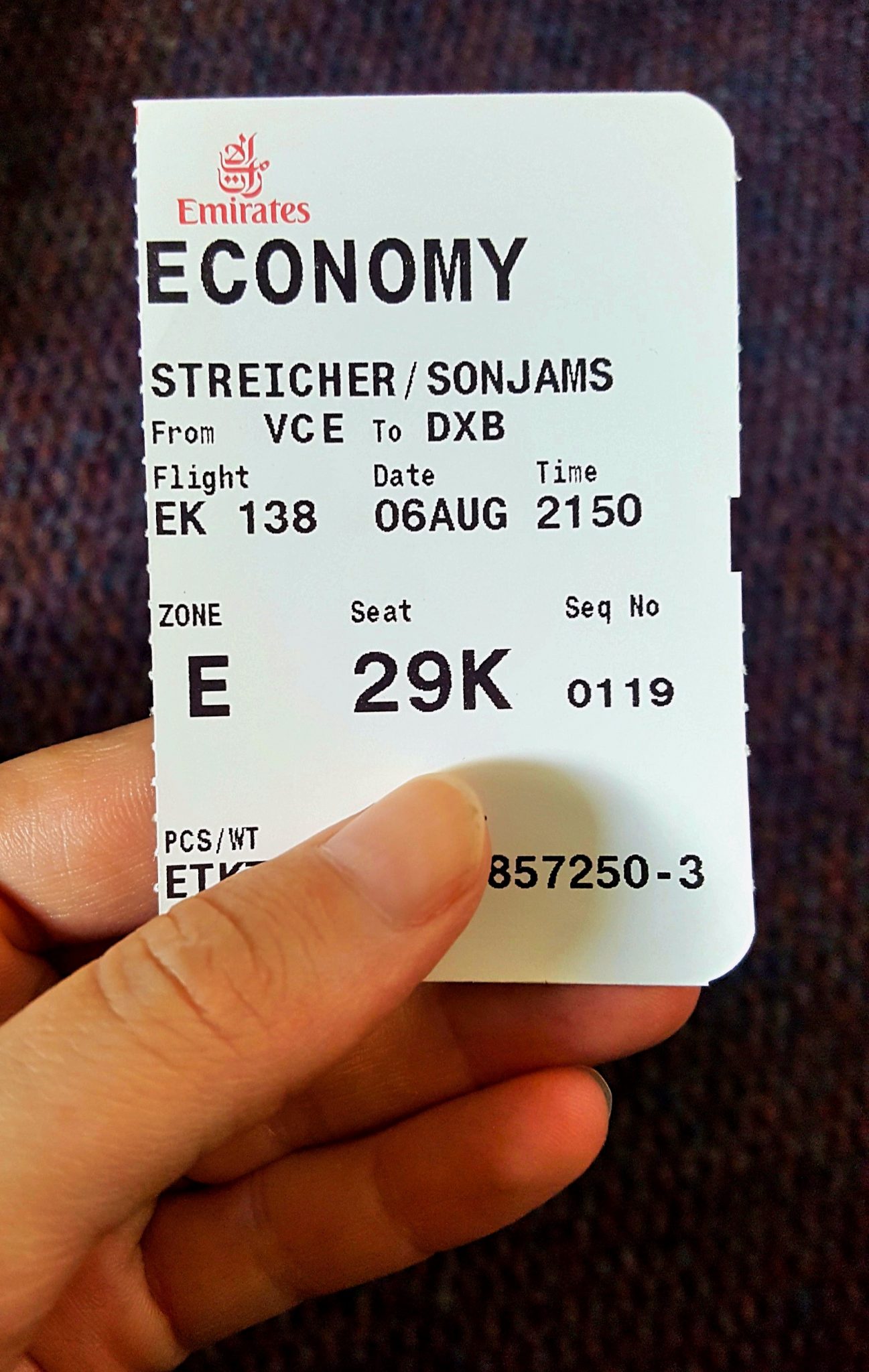 Seats and entertainment
The onboard entertainment will keep you occupied for hours. Trust me, you won't be bored for a second. From the latest movies to binge-worthy TV shows to music and games. Emirates has got you covered for those long-haul flights. The complementary earphones aren't too shabby either.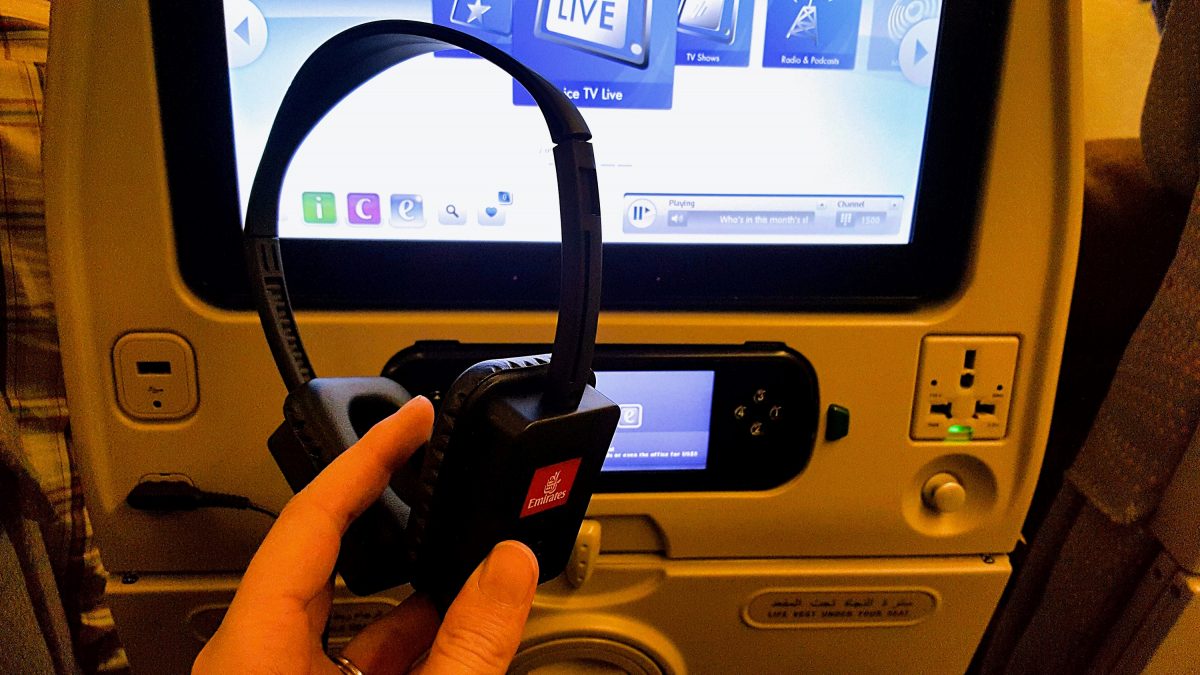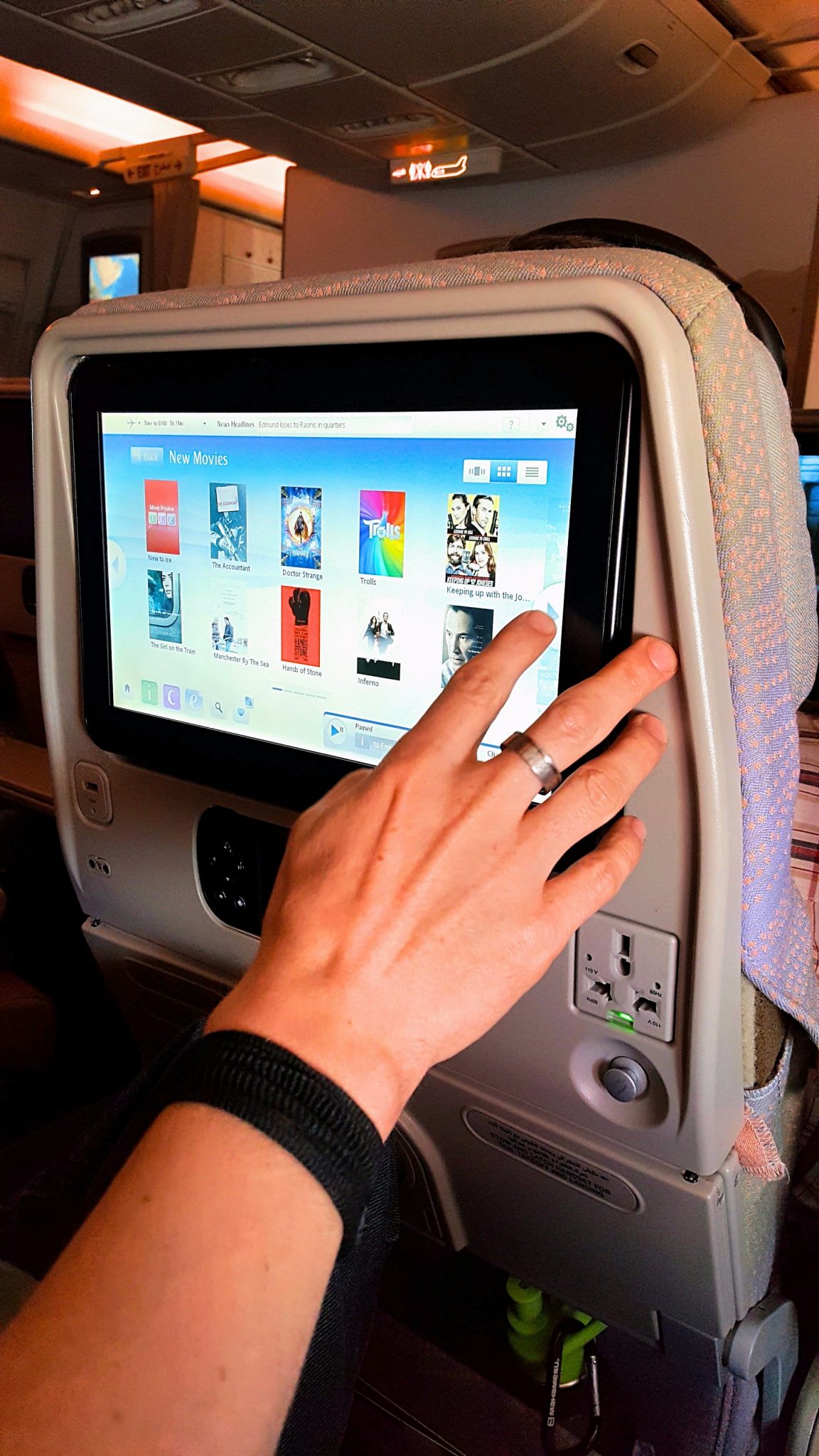 I wish I can say the seats were comfortable, but I can't. This is where Emirates lets me down a little bit. For shorter flights, the seats are more than adequate. But for longer flights, the seats are not comfortable at all. I usually manage to sleep a couple of hours on overnight flights. But on my most recent Emirates flight, I struggled to fall asleep.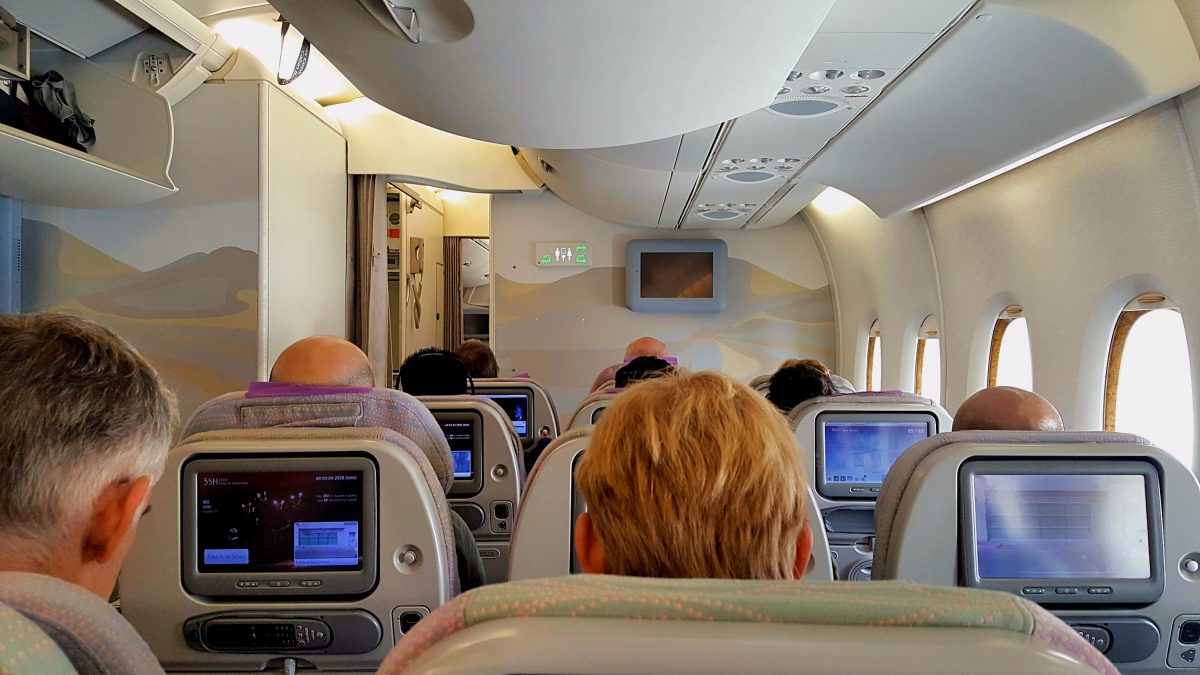 Crew members and service
The service on-board Emirates flights are impeccable. The crew members are stylishly dressed, friendly and very helpful.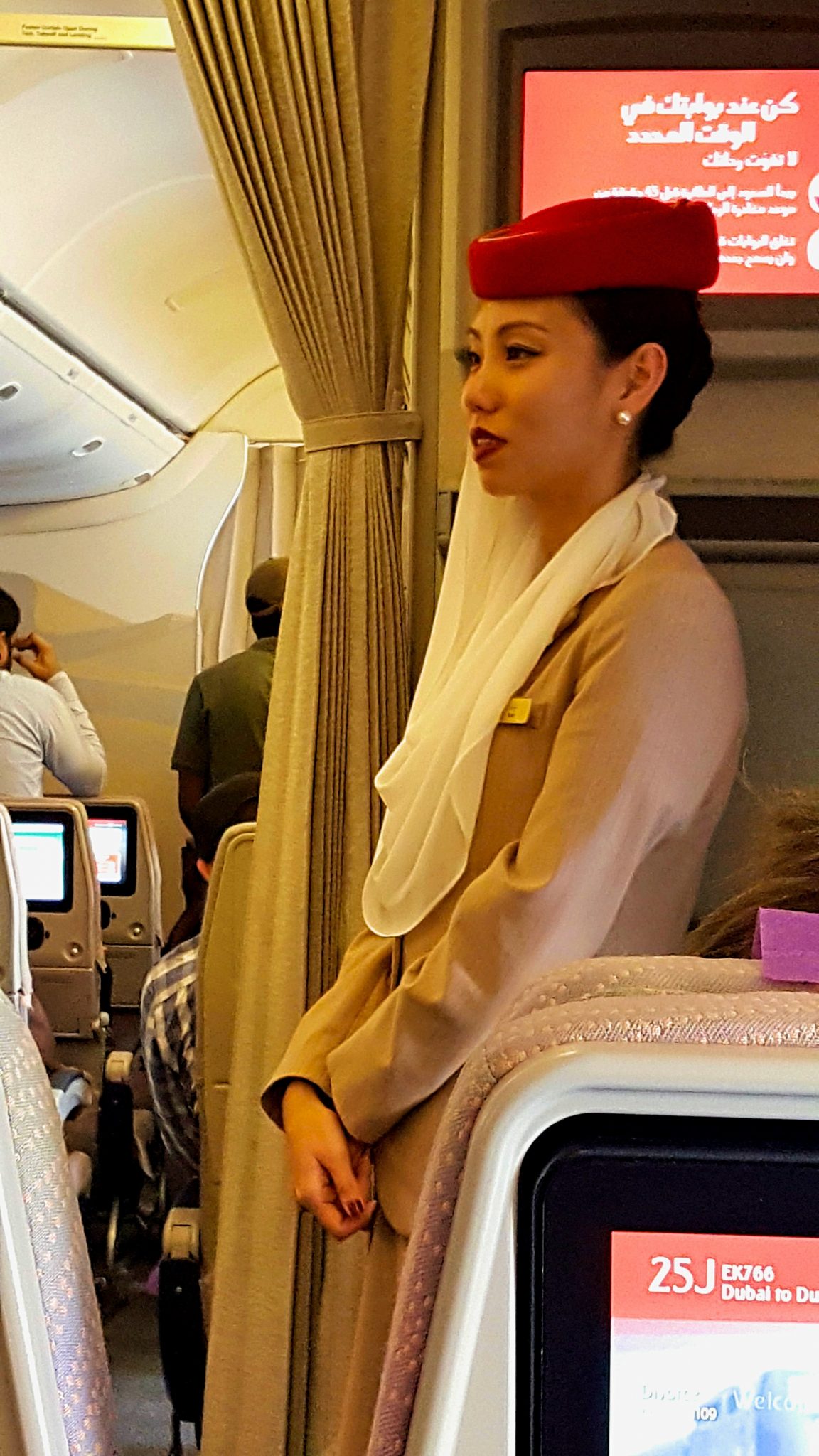 The food in economy
Let's be honest with each other, nobody flies economy for the tasty food! We fly economy because it's the cheapest way to get from point A to point B. My food review here is based on my most recent Emirates flight, which was earlier this year.
As a vegetarian, I always order special meals in advance. On these particular flights, I selected Asian vegetarian meals. One meal was a hit, the other two were misses. For dinner, I was served black-eyed pea salad, which wasn't great at all. The main dish was cauliflower and chickpea curry, which wasn't too bad. Dessert was a coconut and date pudding, which was sweet and interesting.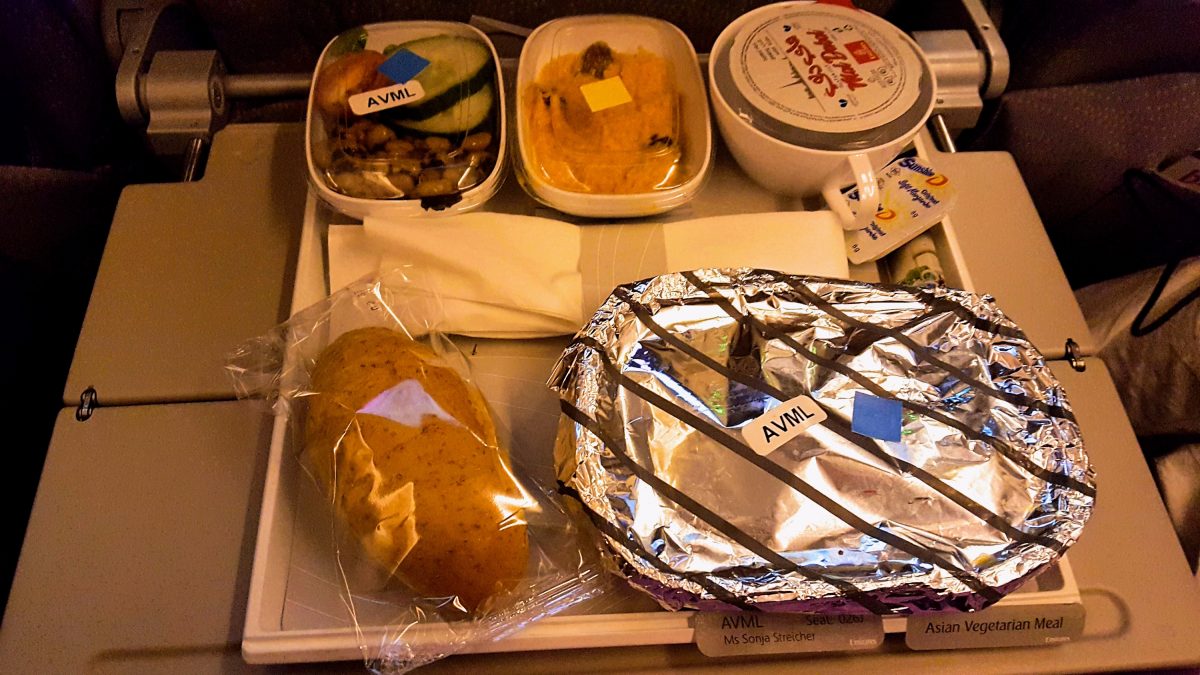 Breakfast was boring and not tasty at all. The meal consisted of a few pieces of fruit and a bread roll with margarine and jam. Really?
Before lunch, I was served snacks and drinks: savoury biscuits and red wine. Yum! If all the meals were replaced with cheese boards and wine, I'd be totally okay with it.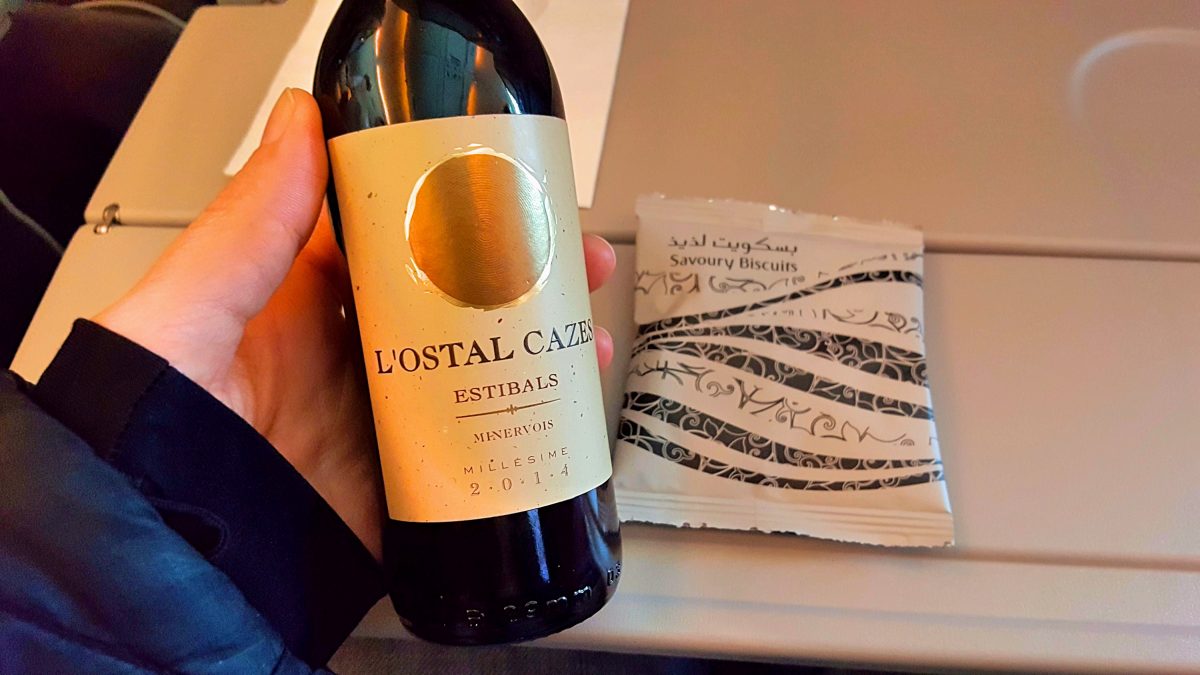 Lunch was the best meal for me. It was actually good. The starter was tasty vegetable fritters. The main meal was soya strips in a great sauce served with rice and veggies. The dessert was pineapple jelly with fruit and coconut.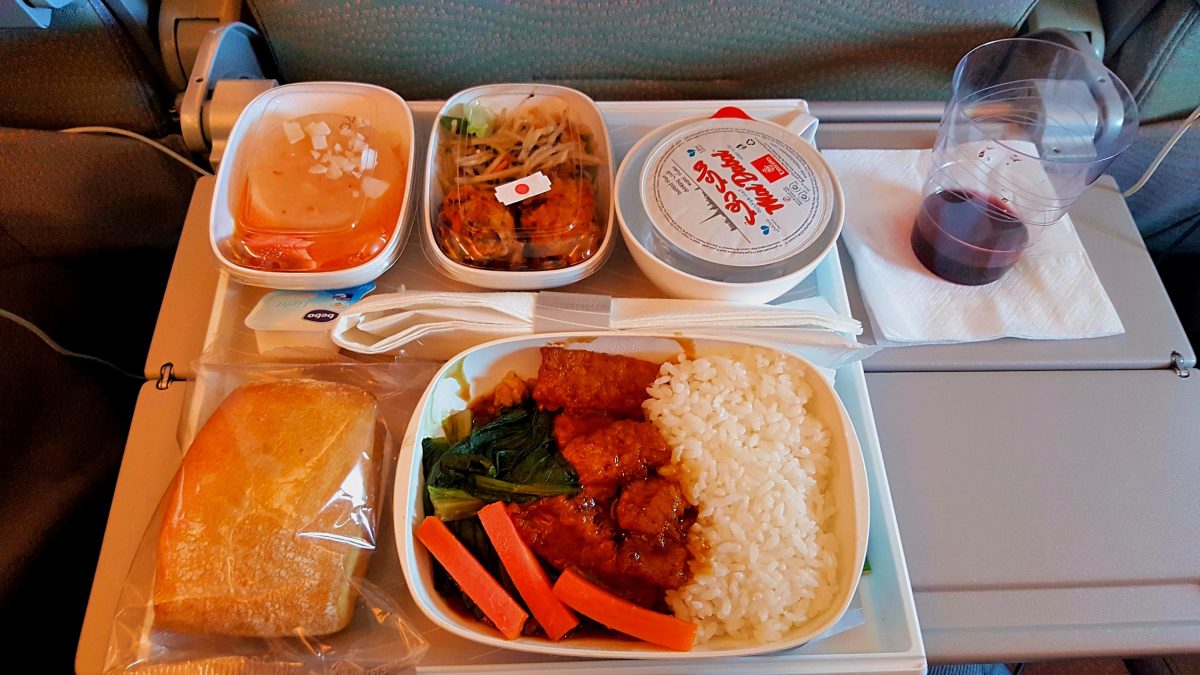 If you're a vegetarian, my suggestion is to order the ovo-lacto meals. I wasn't impressed with the Asian vegetarian meals at all.
Something special for our honeymoon
My husband and I flew to Italy with Emirates back in 2013 for our honeymoon. We totally played the honeymoon card every opportunity we got, but we didn't score an upgrade. What we did get was some delicious sweets with two glasses of champagne and a signed card from all the crew members. Very thoughtful!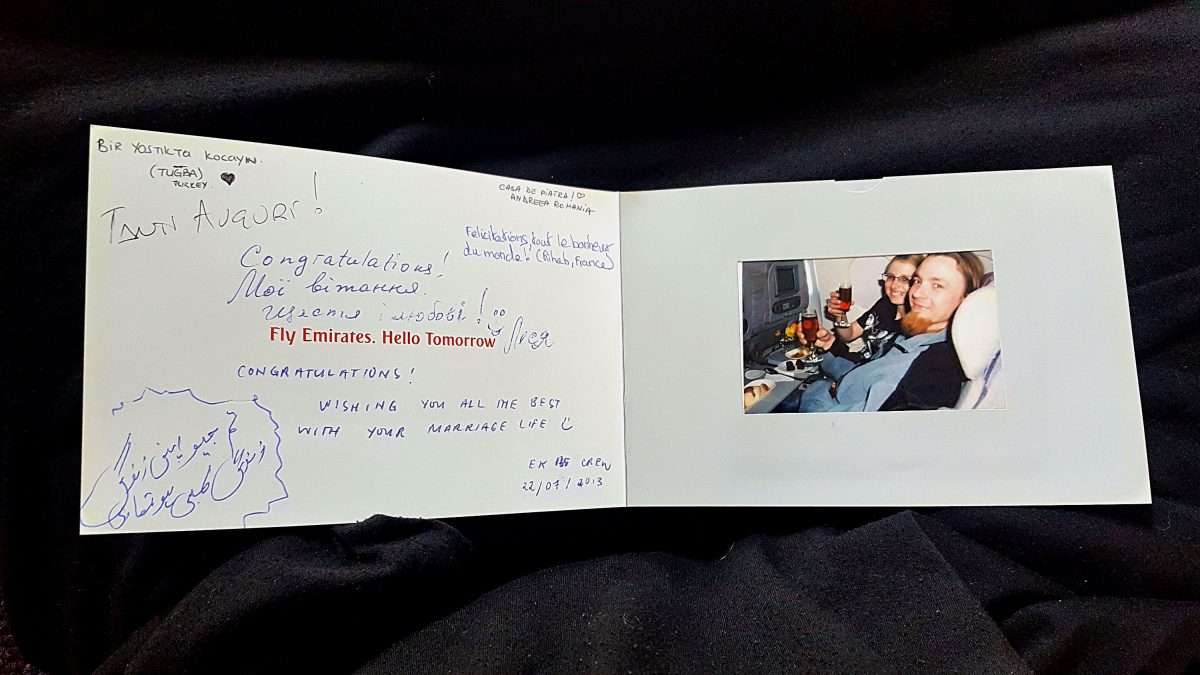 Dubai International Airport
If you're flying with Emirates, you'll probably have a layover at Dubai International Airport. As far as airports go, this is a pretty rad one. You can expect to see a lot of duty-free shops, electronics stores, candy shops and a selection of fast food joints. When I flew from Johannesburg to Delhi, I received food vouchers to spend at the airport on my layovers, which was terrific. The free WiFi inside the airport is great too.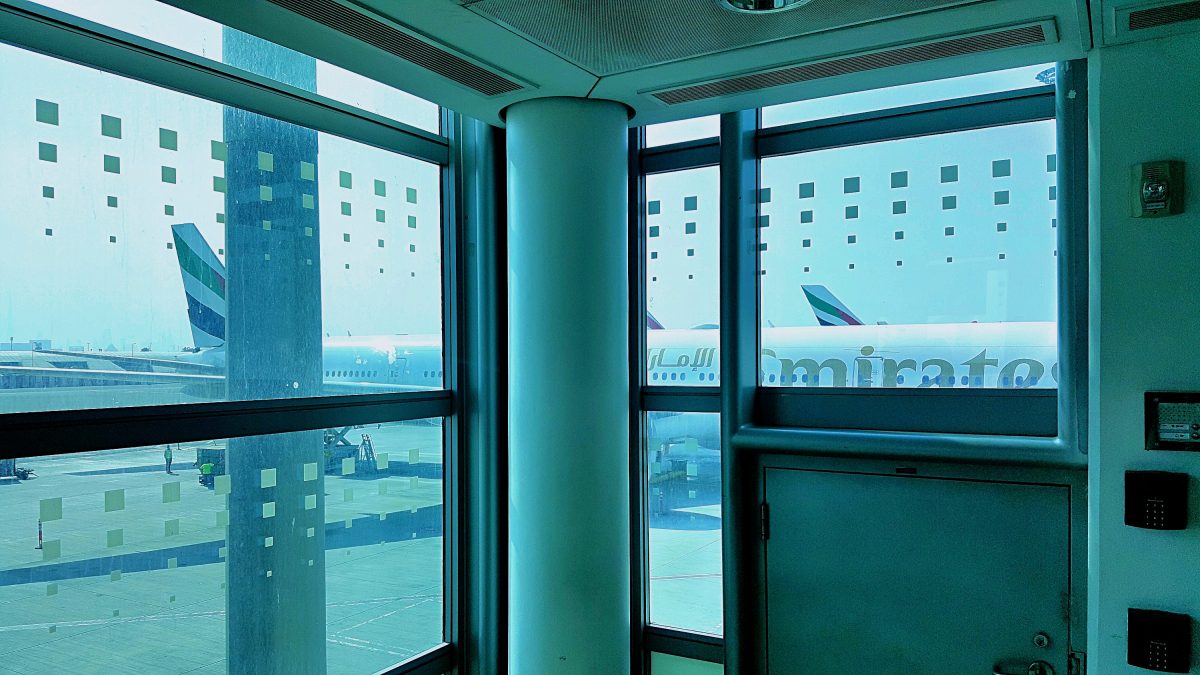 The generous luggage policy
Emirates has one of the most generous luggage policies of all the airlines in the world. I specifically chose to fly with Emirates when I moved to Amsterdam earlier this year. For my economy flight from Johannesburg to Amsterdam, I was allowed to take two pieces of luggage each weighing up to 23 kg. That was more than enough space for everything I wanted to bring with me to The Netherlands. So keep Emirates in mind if you have to travel with a lot of luggage.
Before landing
Prior to landing, the hostesses dispense hot towels which is a great way to freshen up before you get to your destination.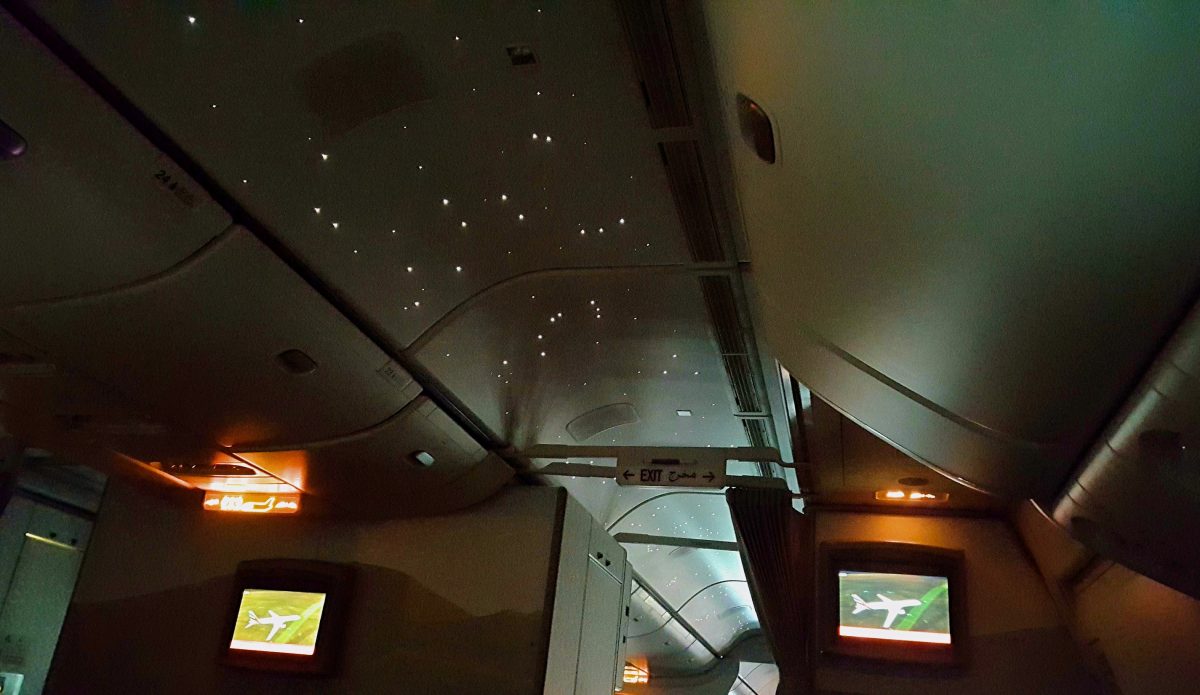 Emirates is a great airline. I wouldn't hesitate to recommend the company to my friends and family. Tell me about your own experience flying with Emirates. I really want to know.