I've been to a number of German Christmas markets, and I've got to say, the Christmas markets in Cologne are my favourite! Seeing vendors dressed in period costumes showcasing their craftmanship, browsing through the stalls sipping glühwein, stuffing my face with delicious food, being mesmerized by thousands of lights…So many great memories were made here. I've already visited the Cologne Christmas markets twice, but honestly, I'd happily go back again. Here are six markets you simply cannot miss this festive season.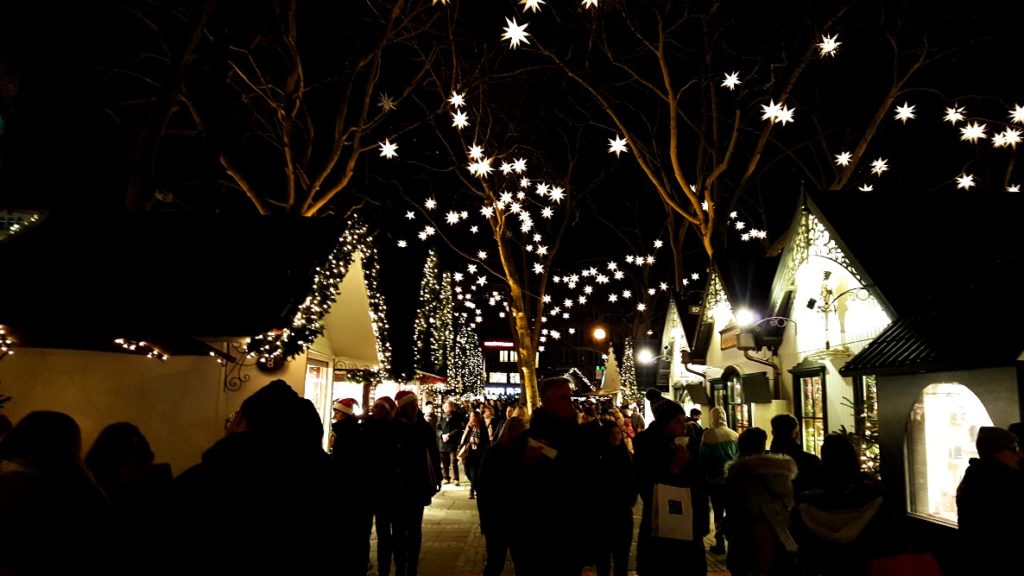 1. Cologne Cathedral Christmas Market
Why this market? It's only fitting to begin this list with the most visited and well known Christmas market in the city. The Cologne Cathedral Christmas market has more than 100 red-roofed wooden huts with vendors selling all sorts of products, most of them handcrafted. In the middle of the market is a huge Christmas tree with strings of lights that radiate out from the top to create a net. It's easily missed during the day, but at night it's spectacular.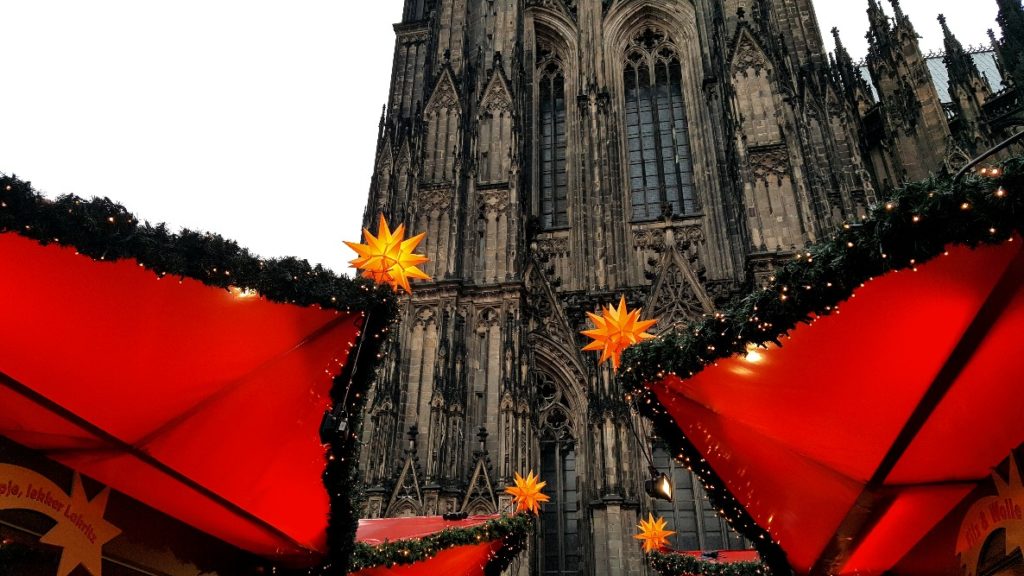 What to eat: This market has something for everybody. From delicious local cuisine to regional delicacies, you'll definitely find something here to satisfy your tastebuds. I personally enjoyed the käsespätzle and Swiss fondue. And for dessert, I opted for something a bit more traditional, a slice of cherry strudel with vanilla sauce. Yum!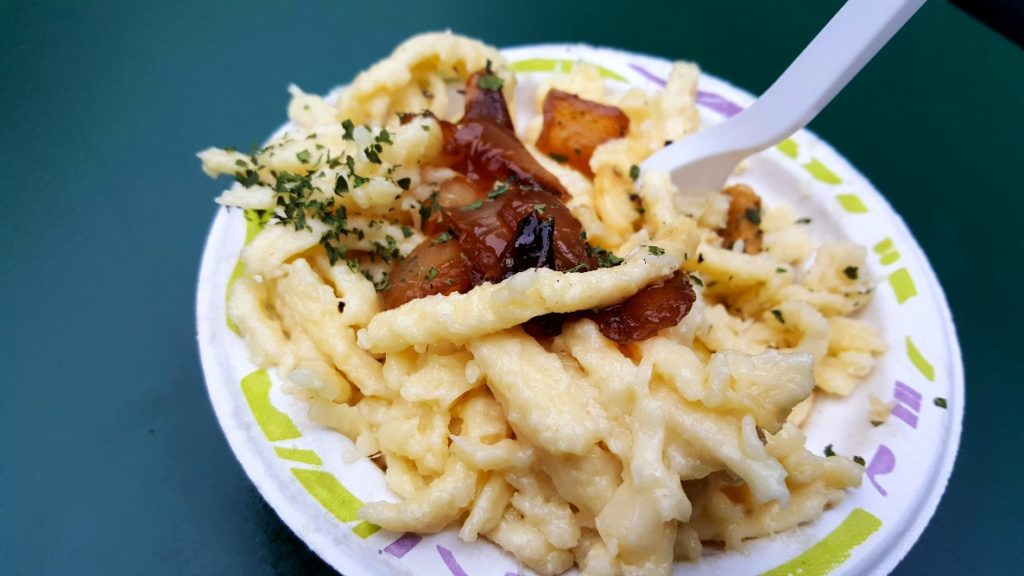 Where's it located? As the name suggests, this Christmas market is right next to the Cologne Cathedral. It's difficult to miss…
2. Adventsdorf am Kölner Dom
Why this market? This is a cute, tiny market with a cosy atmosphere. You'll only find stalls selling food and beverages here, so this is a great market to grab something to eat or drink.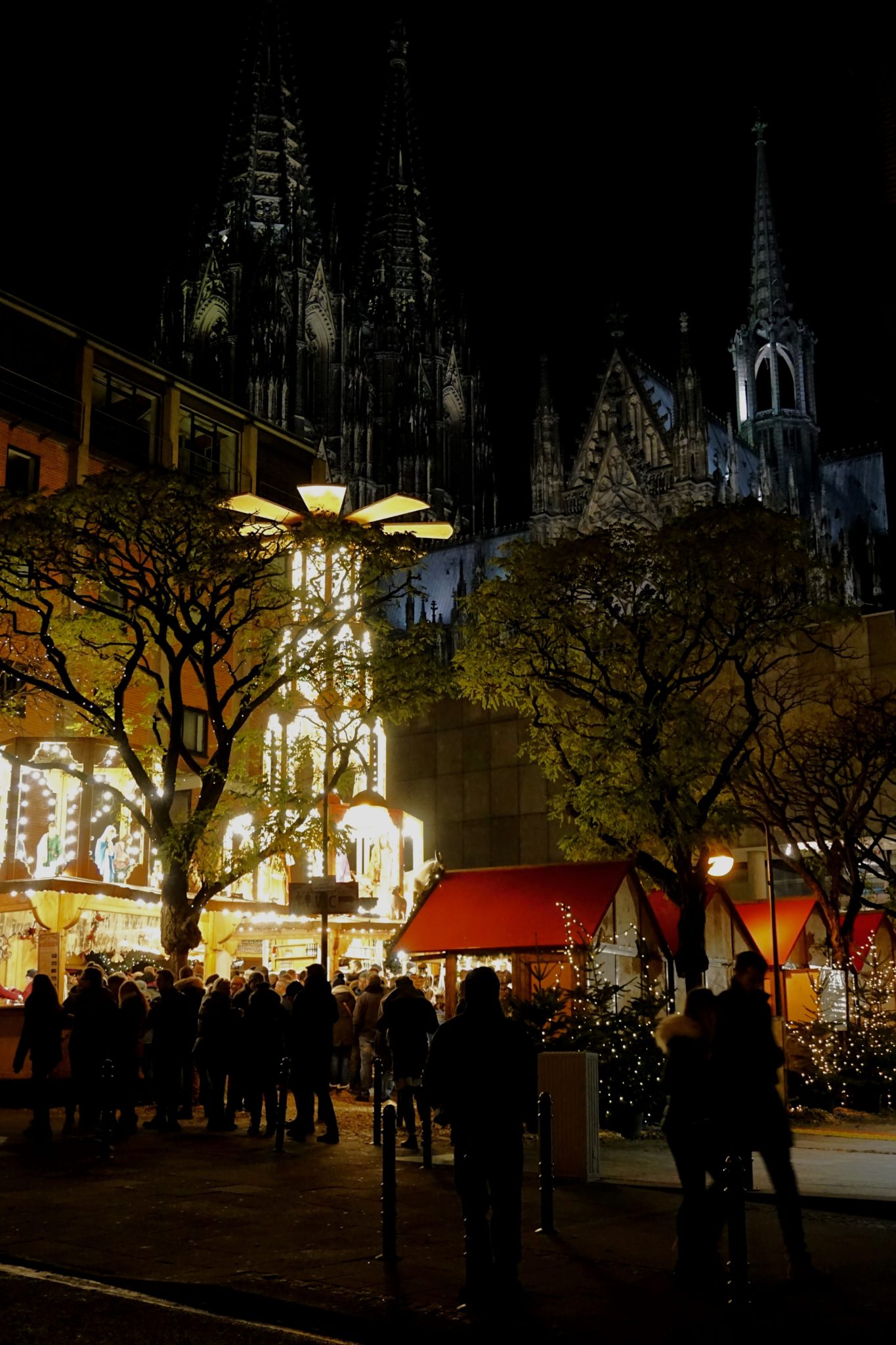 What to eat: If it's traditional German food you want, this is the market for you. And what is more traditional than currywurst? There's a stall selling a variety of currywurst, but my husband really enjoyed the cheese currywurst. In the middle of the market is a huge bar with an impressive wooden Christmas pyramid. Why not sip a cup of mulled wine and soak up the festive atmosphere?
Location: The market is just around the corner from the Cologne Cathedral Christmas market.
3. Alter Markt (Old Market)
Why this market? If you only visit one Christmas market in Cologne, let it be this one. The Old Town Christmas market has it all: huts selling amazing food and crafts, great decorations (gnomes and big beautiful hearts everywhere), warm and festive atmosphere, and a small Ferris wheel. The market is also known for its huge outdoor ice rink, which is open day and night for the duration of the season. Oh, and there's also a guy with mad skills that carves animals from blocks of wood using a chainsaw. Yep.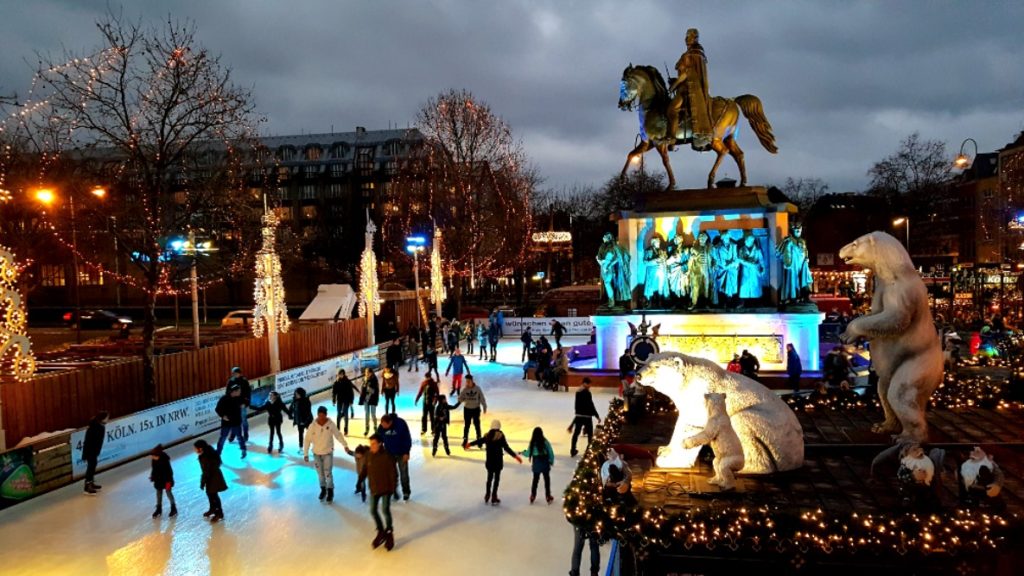 What to eat: The list of food at this market is endless. My personal favourite is the handbrot. If you've never eaten handbrot, you don't know what you're missing…Warm, fresh homemade bread stuffed with cheese and mushroom or cheese and ham, served with sour cream and chives. What's not to love? It's hearty, delicious and filling!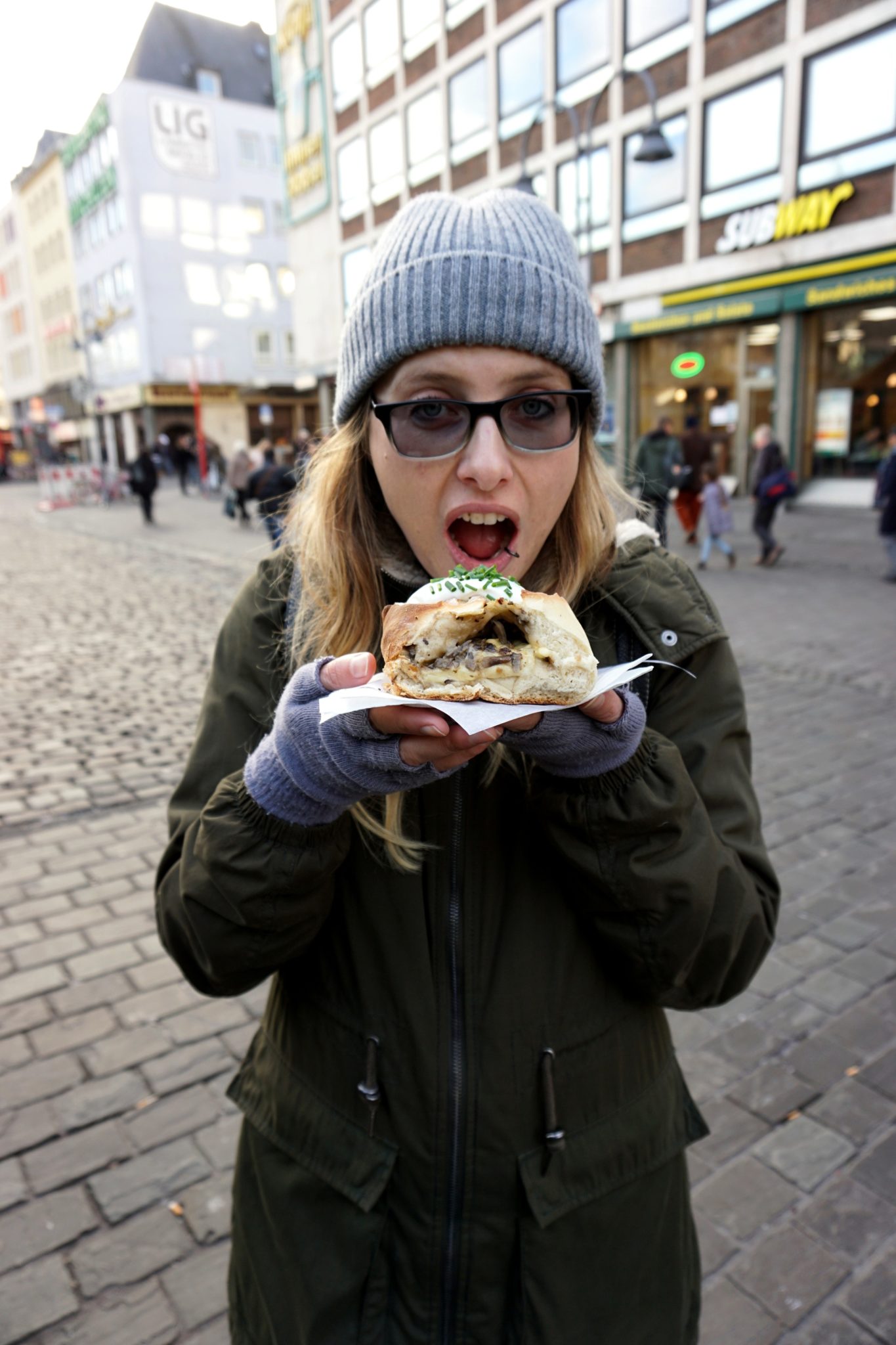 Where is it located? The name says it all: Old Town. This market is approximately 5 to 10 minutes on foot from the Cologne Cathedral.
4. The Angels' Market
Why this market? It is Cologne's oldest Christmas market, one of the biggest in the city, and beautifully decorated with hundreds of stars and angels. This is a great market to shop for gifts. My favourite hut sells genuine feather pens with ink pots and leather-bound journals. Every Christmas market usually has it's own nativity scene. The Angels' Market is no different, except that the nativity scene is super creepy because it features marionettes.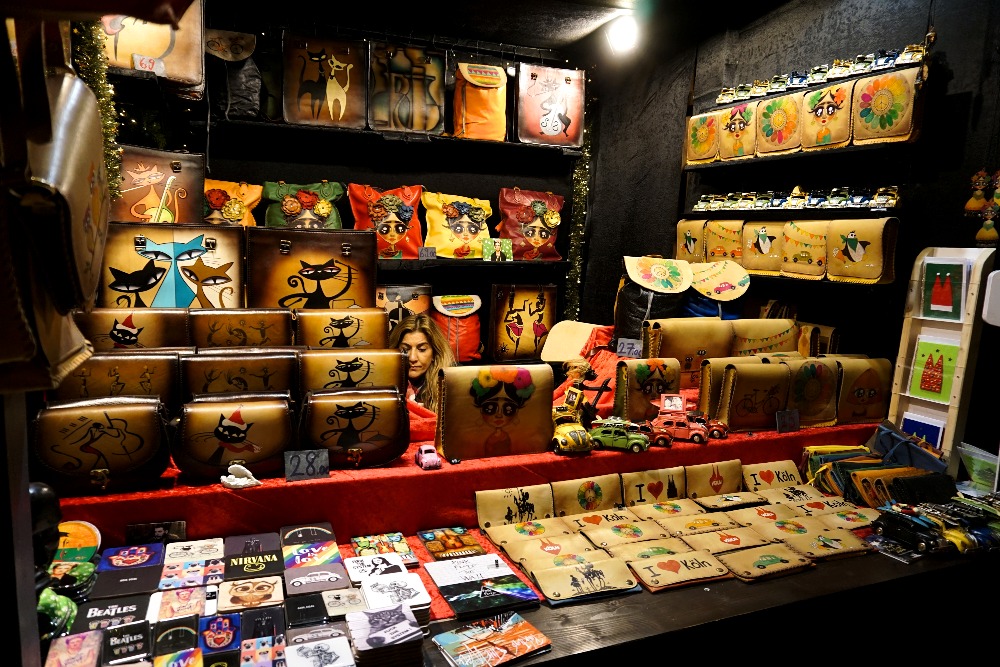 What to eat: You'll find all the German Christmas market food staples here, but also a couple of unique ones. Like vegetarian currywurst and dom waffles (waffles in the shape of the Cologne Cathedral).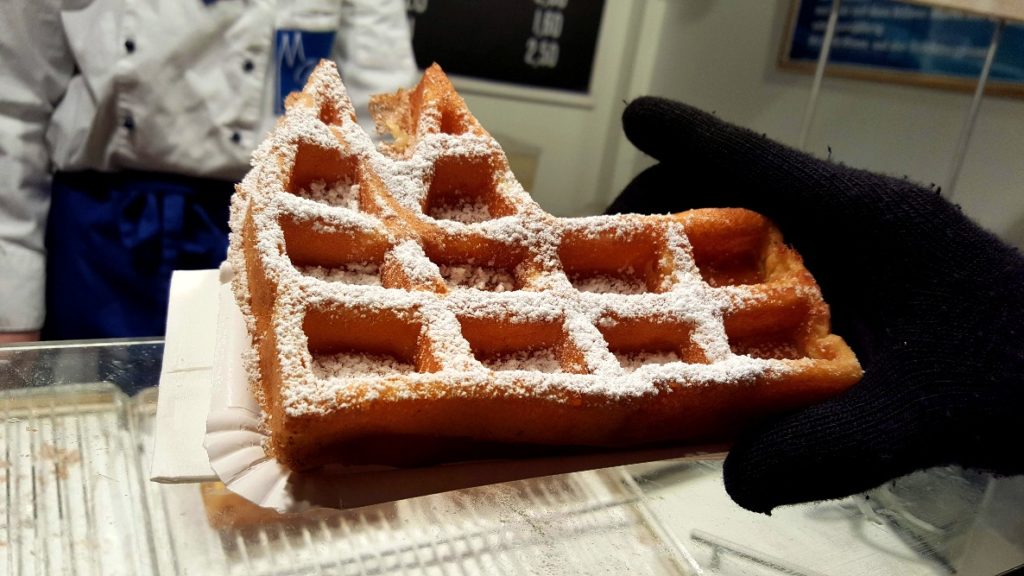 Location: Angels' market is located at Neumarkt.
5. Nikolausdorf
Why this market? Because in my opinion, this is the prettiest Cologne Christmas market for two reasons. The lights and the Hahnen Gate (Hahnentorburg). It was through this massive medieval gate that the German Kings arrived in this city. If you enter the market through the gate, like royalty from centuries ago, it feels like you've been transported to another world. This market can get crowded during the night, which is coincidentally the best time to visit because of the lights.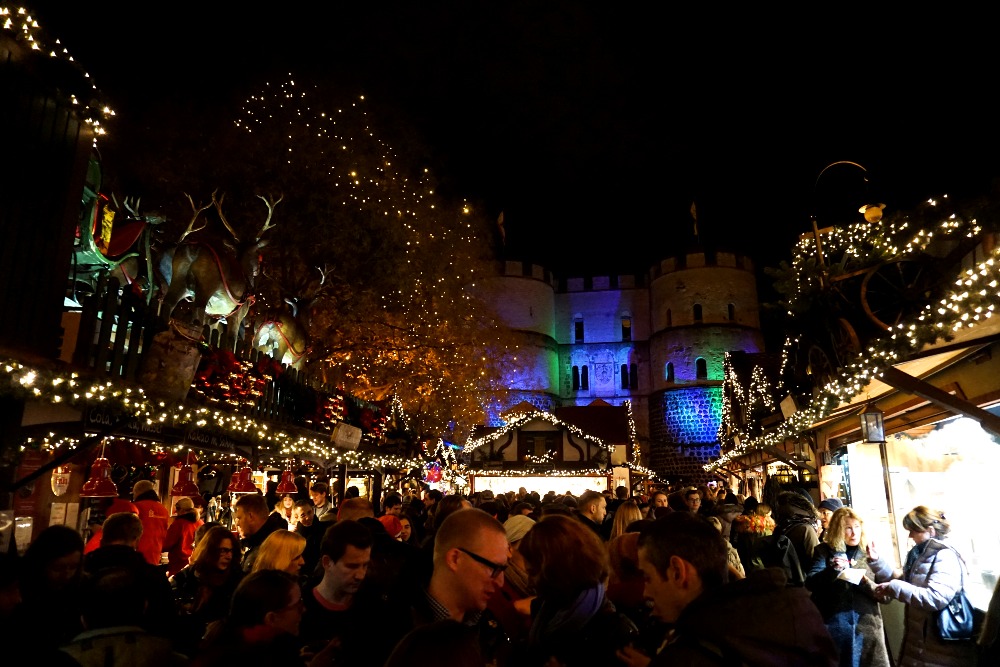 What to eat: Classic Christmas market food. The mugs at this market are very cool. I realise the designs will probably differ from year to year, but last year they were super cute, shaped like boots.
Where is it located? At Rudolfplatz, you cannot miss it.
6. Heavenue Cologne
Why this market? For something a little different, head to Heavenue, Cologne's gay Christmas market. What sets this market apart from the rest is how the stalls are decorated (with pink and blue glitter), the synchronized water fountain, and the unusual cuisine.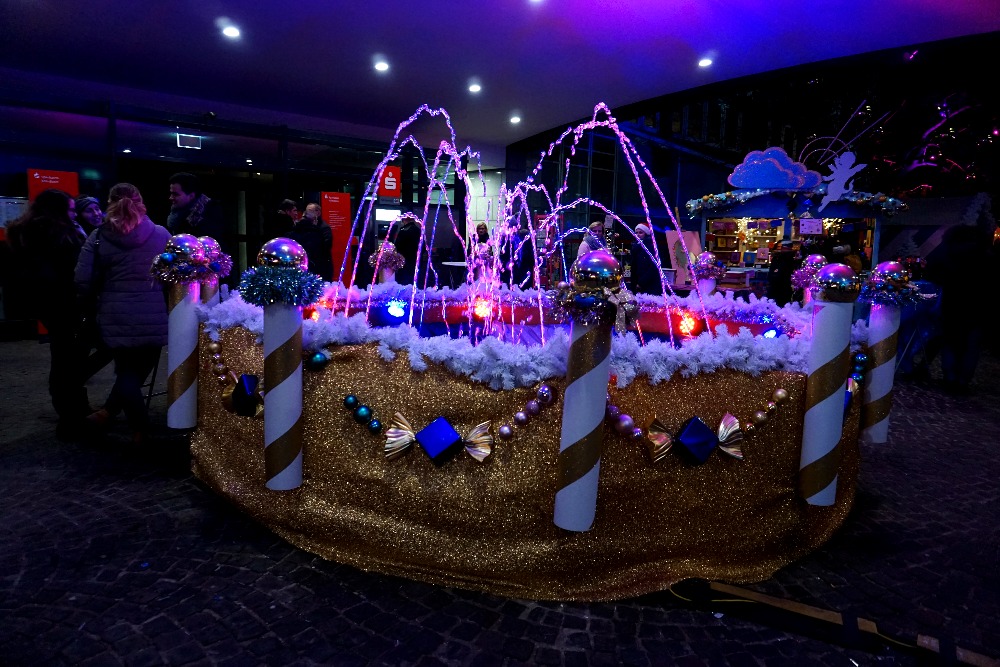 What to eat: The food at Heavenue is certainly unique and you won't find anything like it at the other Christmas markets. Apparently the penis-shaped waffles are all the rage. Unfortunately, I didn't see the phallic-shaped confections, but I did see pink crepes which looked delicious.
Location: You'll find Heavenue on Rudolfplatz, a short distance from the Nikolausdorf market.
My best tips for visiting the Cologne Christmas markets
For an incredible view of the Christmas market and the city from above, climb the Cologne Cathedral Tower.
Do your Christmas market shopping during the day and return at night for the lights and the atmosphere.
To buy unique gifts, head to Angel's market for one-of-a-kind products.
The outdoor ice rink at the Old Town Christmas market is great for people watching!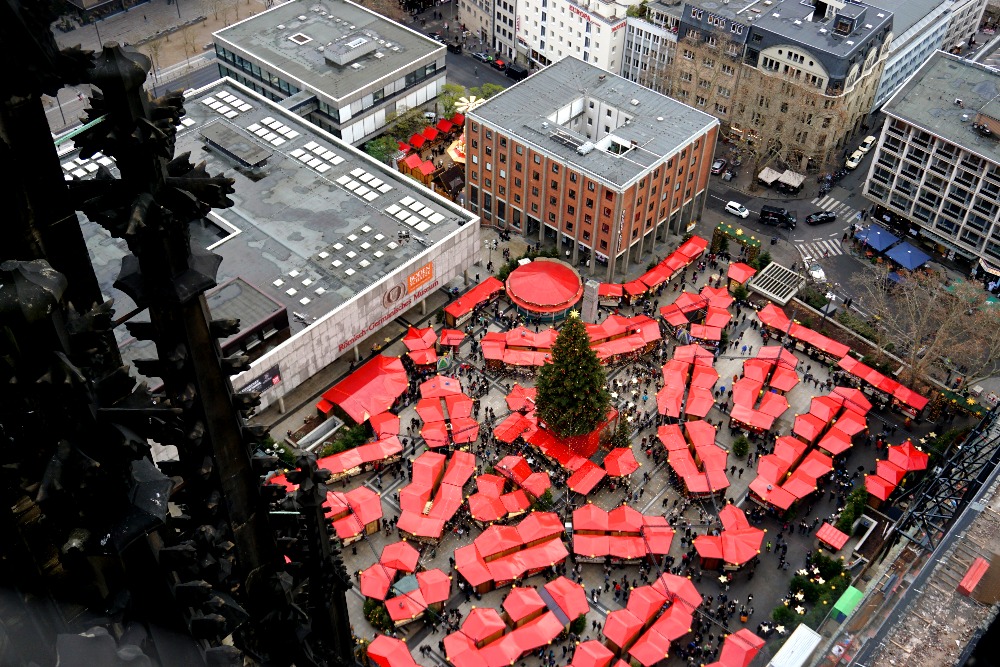 For more information about the times and dates of the Cologne Christmas markets, click here.
If you enjoyed this post, check out my other articles about the Christmas markets in Hamburg, Bremen, Düsseldorf, Gengenbach and Rüdesheim am Rhein. I want to know, which Christmas market is your favourite?