When it comes to embracing and celebrating the festive season, Hamburg is right on par with many other German cities. From Christmas trees and colourful lights to decorations throughout the city, and, of course, the famous markets, Hamburg has it all. Yes, the city has numerous Christmas markets for you to soak up the festive spirit. I don't know the exact number of Christmas markets as it differs from one website to the next, anywhere from 12 to 30. What I do know is that you can easily visit a lot of them in a short amount of time. I managed to visit seven markets in one evening. Below I share my favourite Hamburg Christmas markets, the ones that you shouldn't miss when you visit the city during the festive season. I also share tips on the food you have to try and where you should stay.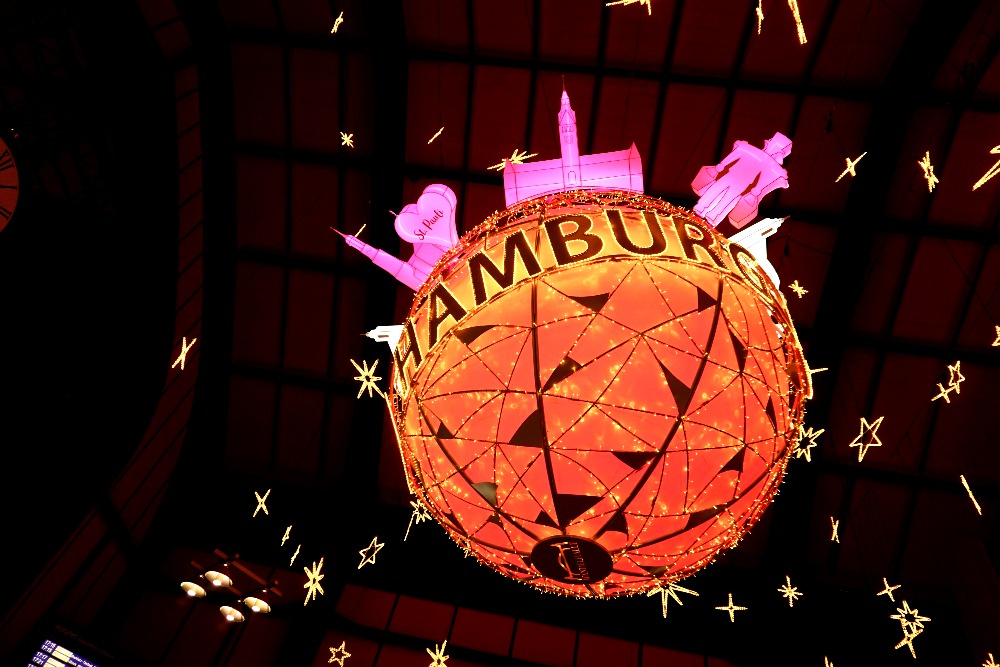 My favourite Hamburg Christmas markets
My three favourite Hamburg Christmas markets are Gerhart Hauptmann Platz & Mönckebergbrunnen, Spitalerstrasse and the historic one on Rathausmarktplatz. I loved each one for a different reason.
Gerhart Hauptmann Platz & Mönckebergbrunnen
I grouped these two charming markets together as they are right next to each other. Both of them are named after important historical figures. Gerhart Hauptmann was a famous German novelist while Johann Georg Mönckeberg was the first mayor of Hamburg. The Mönckebergbrunnen market has a fabulous Christmas tree that captured my attention, while the Gerhart Hauptmann Platz market is well-known for stalls selling handcrafted wares. There are craftsmen dressed up in period costumes selling items they skillfully made with their own hands. What also set this market apart for me was the cosy atmosphere. All I wanted to do was stick around with a cup of mulled wine, do some people watching and soak up the atmosphere…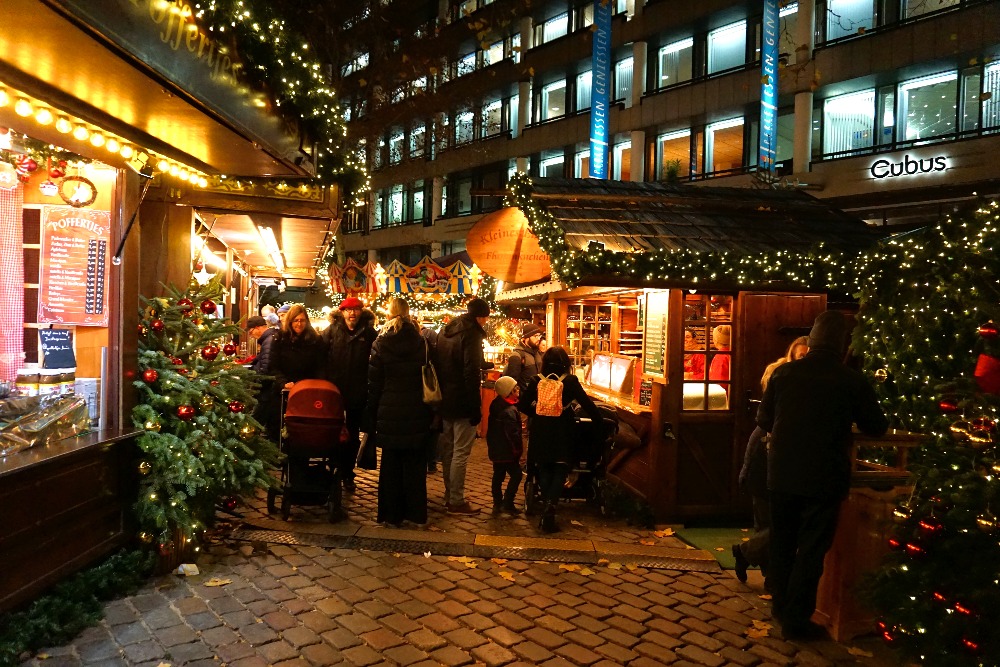 Spitalerstrasse
If you have a sweet tooth like me, then you are going to enjoy the market on Spitalerstrasse. This Christmas market is all about the sweet stuff, so it's no surprise that I loved it. I almost want to go ahead and guarantee that you'll find something here to satisfy any sweet craving. What can you expect to see? Lebkuchen, sugar roasted nuts, chocolate-covered fruit, churros, crepes, and chocolate.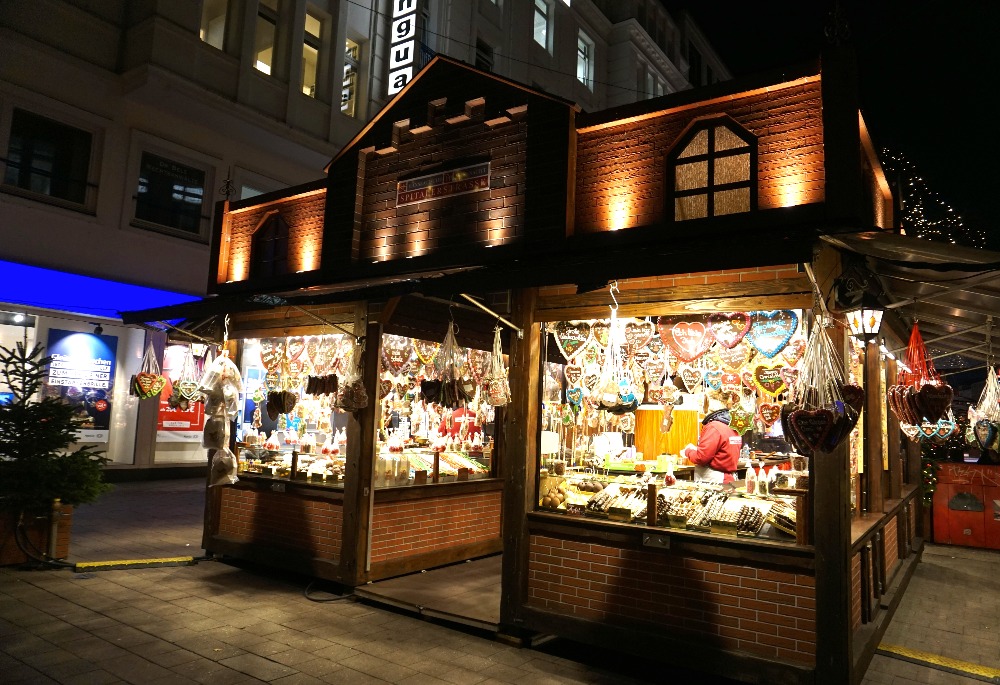 The historic Christmas market on Rathausmarktplatz
This is the main Christmas market, the largest but also the most popular one, with good reason. It's so beautiful with old-time huts and stalls surrounded by pine trees. Over two million people visit this market every year. It was my personal favourite of all the markets I saw in Hamburg and truly one of the best Christmas markets I've ever visited.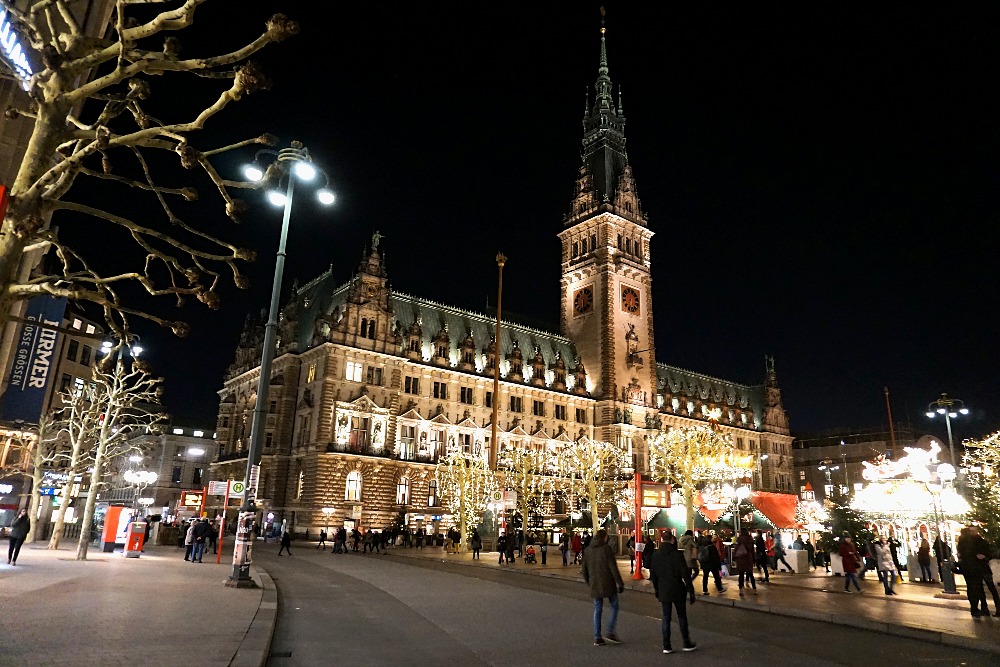 What can you expect to see? Interesting stalls selling traditional handcrafted products like candles, soap, paper lights, carved wooden animals, cured meat, Christmas decorations, leather-bound journals, and feather pens with ink pots. Walking through the market kinda feels like you've been transported to a different time. My favourite was a stall selling small horseshoes (personalised with your name) for good luck. The mini horseshoes are made right in front of you by blacks smiths. It was so cool and absolutely fascinating to watch them work.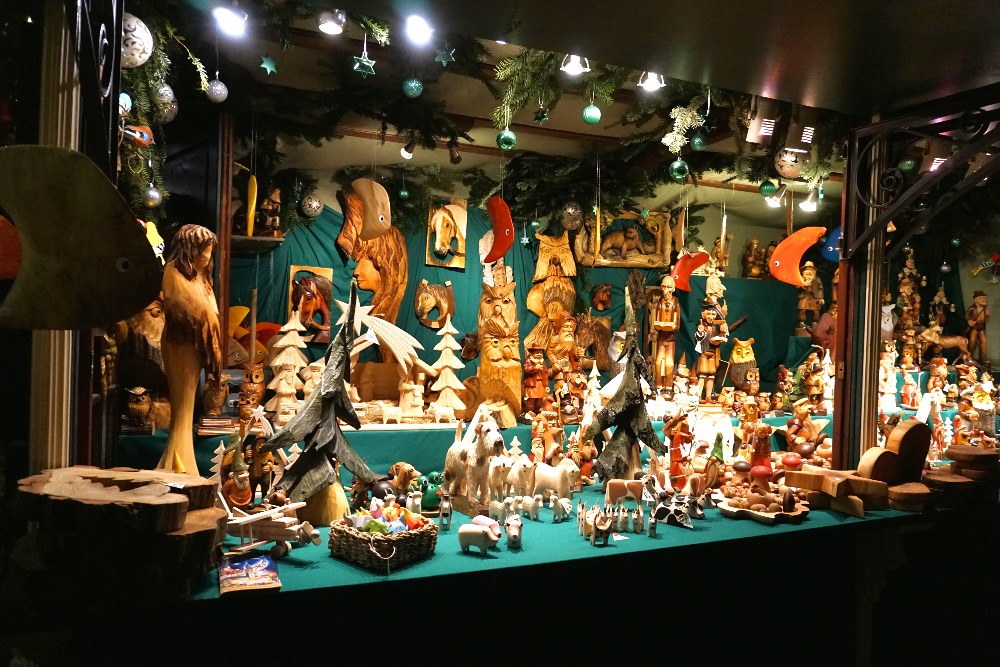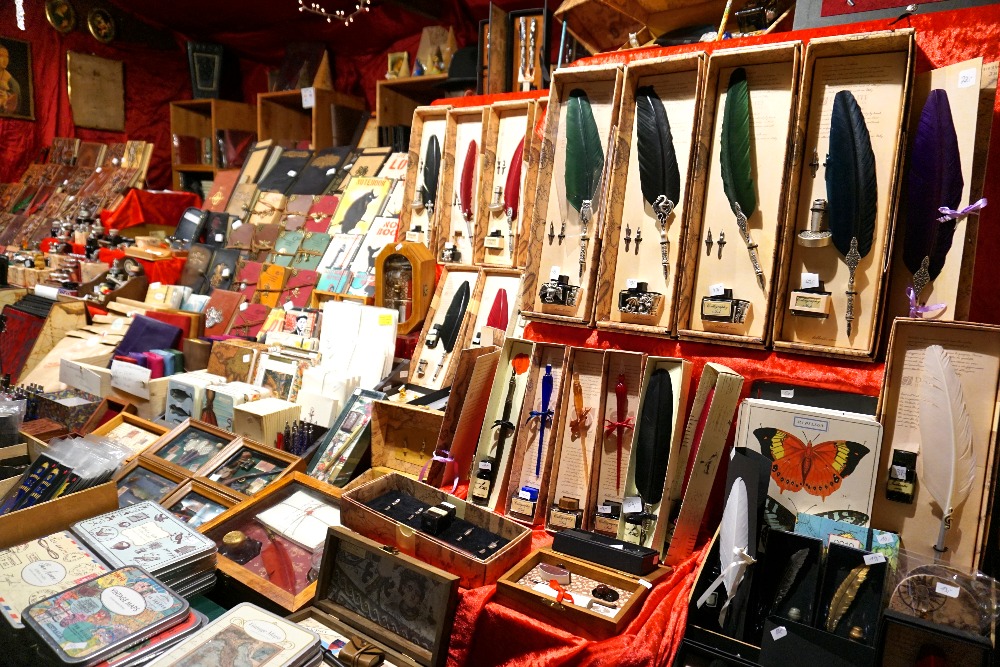 There's also a huge Christmas tree to marvel at, and a Santa Claus in his sledge that flies over the market three times a day (16h00, 18h00 and 20h00). Unfortunately I missed it but apparently, it's quite the event!
Other markets
Other Hamburg Christmas markets that I also enjoyed were Sankt Petrikirche and Jungfernstieg. St. Petri (St. Peter's Church) is the oldest remaining church in Hamburg and accordingly, the market has a lovely traditional nativity scene. The Jungfernstieg market is very romantic with beautiful Christmas lights and incredible views across the Alster river.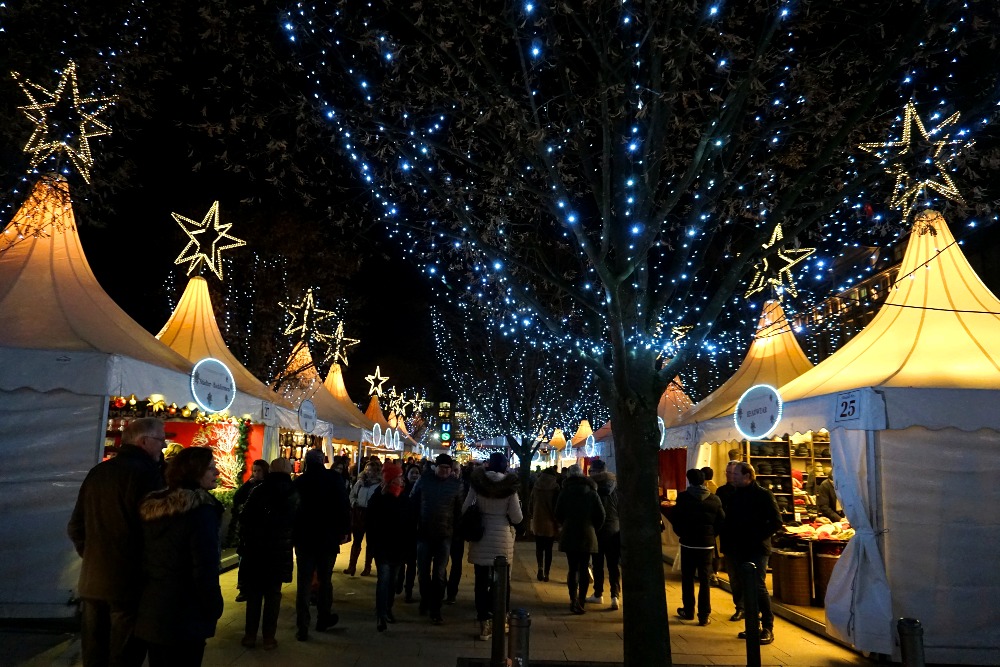 For something completely different, head to the Santa Pauli market. What sets Santa Pauli apart from all the other Christmas markets? Well, it's the naughtiest Christmas market located in Hamburg's red-light district…I didn't visit this market, but should I find myself in Hamburg during the festive season again, I might just go and check it out.
What food to eat at the Hamburg Christmas markets
Half the attraction of the Christmas markets is the food, am I right? Is there a better way to experience the festive atmosphere than snacking on delicious morsels as you browse through the huts? Now, I'm just going to give it to you straight: the food at the Christmas markets are, for the most part, super unhealthy. Most of it is deep-fried, hearty but heavy and served with rich sauces. Don't get me wrong, it's delicious but don't be surprised if you end up craving something fresh.
Christmas market staples include bratwurst (a German classic), flammkuchen (a crispy flatbread with various toppings, similar to pizza), kartoffelpuffers (deep-fried potato pancakes), deep-fried cauliflower and sauteed mushroom with garlic sauce.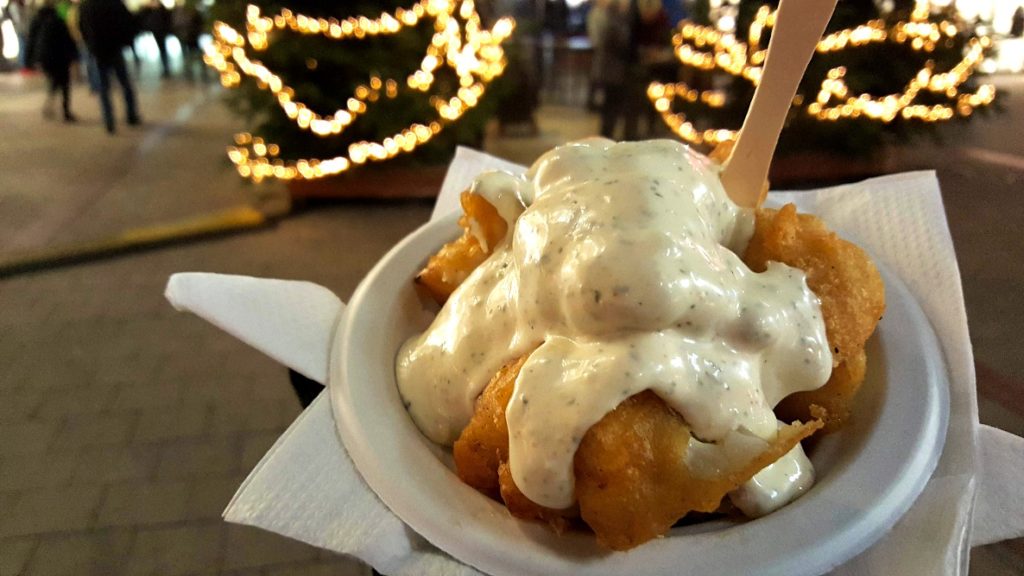 My favourite dish that you absolutely have to try is the 'Dresdner handbrod'. It's out of this world! The handmade bread is stuffed with either cheese and mushrooms (my preference) or cheese and ham and topped with a dollop of sour cream and chives. It's warm, smoky, fresh, filling, affordable and delicious! You can find the hut selling the handbrod at the main Christmas market on the Rathausmarktplatz. There'll probably be a queue, but it moves fast and the food is totally worth the wait. Take my word for it, you won't be disappointed.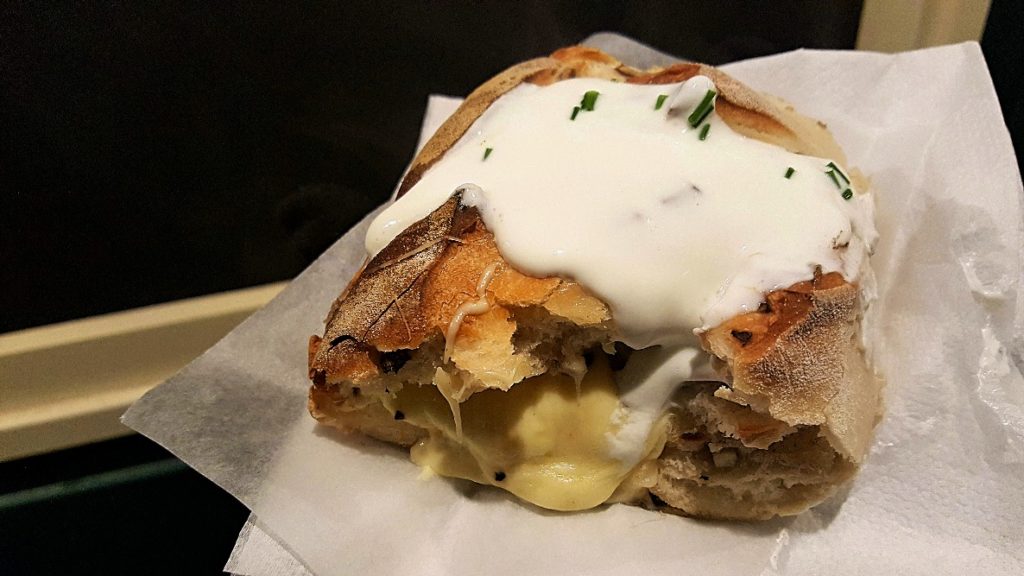 What about something sweet? The sugar roasted almonds at the Spitalerstrasse market come highly recommended, although I didn't try it myself. Instead, I opted to satisfy my sweet tooth with freshly made churros and a caramel dipping sauce.
When it comes to drinks, you cannot go wrong with a cup of mulled wine or any other hot beverage to chase the cold away.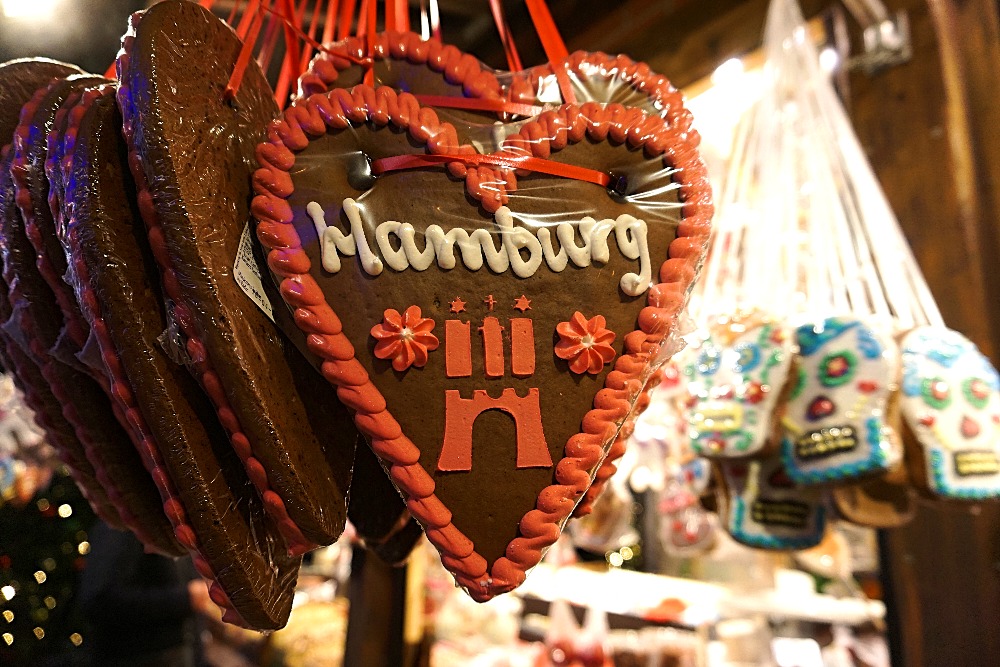 Where to stay in Hamburg during the festive season
If you're visiting Hamburg for the first time, then finding accommodation in the Altstadt is definitely the way to go. A lot of the attractions are in this part of the city. It also happens that the majority of the Hamburg Christmas markets are located in the Altstadt, making it a great area to stay. I went the budget route and booked a bed in the Generator Hostel. As I mentioned above, I managed to easily visit seven Christmas markets in one night. And, as a bonus, there was a very small Christmas market right at the entrance of the hostel.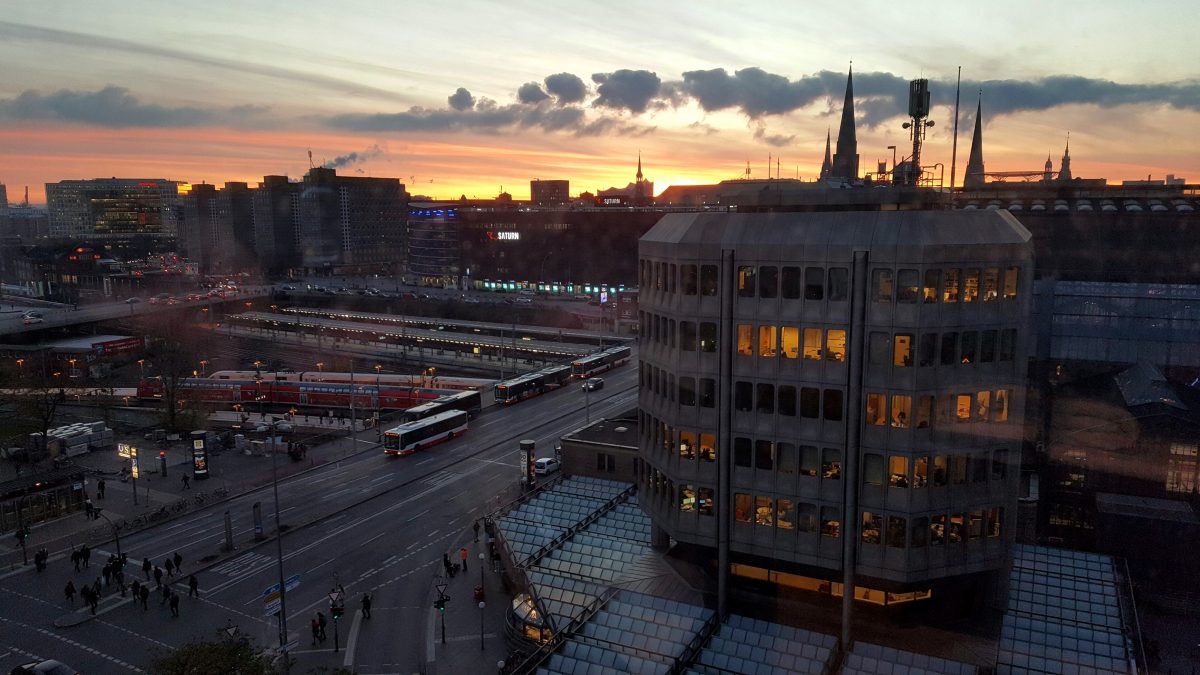 Hamburg Christmas markets: Visitor Information
Dates & Times: The Hamburg Christmas markets generally run from the last week of November until the end of December. However, the dates and times for each market are different. Click here for more information about the opening times and dates for the Christmas markets.
Location of the Hamburg Christmas markets: The majority of the Christmas markets are spread throughout the Altstadt. There are a couple of maps floating around online. Alternatively, you can also pick up a map of the Hamburg Christmas markets for free inside the Rathaus (city hall).