The Nuremberg Christmas markets are among the best in Germany. Not only is the main market, the Christkindlesmarkt, pretty as a picture and old (the first market dates back to the 17th century), the markets are also packed with delicious food! In my opinion, this is the best part of visiting Christmas markets. Here are five foods and drinks you have to try at the Nuremberg Christmas markets this festive season.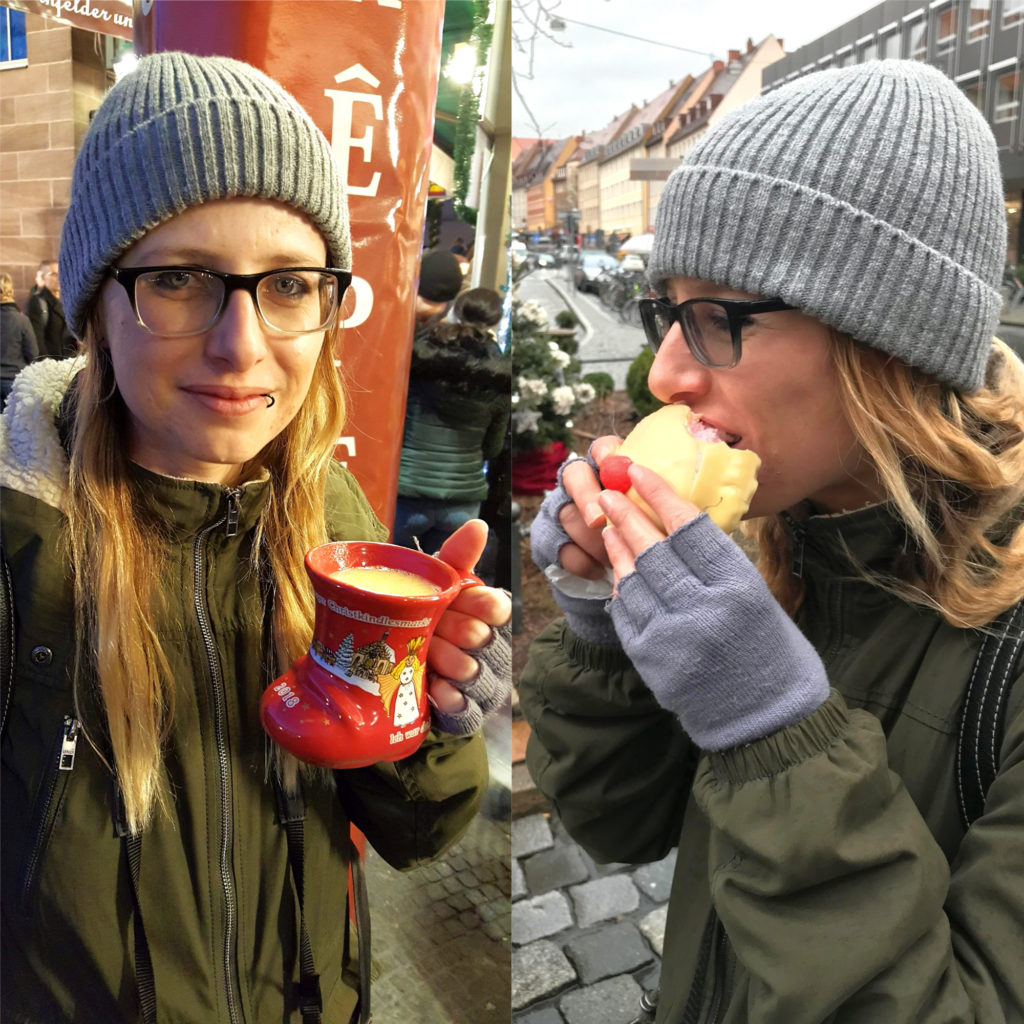 1. Nürnberger Rostbratwurst
Bratwurst is a staple at German Christmas markets, but Nürnberg rostbratwurst is unique. The city has been producing bratwurst for more than 700 years. Every day more than 3 million sausages are produced and exported worldwide. Nürnberg rostbratwurst is also smaller than regular bratwurst, only as thick as a finger. At the Nuremberg Christmas markets, they are prepared the traditional way on an open beechwood fire and served three in a roll with ketchup and sauerkraut. It costs around €3 per roll, but if you are willing to stray away from the main markets, you can get them for even cheaper. I didn't try it myself, but my husband did and he liked it.
2. Dampfnudel
Dampfnudel was my favourite dessert at the Nuremberg Christmas markets. It's basically a large steamed white bread roll served with vanilla sauce and cinnamon and sugar, or cherries/jam. I highly recommend the classic dampfnudel with vanilla sauce and cinnamon. It's very filling and so delicious. One dampfnudel will cost you around €5.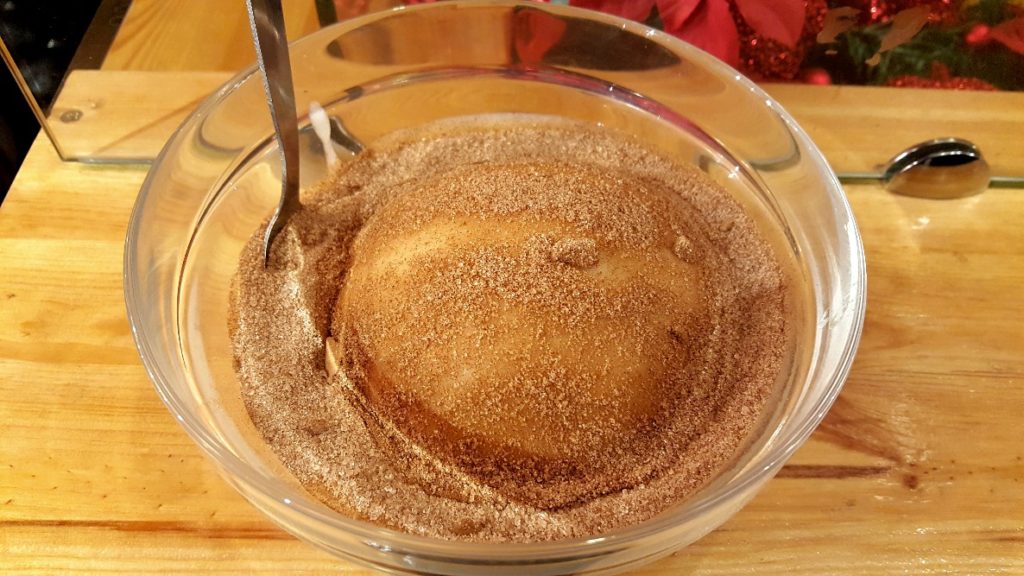 3. Schaumkuss
If you have a craving for something sweet and chocolate is more your thing, you have to try a schaumkuss. It's a soft German marshmallow smothered in chocolate. There's a large variety of flavours (for example strawberry or cappuccino) all covered with milk, white or dark chocolate. I love white chocolate, so I chose strawberry schaumkuss with white chocolate. It was super sweet but so yummy!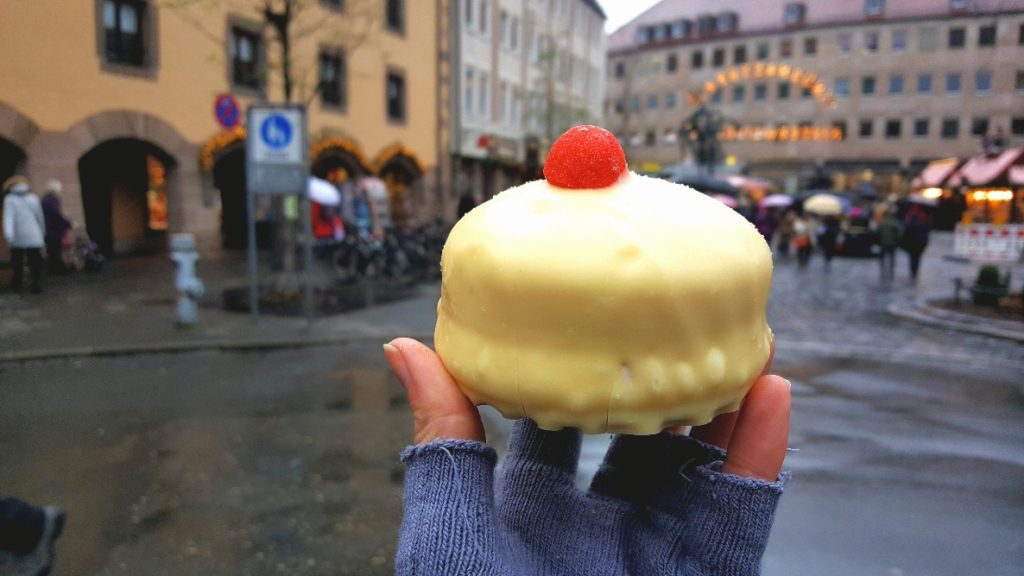 4. Nuremberg Lebkuchen
Lebkuchen is a symbol of the festive season. You'll find it at every Christmas market in Germany, but the lebkuchen in Nuremberg is special. Why? Well, Nuremberg is the birthplace of lebkuchen, it dates all the way back to the 14th century. Each year around 70 million are produced and enjoyed around the world! The recipe is a tightly guarded secret that has been passed from generation to generation. Lebkuchen comes in all shapes and sizes, round being the most common shape and covered with chocolate or sugar, or decorated with almonds. The most famous and popular cookies are sold by Lebkuchen Schmidt. The cost is approximately €2 per cookie.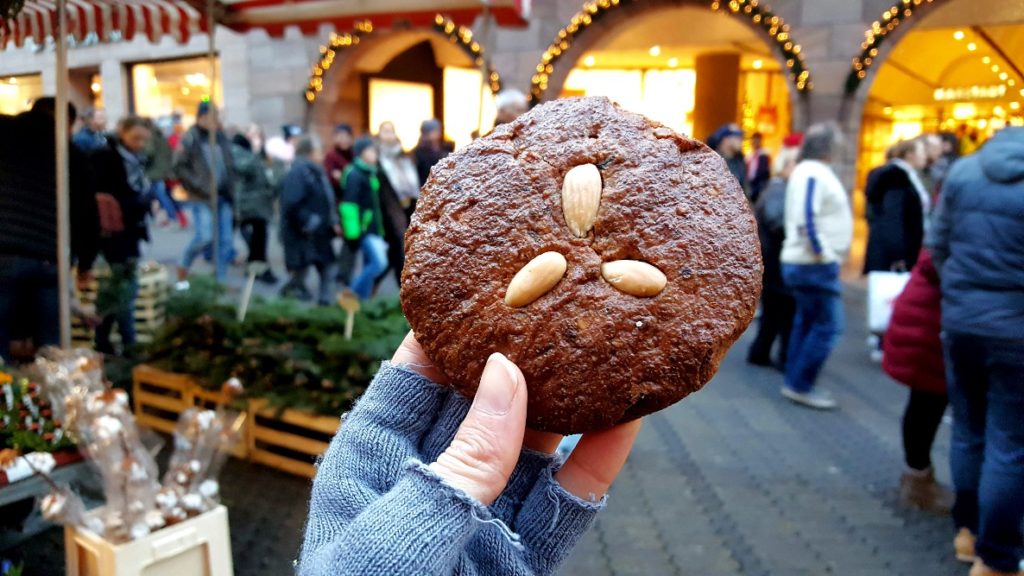 5. Festive drinks
What would a visit to the Nuremberg Christmas markets be without sipping a hot festive beverage? You can expect to see all the regular drinks at the markets, from mulled wine and beer to grog. The quintessential Christmas drink, and my personal favourite, is glühwein. You cannot go wrong with a mug of glühwein. I also tried the eierpunsch, but I have to say I'm not a fan. If you don't drink alcohol but you still want a hot beverage to warm your insides, the options include kinderpunsch or heiße schokolade (hot chocolate). Adding to the experience is the fun mugs that change from year to year. If you really like the mug, you can keep it but you will lose your deposit (usually around €3).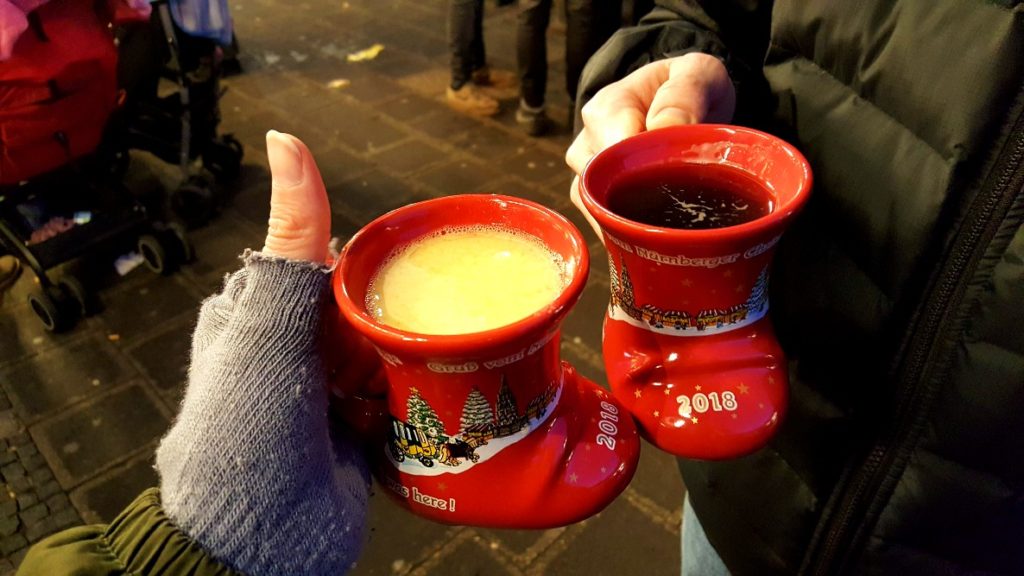 My best tips for visiting the Nuremberg Christmas markets
You have to visit the markets as the sun is setting or night to see the lights.
For the best view of the Christkindlesmarkt, climb the stairs to the balcony of the Church of Our Lady. The view is incredible and it will cost you €3.50.
Great gift ideas: handmade candles shaped like animals, snowglobes, Christmas decorations/ornaments and an assortment of wooden crafts.
To buy global products and food, head to the Sister Cities market. Nuremberg sister cities include Verona (Italy), Atlanta (USA), Charkiw (Ukraine) and Kalkudah (Sri Lanka).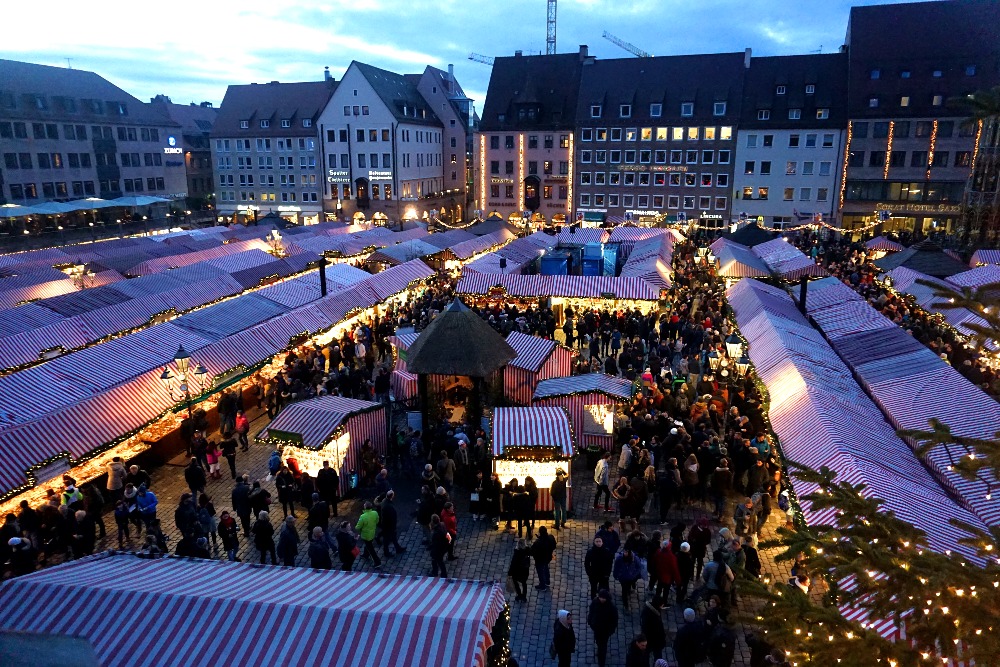 If you enjoyed this blog post, check out my other Christmas markets posts for Germany (Düsseldorf, Hamberg, Cologne, Bremen) and Belgium (Brussels, Antwerp, Ghent).
I want to know, what is your favourite Christmas market food? Let me know in the comment section below.