Ko Phi Phi is a popular tourist island destination in Thailand. The island gained fame when The Beach, starring Leonardo DiCaprio, was filmed here. It's also a popular destination for adventure activities like scuba diving, snorkeling, and rock climbing. In my opinion its too commercial and very overpriced.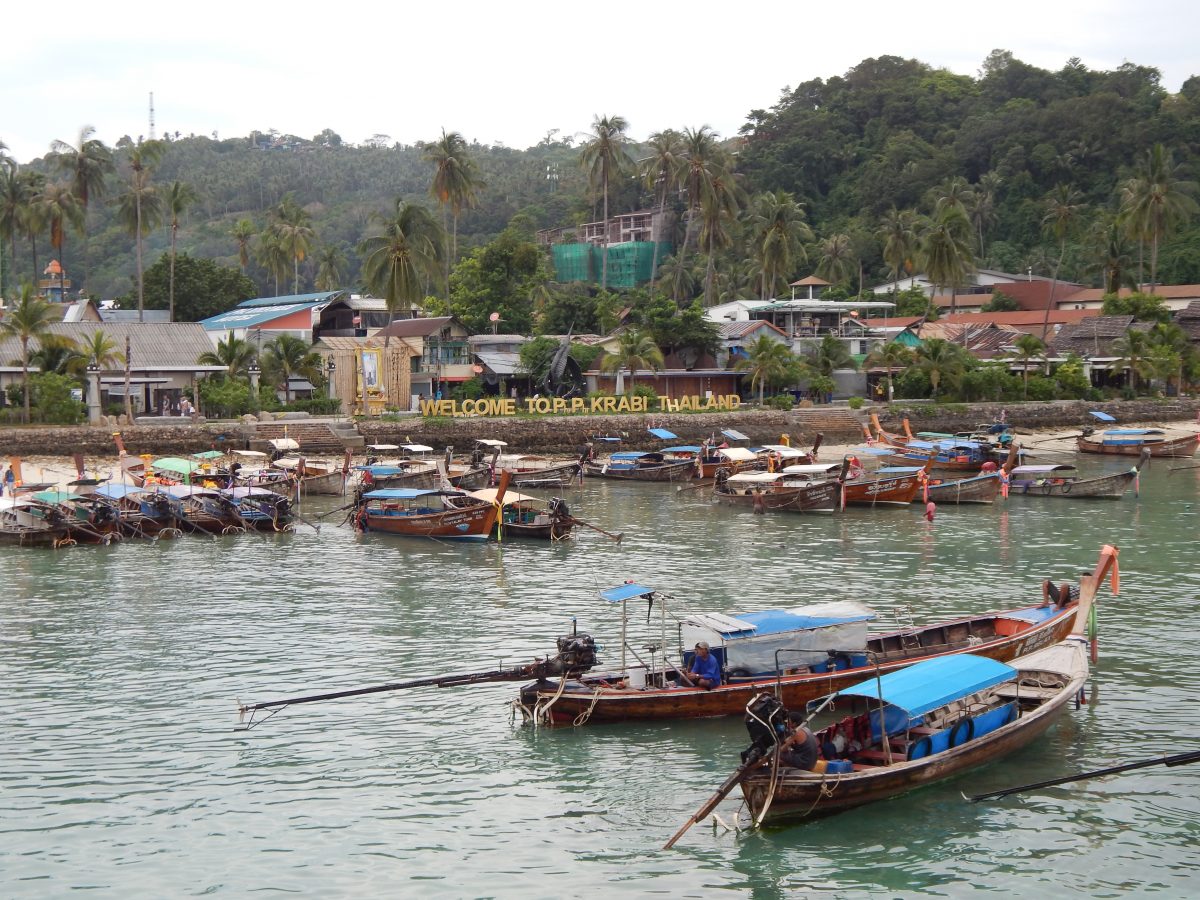 How to get there
The only way of reaching the island is via ferry or speedboat. Three to four ferries, depending on the season, depart from Rassada Pier in Phuket to Phi Phi daily. The duration of the trip is approximately 1.5 hours.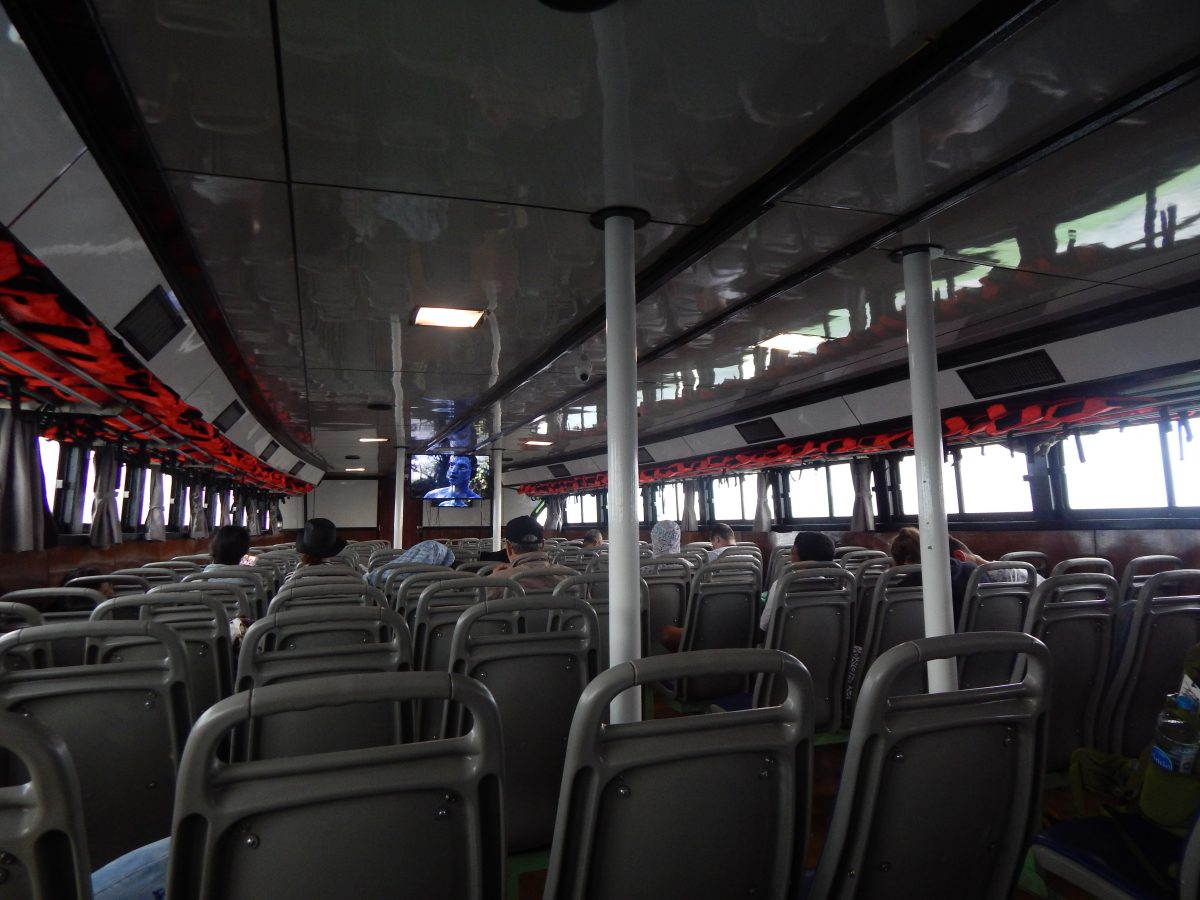 The ferries are surprisingly comfortable! Inside, below the deck, you'll find air conditioning which a great way to escape the Thailand heat! As you approach Phi Phi, it's worthwhile to go upstairs and admire the views.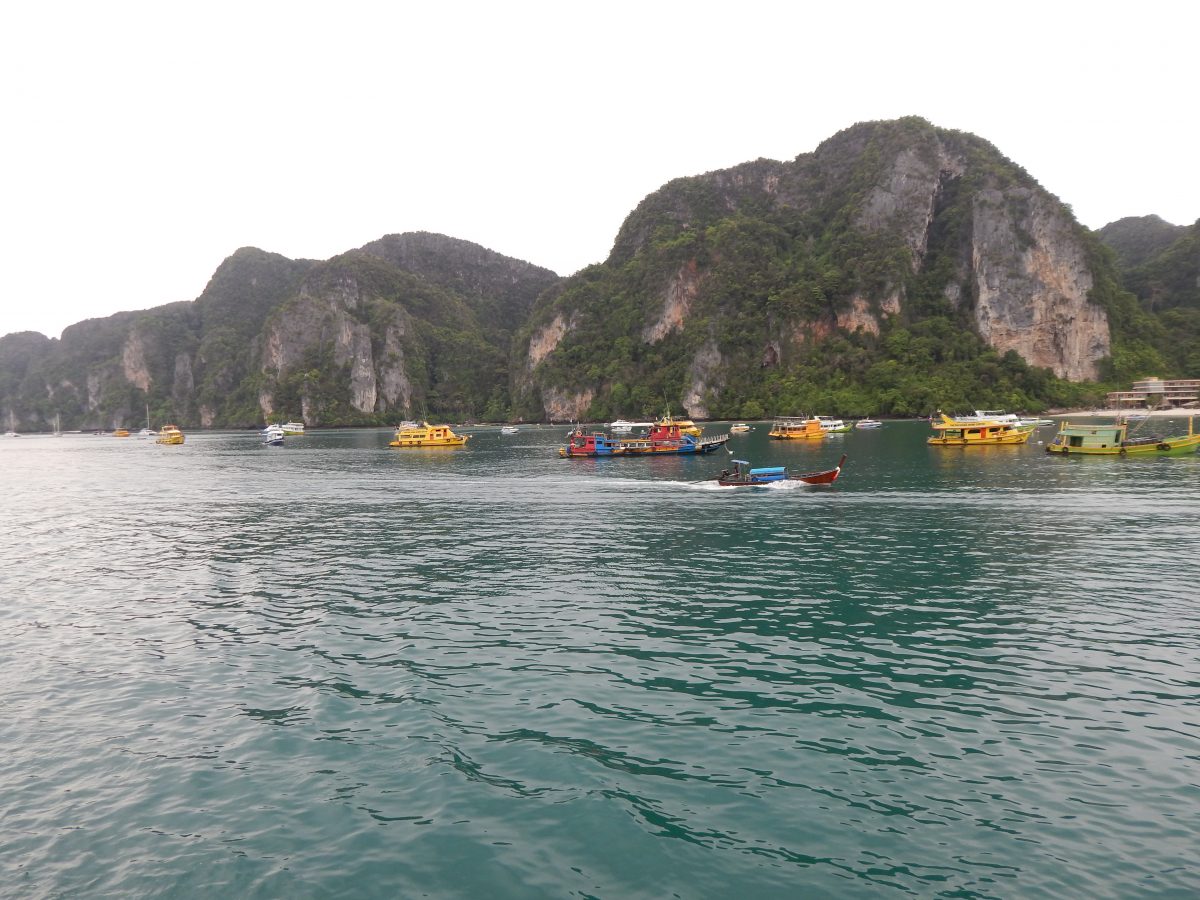 Tip: To save money, buy your ferry tickets directly at the pier. Going through travel agencies is always going to be more expensive!
The town
On arrival at Phi Phi I was asked to pay 25 THB tax. I went back to my luggage to get some cash, but by the time I got back, the lady had left. I don't know whether this was legitimate or not, so just watch out.
Phi Phi town is very small with only a couple of narrow streets lined with shops, bars, and restaurants. There are lots of ATM's where you can withdraw cash.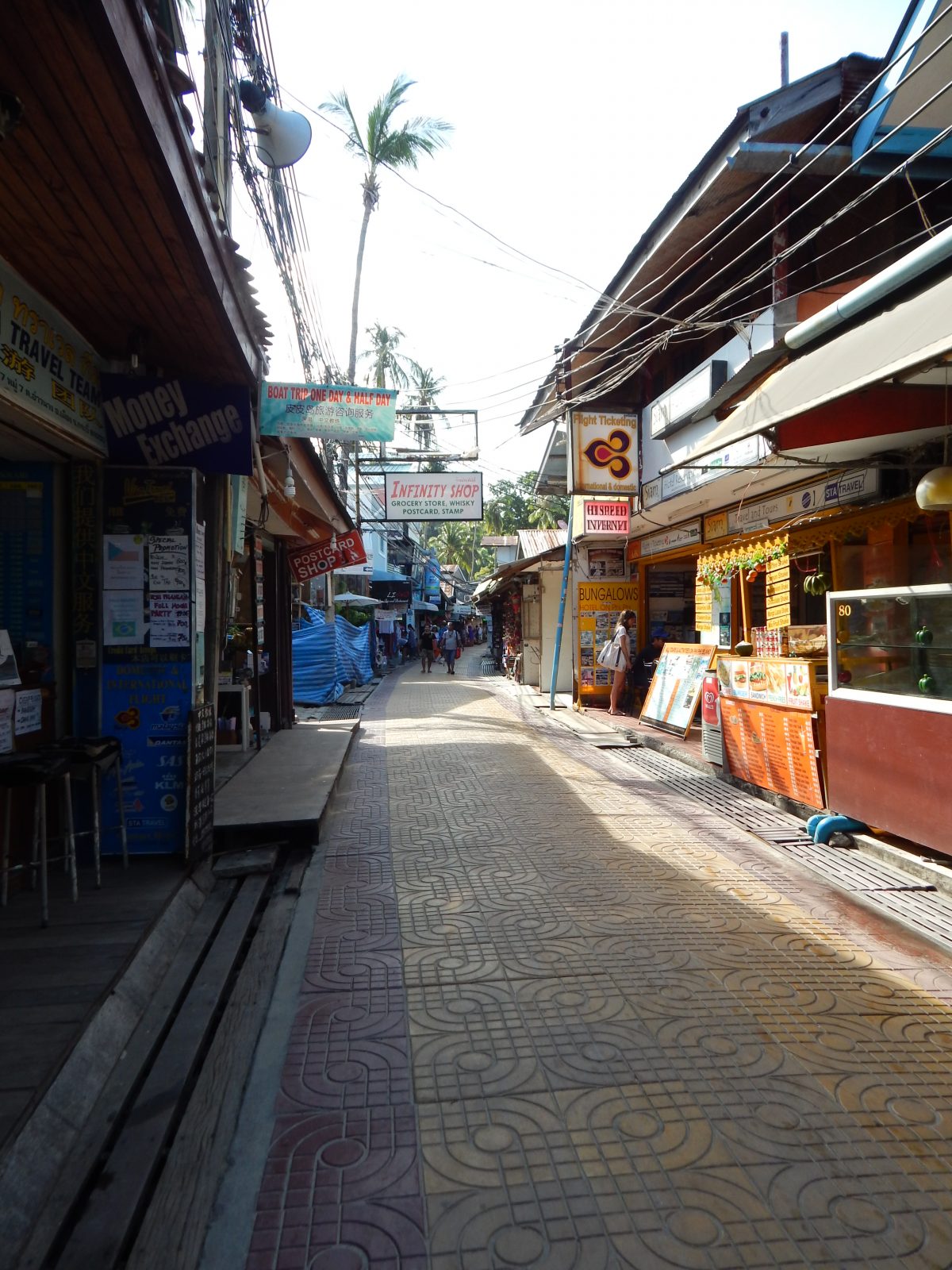 If you are on a strict budget, you'll be happy to know that you can still buy food for cheap at the 7eleven or Family Mart. Try to buy your souvenirs elsewhere, because everything on the island is very expensive.
Fun fact: Phi Phi island still has no motorized transport.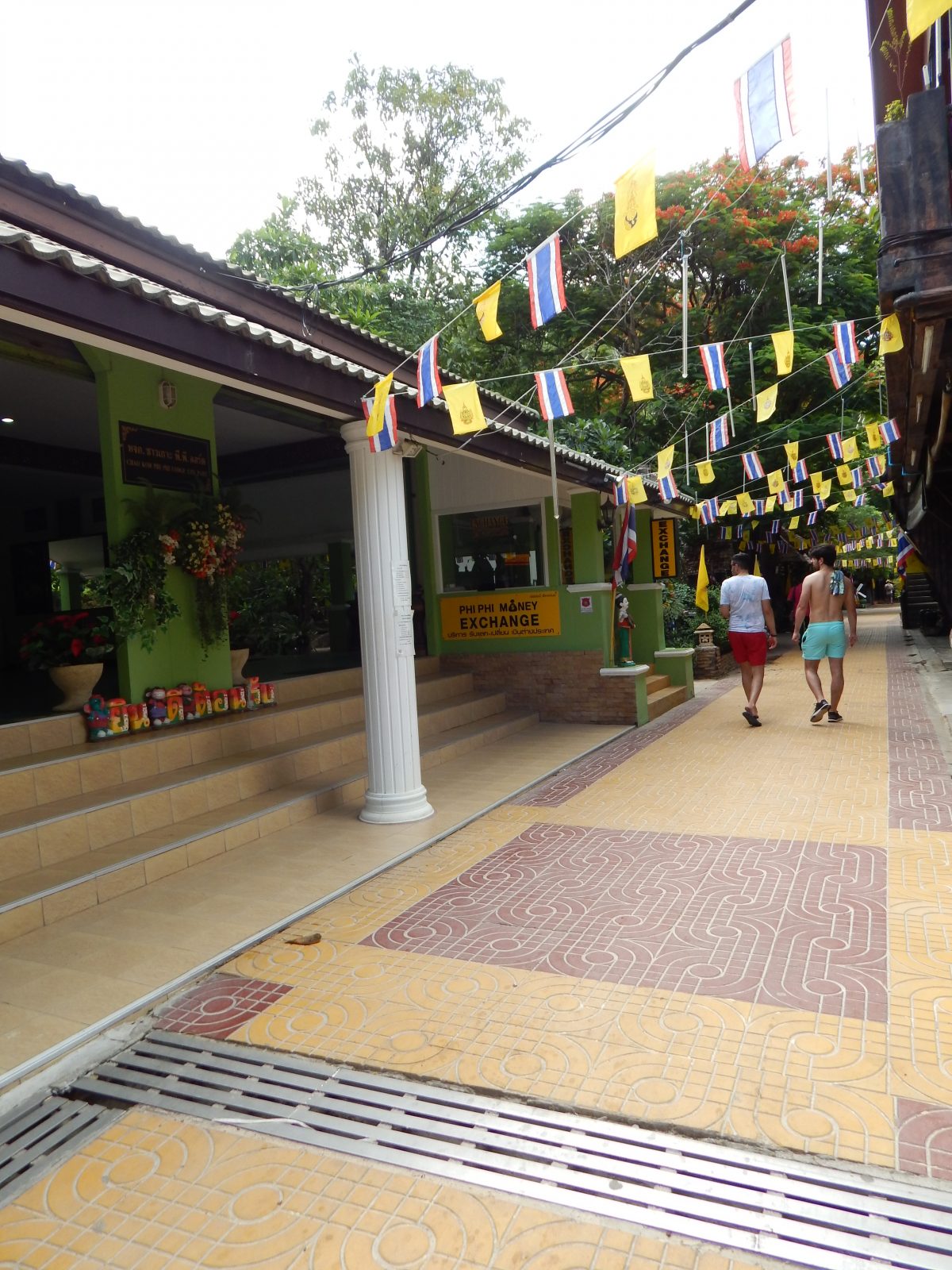 Where to stay
The accommodation on Phi Phi island is expensive compared to other parts of Thailand. You will find a wide range of accommodation, from average priced hostels and bungalows to very expensive luxury resorts. You can stay in the center of town close to the pier, or at resorts scattered along the coastline of Phi Phi.
I chose to stay on the north-eastern side of the island at Phi Phi Relax Beach Resort. Read my review here.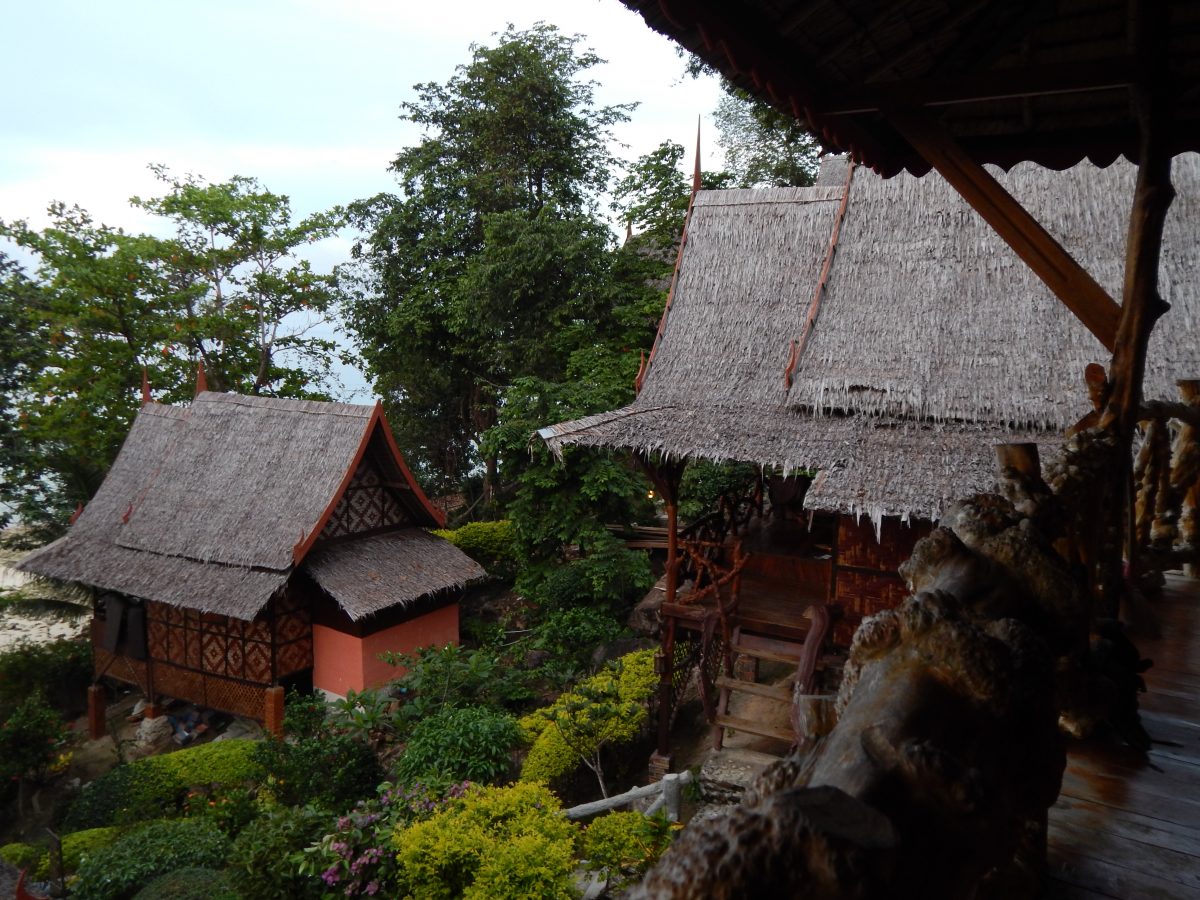 What to do
There is a wide range of activities to keep you busy on Ko Phi Phi. From snorkeling to scuba diving to rock climbing or just chilling on the beach.
Phi Phi view point
This is the best part of Phi Phi for me! The entrance fee is 30 THB and you get a beautiful view of the island!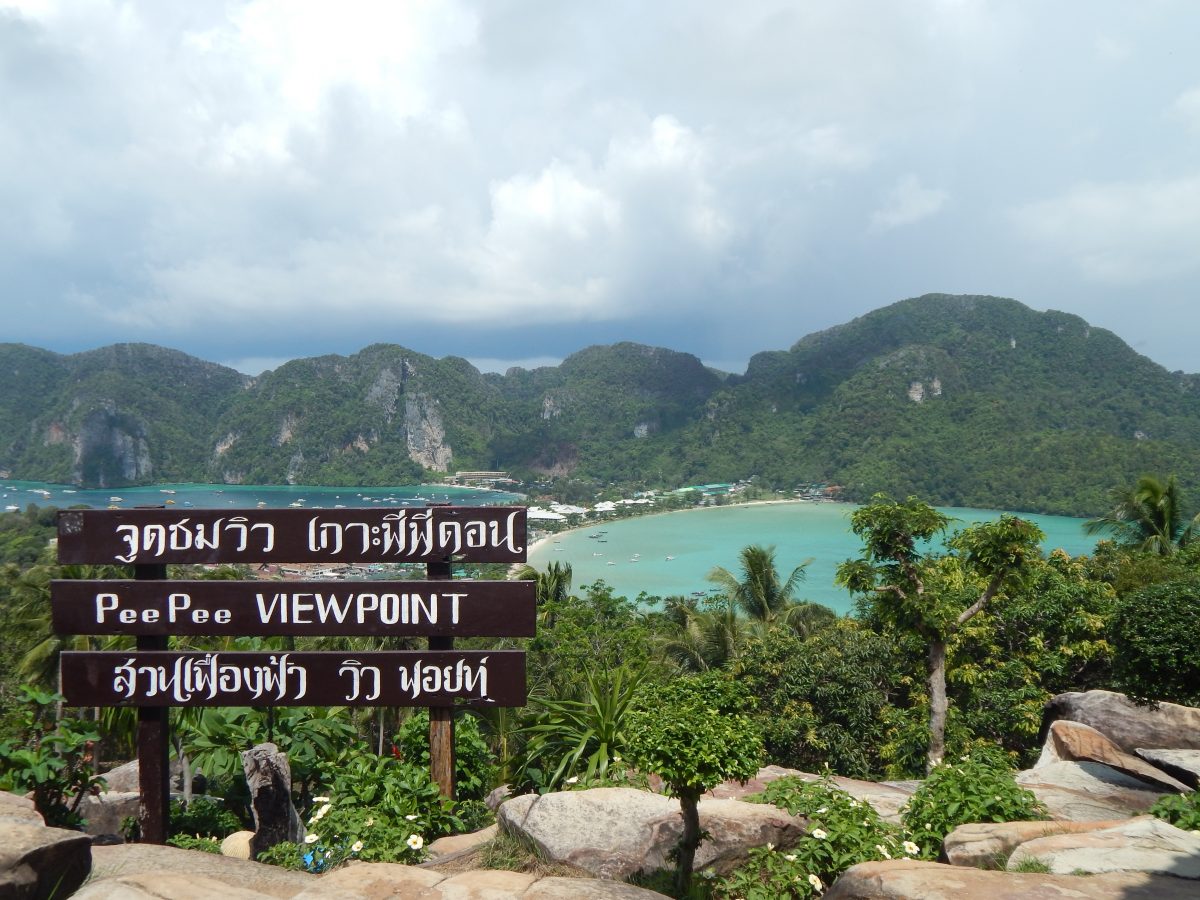 Hiking
Because I stayed on the north-eastern side of the island and I did not want to pay a boatload of money to get to Phi Phi Town, I decided to hike across the center of the island.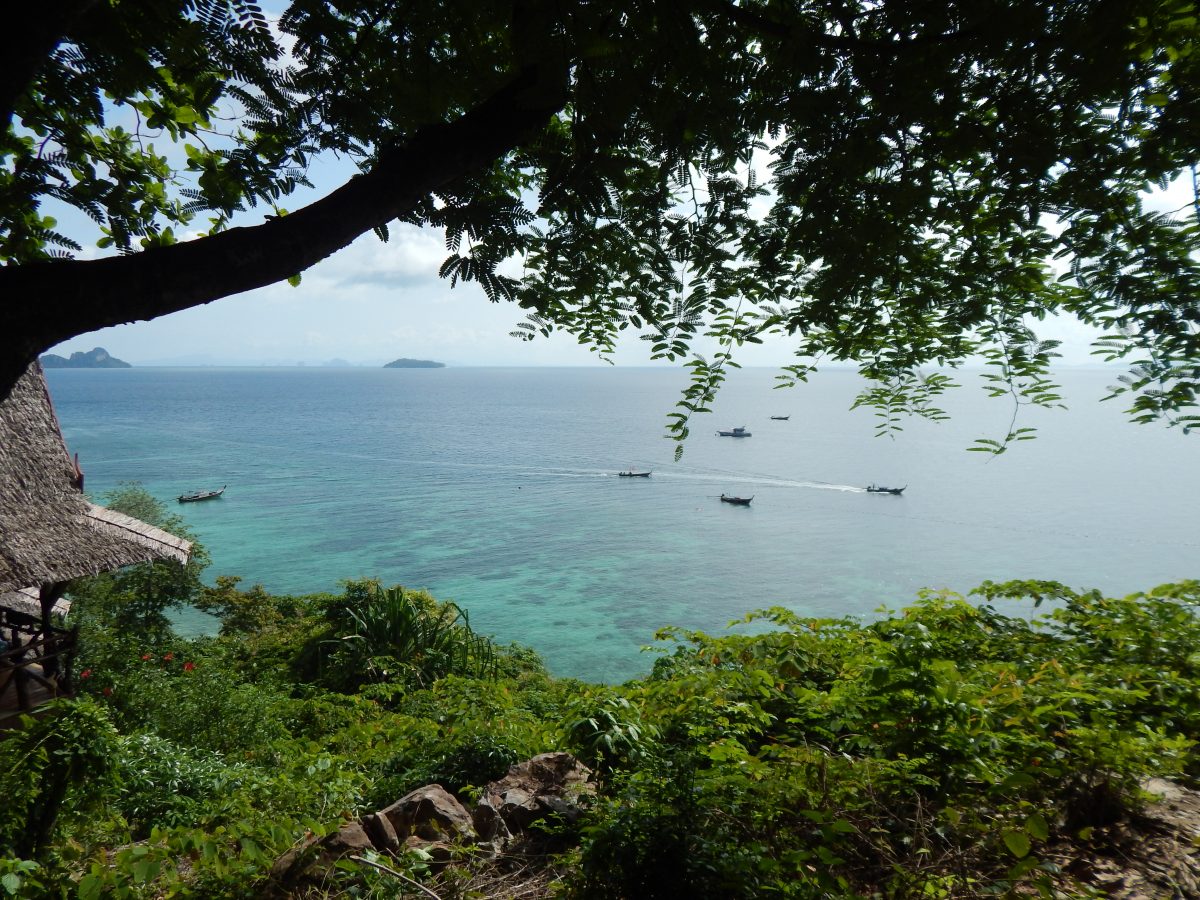 It's a fairly difficult hike, but when I reached the bar with this view, it was totally worth it! The view is even better here than at Phi Phi view point.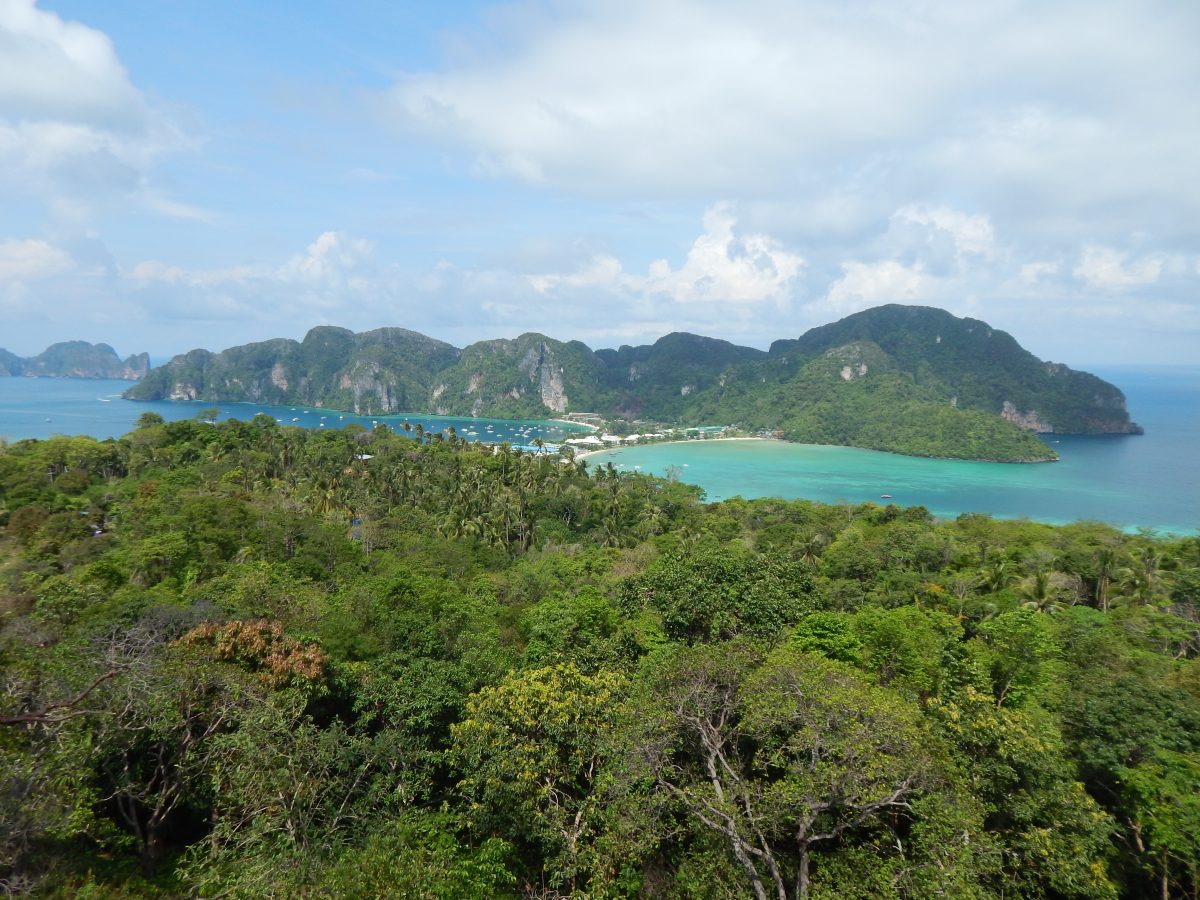 Island tour
There are lots of tour companies that offer full day or half day tours of all the Phi Phi Islands. You'll see Pileh Lagoon, Shark point, Viking cave, Monkey beach, Bamboo Island and the main attraction, Maya Bay, where The Beach was filmed.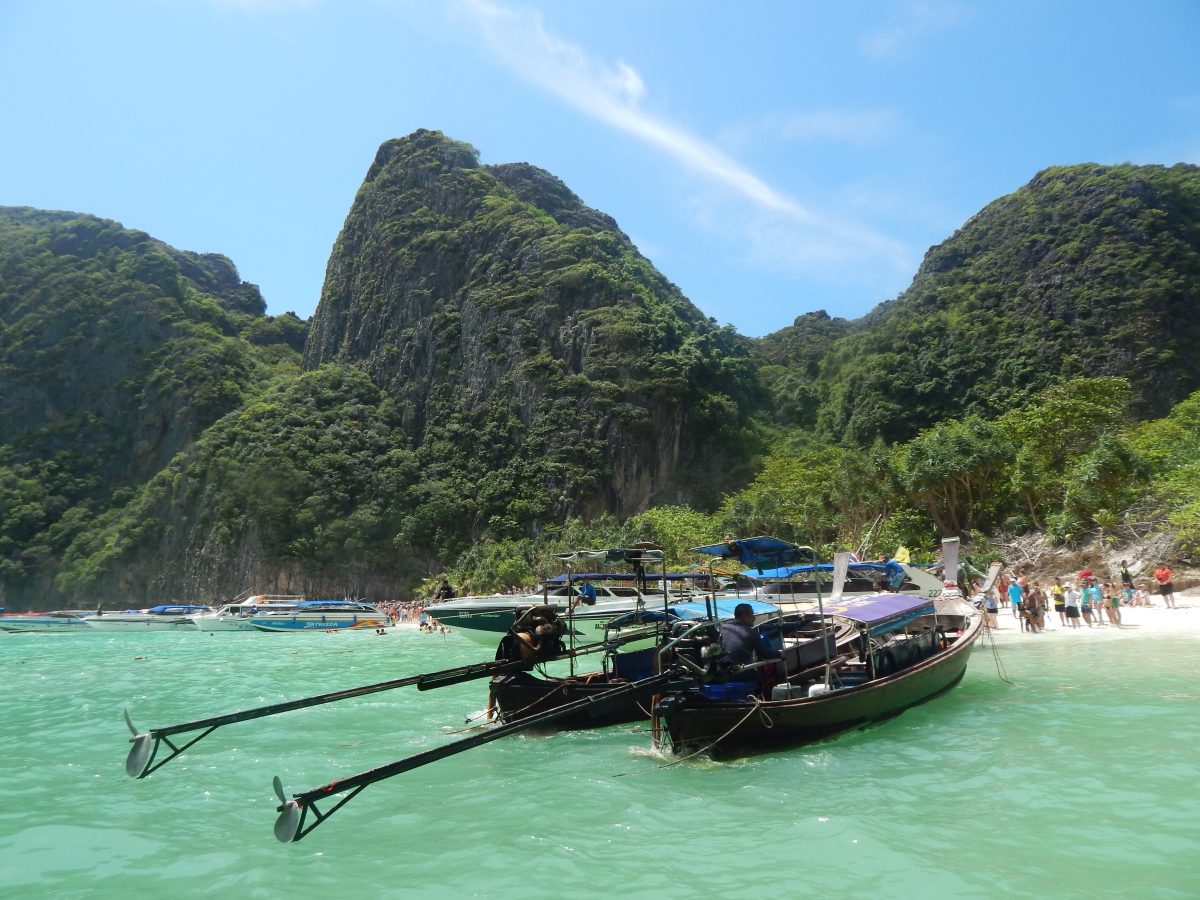 Cats on Phi Phi
You'll see a lot of cats on Phi Phi, and most of them have crooked tails. The zoologist in me wanted to know why. A friendly shop assistant finally answered my questions. Due to inbreeding, all the male cats on the island are born with crooked tails. Interestingly, the females are born with normal tails.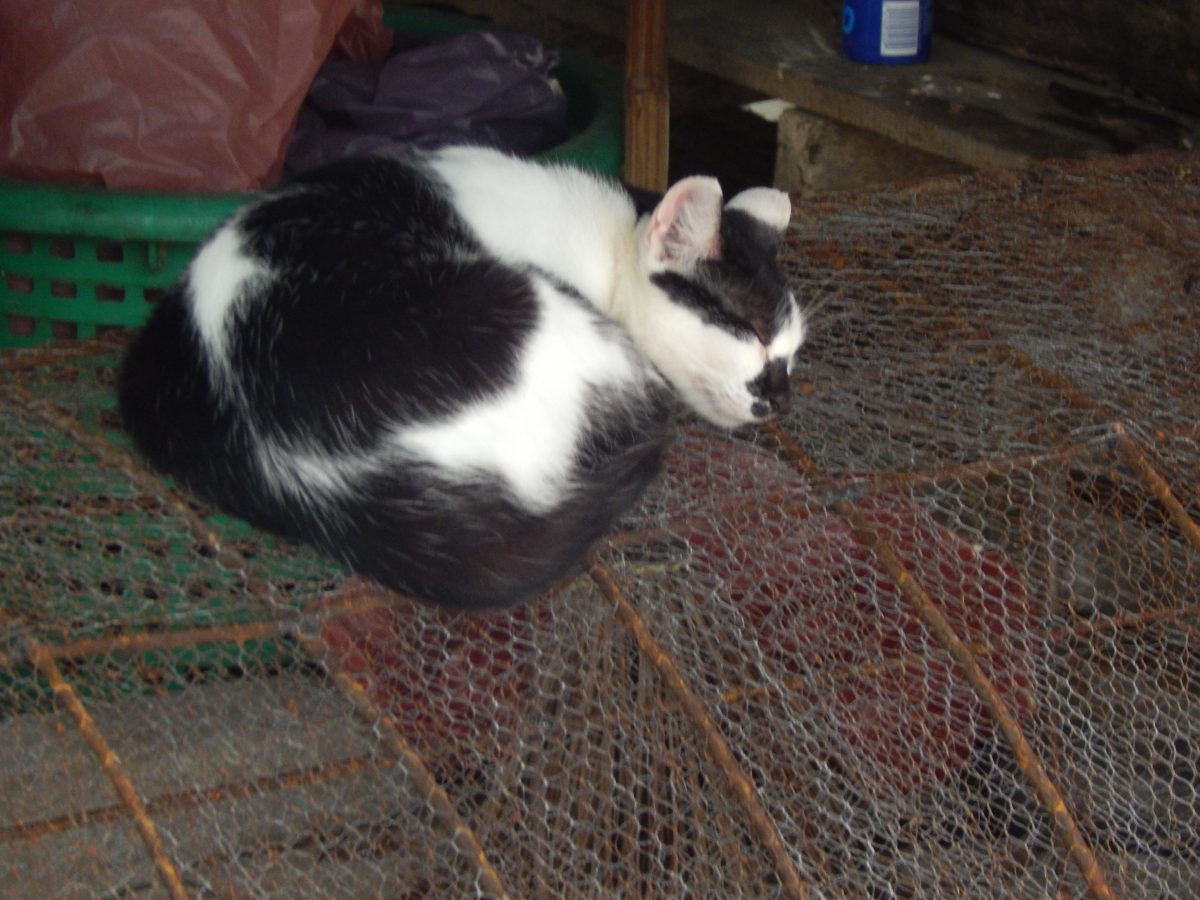 Should you stay here?
In my opinion, you should not. The island is very overpriced and commercial when compared to other parts of Thailand. That being said, I took some of my best Thailand photos on Ko Phi Phi…And the central, uninhabited part of the island is pretty great!
Although Ko Phi Phi is beautiful, it's not the best part of Thailand for me. I prefer Ao Nang and Railay beach.  Perhaps Phi Phi is worth a visit on a day trip, but there's no need to stay over on the island.